This Gold EA is an automated Advanced MT4 Gold Robot specially designed to trade on XAUUSD(GOLD) pair. This trading algorithm has been designed using a proprietary Trading Indicator combined with additional indicators and a trading algorithm.
Core Features of Gold EA
The Secretive Custom Indicator: Central to the Gold EA strategy is its secretive custom indicator. While the specifics remain under wraps, what's evident is its uncanny ability to harness the power of market dynamics.
Trendlines, Support and Resistance: These are pivotal components in any trader's toolbox. The Advanced MT4 Gold Robot weaves these into its strategic fabric, using them as signposts for trade entry and exit points.
A Meticulous Trend Correction Strategy: Unlike many trading bots that trade continuously, the Gold EA identifies dominant market trends irrespective of market conditions. It waits for trend corrections instead of trading with the trend, ensuring it capitalizes on market fluctuations. This ensures that the profit potential is optimized by leveraging short-term market adjustments.
Sophisticated News Filter: The EA understands the volatility of high-impact news releases. Thus, it incorporates an advanced news filter that refrains from trading during these periods, reducing associated trading risks.
Auto GMT Time Support: This ensures that the EA operates harmoniously with global market timings, adding a layer of accuracy to its operations.
Important Considerations
Risk and Leverage: While the potential rewards of using Gold EA are tempting, they come at a price. The EA is aggressive in its approach. As such, traders are advised to utilize big leverage and only invest capital they can comfortably afford to lose.
Backtesting Limitations: A notable aspect of MT4 Gold EA is that backtesting won't work. This might be due to custom indicators in play or the developer blocking it.
Martingale and Averaging: This

EA does not employ the Martingale

strategy, known for doubling down on losing trades. However,

it does use an averaging strategy

. This entails trading several deals simultaneously. While averaging carries its risks, it's less hazardous compared to Martingale. Yet, potential users should be aware of and weigh their risk appetite accordingly.
Please test in a demo account first for at least a week. Also, please familiarize yourself and understand how this GOLD Robot works, then only use it in a real account.

Recommendations for This MT4 Gold Robot
Minimum of 100$ cent Account or equivalent(10,000$) standard account.
EA is specially made to work on XAUUSD(Gold). (Work on any currency pair)
It works best on M15. (Work on any TimeFrame)
This MT4 Gold Robot should work on VPS continuously to reach stable results. So we recommend running this MT4 EA Download on a reliable VPS (Reliable and Trusted FOREX VPS – FXVM)
The EA is NOT sensitive to spread and slippage. But We advise using a good ECN broker (Find the Perfect Broker For You Here)


Download a Collection of Indicators, Courses, and EA for FREE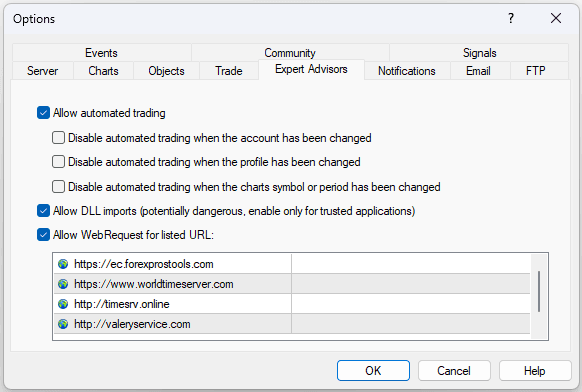 Open Tools –> Options –> Expert Advisors. Check the option "Allow WebRequests for listed URL" Add the following: "https://ec.forexprostools.com", "https://www.worldtimeserver.com" and press "OK." The EA takes news from the specified websites.





Conclusion
The Advanced MT4 Gold EA offers a fresh perspective on algorithmic trading. Its unique blend of secretive indicators, trendline dynamics, and a trend correction strategy presents a fascinating approach to the market. However, as with all trading tools, it is essential to approach it with a balanced mindset, understanding the inherent risks and potential rewards.