Unlike traditional indicators, the Trade Confirm Indicator is designed not to stand alone but to complement and enhance other trading tools and analyses, making it an invaluable addition to any trader's arsenal.
The Trade Confirmed Indicator is a live meter that simultaneously measures ten data points in real-time. The users can synergize these data points with their preferred on-screen indicators, allowing for a more comprehensive analysis of the trading environment.
A noteworthy feature of the Trade Confirmer is its constant operation. Irrespective of market conditions, this indicator is continuously active and emits signals even during periods of consolidation. However, during these times, the signals should not necessarily be acted upon. The real value of these signals comes into play when price action breaks through consolidation and aligns with the setup criteria outlined by the trader.
You can set the Trade Confirm Indicator to send you a signal alert via email, SMS, or platform pop-ups. This is helpful as it means you do not need to stare at the charts all day, waiting for signals to appear, and you can monitor multiple charts simultaneously.
Trade Confirmed Indicator System made to be used on all forex pairs. You can also use it on any time frame that suits you best, from the 1-minute to the 1-month charts.
The All-in-One Indicator isn't a standalone trading indicator System. Still, it can be very useful for your trading as additional chart analysis, to find trade exit position(TP/SL), and more. While traders of all experience levels can use this system, practicing trading on an MT4 demo account can be beneficial until you become consistent and confident enough to go live. You can open a real or demo trading account with most Forex brokers.
Components of the Trade Confirm Indicator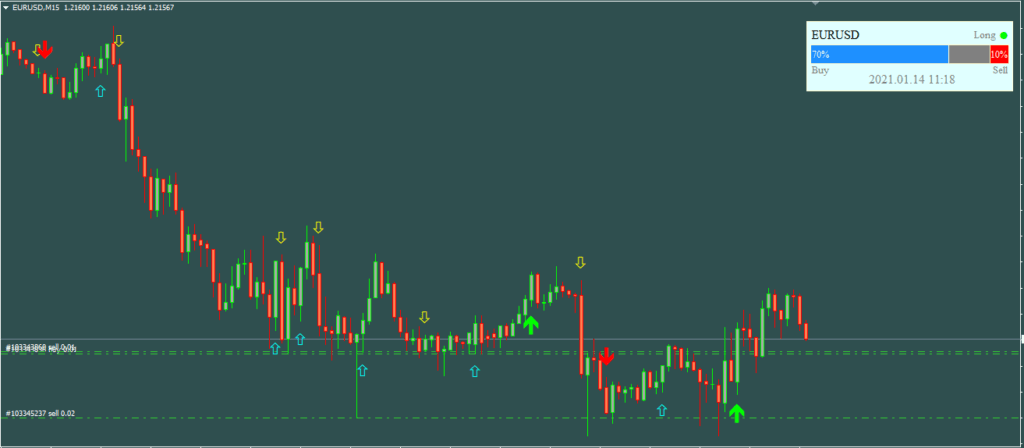 The Trade Confirm Indicator's visual display is composed of three main elements:
Green/Red Arrows: These large arrows indicate signals to enter a long or short position. These arrows are the primary signals provided by the indicator. The appearance of a green arrow implies that the conditions may be favorable for a Buy position, while a red arrow suggests a potential Sell position.
Trend Direction Panel: This panel shows the current trend direction in percentage terms. Rather than a standalone signal, this component functions as a filter for opening a position. For example, if the trend panel indicates a 70% upward trend, a trader might be more inclined to consider Buy positions.
Small Arrows: Smaller arrows serve as secondary signals, usually in the opposite direction of the large arrows. These are designed as signals to exit a trade rather than enter one. Alerts are sent out when these arrows appear, enabling traders to respond promptly and exit trades at optimal times.


Leveraging the Trade Confirmed Indicator
The real value of the Trade Confirmed Indicator lies in its integration with other tools and analyses. By combining its live, real-time data feed with other indicators, traders can better understand market conditions and identify potential trading opportunities more accurately.
During periods of consolidation, traders need not focus on the signals produced by the Trade Confirm Indicator. Instead, the emphasis should be on when the price breaks through this period. When this breakthrough aligns with the conditions outlined in the trader's strategy, that's the prime time to consider the signals from the Trade Confirmer Indicator.

Conclusion
In summary, Trade Confirm Indicator facilitates traders with real-time, multi-metric data and integrates effortlessly with other trading tools. Offering real-time data across multiple metrics and seamlessly integrating with other tools helps traders navigate the market more precisely and confidently.