Renko Maker Pro is a high profitable Renko Trading System usually being sold for 127$ a month. Renko maker PRO is trend base Forex indicator that indicates the best trading signals to maximize your profits.
Forex Renko Maker detect the long trend as well as short trends at earliest of trend starts. It minimizes your losses by best false signal filter algo. System provides clear charts to read the market & it will bring you high profitable results. System suitable for beginner to expert level.


This free forex indicator can give you trading signals you can take as they are or add your additional chart analysis to filter the signals further, which is recommended. While traders of all experience levels can use this system, it can be beneficial to practice trading on an MT4 demo account until you become consistent and confident enough to go live.
Features
You can set the Renko Maker Pro Indicator to send you a signal alert via Mobile Notification, or platform pop-ups. This is helpful as it means you do not need to stare at the charts all day waiting for signals to appear, and you can monitor multiple charts all at once.


Renko Maker Pro Indicator System can be used on any Forex currency pair and other assets such as stocks, commodities, cryptos, precious metals, oil, gas, etc..
How to Install (Important)
Copy all the file to according folders
Restart your Metatrader 4
Open your preferred Pair e.g: EURUSD, GBPUSD, etc, and select Time Frame M1. Zoom out to the smallest chart then press the HOME key on the keyboard several times. We do this step to get history data a minimum of 1 to 2 months ago.
Click Tools>Options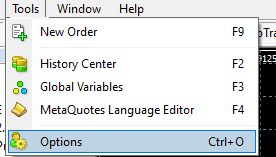 Click on the Charts tab and check all boxes, Insert 9999999999999 to field Max bars in history and Max bars in the chart.
Attach "RenkoLiveChart_v3.2" EA into your chart. We recommended the default settings.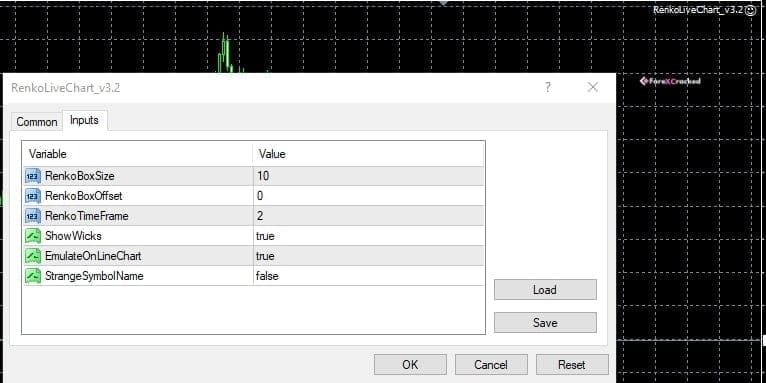 Click Tab File ➔ Open offline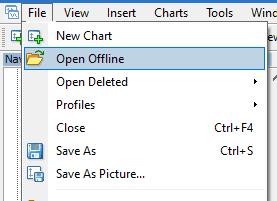 If you previously Attach the EA to the EURUSD pair, you can find EURUSD M2 (if you can you may need to restart the MT4). Click Open it.


In the last step attach RenkoMaker Pro template into your new chart
BASIC
BUY

when the color of both indicators =

Lime

(Candle Closed)

SELL

when the color of both indicators =

Red

(Candle Closed)
CLOSED at the first opposite color of signal indicator (Candle Closed)
TAKE PROFIT AND STOP LOSS you can set your own target manually
or follow the " CLOSED" rule of the system. It means that whatever you loss or profit you close your position whenever the signal indicator shows the first opposite color ( Candle Closed )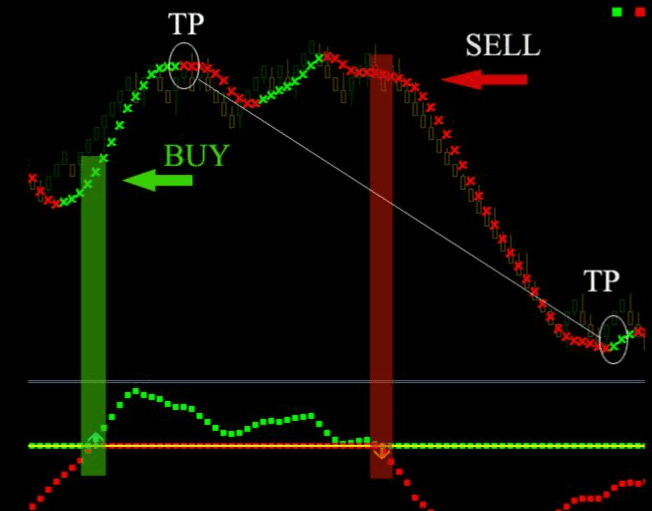 ADVANCE
We recommended trading following the trend. Trading against trends might you get profit but it will be higher risk. You can see "MTF-TrendBar" indicator in the TOP RIGHT corner to get recent trend info. Use trend of Time Frame H1-above


Lime = trend UP
Red = trend DOWN
DarkGray = Sideway/ Flat Market
Do not be late enter the Market. When in the closed candle both indicators formed the same color, at the same time you Open the Position immediately. As well as you closed your position.So you can maximize your profits.
If you see a sideway market signed by a flat candle movement, do not enter the market. Or if you are in the market, just exit.
For Good result of your position. Buy in the lowest (oversold) and Sell in the highest ( overbought). Use daily range to define this rule.