Best Correlation FREE Forex EA is work based on the Correlation trading method. This EA has around 20%-30% weekly account growth. The best thing about this free forex EA is that it's designed to work under most market conditions. since it uses the correlation method.
This EA has been integrated with a multi-pair trading system, therefore this EA is only enough to be installed on one chart, it's just that in the market watch you have to show all pairs. This Correlation EA is a Fully automatic free Forex robot but you can manually interact with this EA by using its dashboard. Also, This EA won't work on BACKTESTING.
Please test in a demo account first for at least a week. Also, Make yourself familiar and understand how the Correlation Forex EA works, then only use it in a real account.

Recommendation
Minimum of 2500$ Account Balance (But it could work on 200$ account) or equivalent cent/micro account
Attach EA to any time frame and currency pair. Use the dashboard to control the trading pairs.
Recommend running this Correlation Forex EA 24/5 on a VPS (Reliable and Trusted FOREX VPS – FXVM)
Low Spread account is also Recommended (Find the Perfect Broker For You Here)


Download a Collection of Indicators, Courses, and EA for FREE

Direct setting

Daily profit: input Daily profit limit
Cut profit: input cut profit
Cut SN profit: Single cut profit
Cut profit DN: Dynamic cut profit (Active when entry is more than 4).
Lot size (% / Fix): input lot in percent / fix

Information display

Timer: the last time a made an entry
Total entry: Total current Buy and Sell entries
Daily Max, Cut profit, Single-cut profit: Calculation result from the input (section 2).
Current P / L: total accumulated profit/loss of active orders.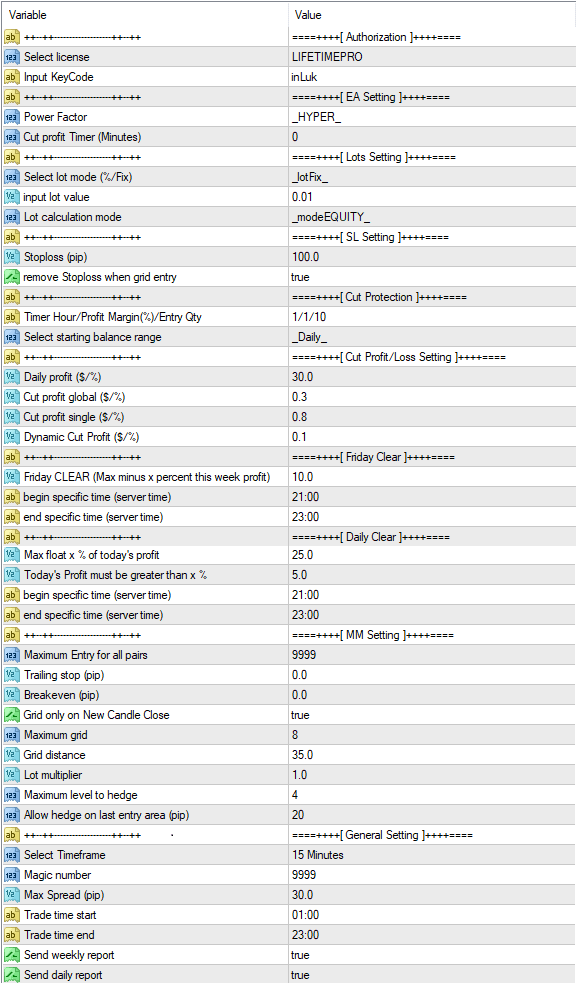 Power Factor – EA mode dropdown menu

HYPER: More entries.
BASIC: Normal Entry.
SQUID: Fewer entries.

Lot Mode – Dropdown lot mode (also for cut profit mode ).

lotPercent: Percent mode
lotFix: Fixed lot mode

Lot input – enter the number of lots in percent / fix.
Stop loss – Input stop loss in pip
Remove stop loss when grid entry – If true, ea will clear SL when Grid entry occurs .
Trailingstop – input 0 to disable trailingstop
Breakeven – input 0 to disable breakeven
Grid – input 0 to disable grid entry
Max Spread – maximum spread before EA stop trading
Trade start time – active ea start hour input
Trade end time – ea stop end hour input
Send weekly report – notification to android / IOS every week.
Send daily report – notification to android / IOS every day
FREE Forex EA Download