Dragon EA uses an advanced triangular correlation strategy. This Strategy Design using a real-time algorithm to find the correlation between pairs, and find the best entries to make profits. This EA Developer guarantees that you can generate 60%-110%+ Profit Monthly.
Developers claim that their advanced forward testing shows that EA trades will be treated as regular trades like human trade on the broker side. And Keeps shady brokers from trading against you by guarding your trade information.

Features of this EA
Plots chart price in real-time between all timeframes to find the best entry and exit points
EA will find the correlation between Pairs and give hedge to your trade.
No need to set anything, our default Expert Advisor setting has been fully optimized.
Hide your take profit and stop loss so broker can't cheat on you.
Choose the correlation pairs you want to trade. Expert Advisor will automatically adapt on the fly.
You can choose the time when expert advisors open the trade, whether in London/America/Australia/Asian Market.
Real-time managing your trade without any lag.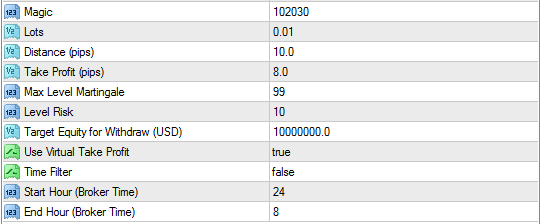 Magic ==> The magic number for track order
Lots ==> fixed lot
Distance ==> Distance per Open Position
Take Profit
Max Level Martingale
Level Risk ==> ex:10. When martingale level above 10 levels, EA is not waiting for TP, but override TP, when profit >$1 EA will close all orders.
Target Equity ==> ex:10000. EA will close all orders then disable activity when target equity reach.
Virtual TP ==> If there is too much request to the broker server, set virtual TP to true.
Time Filter ==> FALSE to turn off Time Filter | When True EA will only trade between the start and end time
Start ==> 24 (broker time)
End ==> 8 (broker time) 24-8(sydney-tokyo session +2 GMT)
Recommendation And Requirements
Minimum deposit: $5000 Or 50$ Cent Account
Time Frame: ANY
2 Modes

Conservative trade: Run EA only in Sydney and Tokyo Session.
Aggressive trade: Run EA 24 hours.

Setting: Default Settings
5-digit quote ECN Broker. (Find the Perfect Broker For You Here)
Recommend running Dragon Expert Pro 24/5 on a VPS (Reliable and Trusted FOREX VPS – FXVM)


Download a Collection of Indicators, Courses, and EA for FREE