SMART MACHINE EA is a fully automated Best Forex EA that is free to Download. It has been running for 5 years in a live account with almost 1000% growth(Verified myfxbook Result). It's running since April 2018 non-stop to this day.
It opens the first trade when he receives a signal using VSA (Volume Spread Analysis) analysis. If the first trading position closes positively, then the robot opens a new deal. If the quotes went in the opposite direction from the open position, then the robot turns on its profit exit algorithm, adding new transactions to the market, the size of which increases by the averaging or Martingale method (It can be turned off using Input Parameters if you prefer)
This Best Forex EA trade uses a combination of martingale and other methods. Because of this method, this EA has a high ROI(Return on investment) with almost a 100% chance of blowing the account if you don't have enough deposit. How Much Profit you can make monthly depends on your lot size and risk value.
SMART MACHINE EA has several options for risk management that allow you to protect your account and regulate trading risks according to your style and preferences.
After a Long time of using this strategy, Blowing your account is inevitable. However, with the periodic withdrawal of investments, the theory of probability works in our favor. After the initial investment is withdrawn, the dangerous martingale strategy immediately becomes break-even and highly profitable.
Please test in a demo account first for at least a week. Also, Make yourself familiar with and understand how this Best Forex Robot works, then only use it in a real account.


Recommendations for this Best Forex EA
A minimum of 100$ cent account or an equivalent normal account is recommended for this EA.
Work Best on EURUSD(Work on any currency pair)
Work best on M5 (Work on any time frame)
To reach stable results, This EA SMART MACHINE should work on VPS without any interruption 24/7. So we  recommend running this free forex EA on a reliable VPS (Reliable and Trusted FOREX VPS – FXVM)
Work on any account. But, we recommend a broker with a cent account. (Find the Perfect Broker For You Here)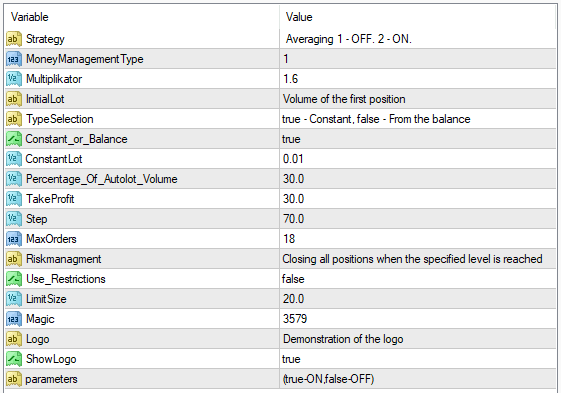 Strategy control block.
Here you can choose whether the SMART MACHINE EA will work with the same lot, transactions will be opened incrementally, or vice versa, go to a decrease in volume but not lower than 0.01 lot.
MoneyManagmentType – (1) – Allows an increase or decrease in the opening volume of the following transactions, the initial lot and the Increase / Decrease coefficient are set separately below.
MoneyManagmentType – (2) – Trading will be carried out only with a fixed lot, which is indicated below. (Averaging).

*** In general, accounts work with parameter 1 – this allows you to close transactions with higher profitability faster, when setting MoneyManagmentType – (2) you will have to wait longer for closing positions.
Block control of the initial and subsequent positions.
Constant_or_Balance – true – The initial order volume will be constant and equal to the ConstantLot value specified below. False – The lot size of the first order will dynamically change along with the change in the deposit and will depend on the Percentage Of Auto lot Volume parameter and the size of the deposit, calculated by the formula:

Lots = AccountBalance() * (RiskPercent / 100.0) / 10000.0

ConstantLot – The parameter sets the initial fixed lot for trading. Works only when Constant_or_Balance is true.
Percentage Of Autolot Volume – The initial lot is set depending on the deposit according to the formula above.

*** As a rule, the majority sets Constant_or_Balance – true and ConstantLot 0.1 – 0.5 lots for every $10,000 deposit, but this does not mean that these are the best settings and changing this parameter can radically change the work of the Best Forex Robot.

TakeProfit – the desired value of profit in points when closing an order or a group of orders. Everything is simple here, the higher the value – the higher your profitability from each position you open, the picture shows the value 30, which equals 30 pips or 3 four-digit points.
Step – This parameter is responsible for the minimum allowable distance between two opened orders. The lower this parameter, the more actively the Best Forex EA will work and vice versa. In the picture above it is 70, which means that the next trade will open no earlier than 70 pips or 7 four-digit points.
MaxOrders – a parameter that limits the number of simultaneously open orders.
Money management control block
Use_Restrictions true – enable or false – disable deposit protection by closing all transactions – when the limit value of the maximum drawdown set by you as a percentage of the entire deposit is reached. Most investors do not include this option.
LimitSize – a limiter for the allowable drawdown from trades, indicated as a percentage of the deposit amount. Will only work if the previous parameter is set to True.