5NITRO MT4 Indicator is a Forex indicator system that gives easy-to-use buy/sell signals. It was being sold for 199$ a Life Time. It comes with an ON-SCREEN dashboard that tells you Buy/Sell, trend, and other useful various information.
This 5NITRO trading algorithm is designed for making maximum profit from minor and major trends. Developers claim NITRO5 can make amazingly accurate market predictions by constantly auto-analyzing every price movement, and trading pattern, and with the help of complicated trading algorithms based on the great experience of their development team.
OBOS dot matriXx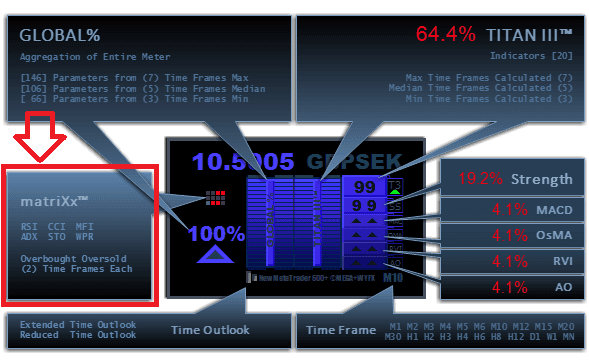 The twelve (12) matriXx dots represent possible Overbought or Oversold levels. When these dots illuminate, this may be an indication to begin to think about taking some profit. With possible OBOS price action, and thus visual indication from the matriXx dots, also brings possible upcoming turning points.
These (12) dots are comprised of (6) separate individual indicators ADX, CCI, MFI, RSI, STOCH, and WPR. The calculations are taken from 2 separate time frames.
These dots illuminating can also present opportunities to add to or replace units on retracements from meter readings that exceed 80% to 85%. For Example: when a momentary normal and healthy retracement causes the meter to briefly drop down to 45% after previously reaching a recent high greater than 80% to 85%.
Each OBOS High and Low limits can be adjusted by the User along with the color of illumination and non-illumination.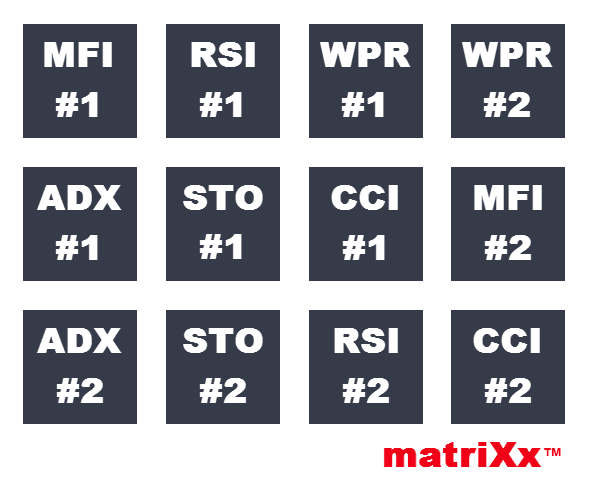 This MT4 Indicator FREE can give you trading signals you can take as they are or add your additional chart analysis to filter the signals further, which is recommended. While traders of all experience levels can use this system, it can be beneficial to practice trading on an MT4 demo account until you become consistent and confident enough to go live.
It catches very fast and profitable price movements and gives you easy BUY/ SELL signals. Every trading signal is very carefully verified by the system to produce only the highest probability trades.
5NITRO+ MT4 Indicator System can be used on any Forex currency pair and other assets such as stocks, commodities, cryptos, precious metals, oil, gas, etc. You can also use it on any time frame that suits you best, from the 1 minute through to the 1-month charts



Click Here to Download MT4 Indicator