Light wins MT4 Strategy is a NON-Repaint (arrows) MT4 Renko Trading System that gives easy-to-use Buy/Sell signals on Renko charts. It is a trend-following strategy designed for Renko charts based on trend indicators. With the purpose of filtering all market noise (Manipulations and spikes).
About Renko
Renko charts are based on PRICE, not on TIME. Renko charts update dynamically, tick by tick. Renko charting is considered best for predicting the change in the market sentiment that precedes a new trend. Trend reversals are signaled by the emergence of a different color candle. An easy system to follow is to trade in the direction of the trend and exit when it reverses. Support and resistance levels are easily seen on Renko charts.
Renko Indicator charts smooth out market noise, clearly show trends and detect reversals. Renko charts are very effective for traders in identifying critical support and resistance levels. Buy/sell signals are generated when the direction of the trend & color of the candles changes. Actual volume values are displayed for each Renko candle.



Light wins MT4 Indicator can give you trading signals you can take as they are or add your additional chart analysis to filter the signals further, which is recommended. While traders of all experience levels can use this system, it can be beneficial to practice trading on an MT4 demo account until you become consistent and confident enough to go live.
Follow money management & Don't enter to trade within the high-impact news period. Exit from your trades before half & an hour from the high-impact forex news.


Renko Trading System will send you a signal alert via platform pop-ups and Email. This is helpful as it means you do not need to stare at the charts all day waiting for signals to appear, and you can monitor multiple charts simultaneously.
MT4 Renko Trading Strategy can be used on any Forex currency pair and other assets such as stocks, commodities, cryptos, binary options, precious metals, oil, gas, etc.
How to Install (Important)
Copy all the files to the according folders
Restart your Metatrader 4
Open your preferred Pair e.g: EURUSD, GBPUSD, etc., and select Time Frame M1. Zoom out to the smallest chart
Then press the HOME key on the keyboard several times. (We do this step to get history data a minimum of 1 to 2 months ago).
Then load the "RenkoLiveChart_v600.6_indi" Indicator onto the chart. (don't close this chart. If you do Renko chart will stop updating)

Default settings are Renko Box Size 3 pips and Renko TImeFrame 7min.
Feel free to experiment with different Renko TImeFrame and box sizes.
Now you can open the Renko chart, Click Tab File ➔ Open offline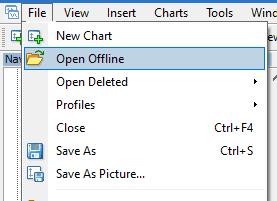 If you previously Attached the EA to the EURUSD pair, you can find EURUSD M7 (if you can't, you may need to restart the MT4). Click Open it.


In the last step, load the "Renko light wins in forex trading" template to your new chart. (see the below screenshot to confirm it is installed correctly)
How to Use this MT4 Renko Trading System
A

Green

arrow represents a buy signal.
A

Red

arrow represents a sell signal.
Trade only in the direction of the trend. It have four signals of direction. To confirm an entry, you must have three concordant signals in the same direction including the arrow.
Buy
Trend arrow green Buy arrow, confirmed by two other signals.

Ultra signal indicator

Green

, BKMGC1

Green

color painted candles, or MACD two lines cross upward.
Sell
Trend arrow

red

Sell arrow, confirmed by two other signals.

 Ultra signal indicator

Brown

, BKMGC1

Pink

color painted candles, or MACD two lines cross downward.
Exit position
You can take profit from your order at the opposite signal or use the risk-to-reward ratios.
On the last swing, high for Sell trades.
On the last swing, low for Buy trades.
Close to important support/resistance area.
Or exit on the opposite signal.


More Renko Indicators HERE