Market Sentiment Forex Indicator predicts the Market Sentiment Accurately with many more very useful features. It works on these assumptions that 95% of retail traders are NET losers. While the "Smart Money" or Banks are almost always NET winners. So wouldn't it make sense to trade the opposite of the "herd" or lose retail traders
However, the challenge is finding the true market sentiment of the retail traders(herd). The Market Sentiment Indicator MT4 pulls data from hundreds of thousands of retail traders to show you the overall market sentiment. Basically shows you what the "herd" is doing so you can do the opposite!
It gives a higher winning trading signal on any MetaTrader 4 instruments for any type of trading conditions – day trading, scalping, swing trading, top&bottom trading, etc. The system itself is quick to learn and extremely easy to implement. Even if you are completely new to trading.
This Strategy is entirely manual. The indicators produce the signals, but any decisions to enter the market and to set protection stops or profitable exit stops will depend on the trader. Therefore, the trader must be familiar with the principles of risk and reward and use initial support and resistance areas to set entries and exits.
This Market Sentiment MT4 can give you trading signals you can take as they are or add your additional chart analysis to filter them further, which is recommended. While traders of all experience levels can use this system, it can be beneficial to practice trading on an MT4 demo account until you become consistent and confident enough to go live.
Main Chart of this Market Sentiment Indicator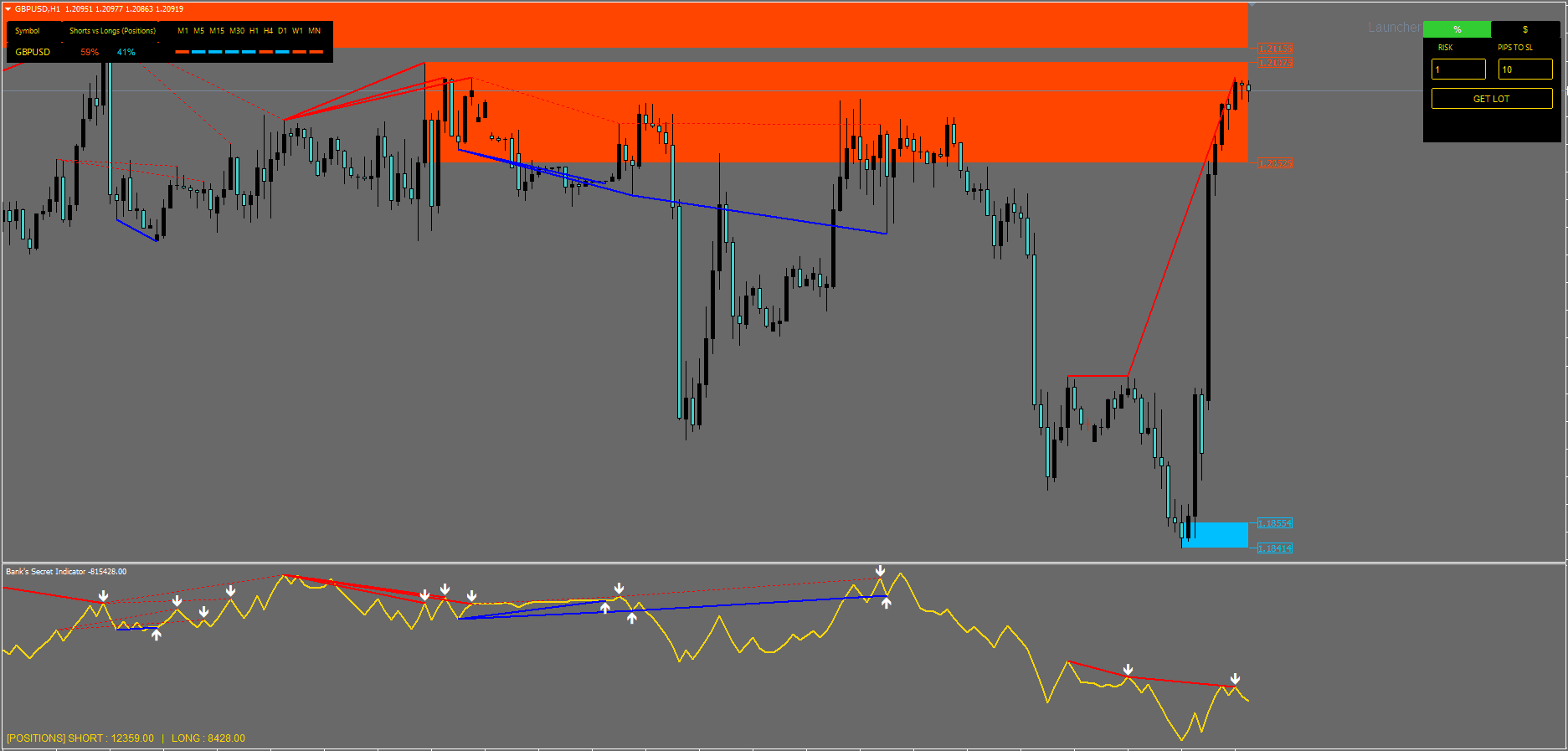 In the picture below, you can see retail traders are mostly net long (87%) as the market continues to drop against them. Simply trading against the "herd" will align you with the smart money & could potentially give you a serious EDGE in the market.


Next, the Market Sentiment MT4 allows you to simply assess the overall market trend on different time frames without having to pull open a bunch of charts. You've probably heard, "the trend is your friend". And "you should only trade with the trend". We agree!
This feature shows you each time frame whether the market is trending up or down. In the picture below you can see the M1, M5, M15, M30, H1, H4, D1, W1 are all trending down. And the MN is trending up.


You also probably notice these big red and blue "zones" on the chart shown in the before images. This feature of the Market Sentiment Indicator shows strong areas of supply & demand where price has sharply bounced off in the past.


Another helpful feature of this indicator is the on-chart risk calculator. It just decides what percentage of your account you'd like to risk and how far away your stop loss is from your entry price, and the BSI will automatically calculate your lot size.


You can set the Market Sentiment Indicator for MT4 to send you a signal alert via Mobile Notification, E-mail, and platform pop-ups. This is helpful as it means you do not need to stare at the charts all day, waiting for signals to appear, and you can monitor multiple charts simultaneously.
Market Sentiment Indicator MT4 can be used on any Forex currency pair and other assets such as stocks, commodities, cryptos, precious metals, oil, gas, etc. You can also use it on any time frame that suits you best, from the 1-minute through to the 1-month charts.


Download a Collection of Indicators, Courses, and EA for FREE
Trading rules for this Market Sentiment MT4
Follow money management & Don't enter to trade within the high-impact news period. Exit from your trades half & an hour from the high-impact forex news.
As always, to achieve good results, remember about proper money management. To be a profitable trader, you must master discipline, emotions, and psychology. It is crucial to know when and when not to trade. Avoid trading during unfavorable times and market conditions like low volume/volatility conditions, beyond major sessions, exotic currency pairs, wider spread, etc.