ND10X System is a combination of indicators like COG/ MACD / StochasticRSI and offers market summaries like average bar move and the movement of the currency. It's a manual expert level Forex trading system. It will work for beginners and full-time traders alike.
ND10X System is one of the best trading indicators that can help you to make the right decision in trading. In regards to accuracy, the developers claim a staggering 89% estimated level of accuracy.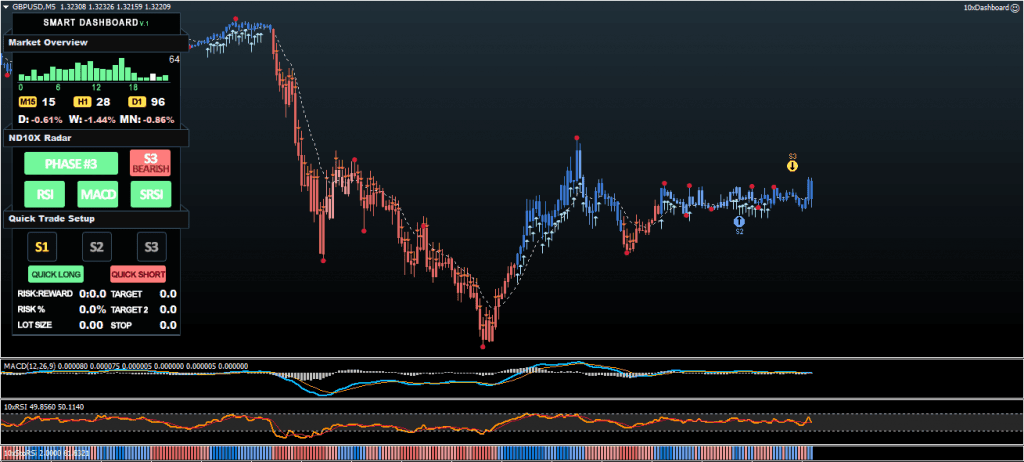 While traders of all experience levels can use this system, it can be beneficial to practice trading on an MT4 demo account until you become consistent and confident enough to go live.
Features
You can set the ND10X Indicators to send you a signal alert via email, Mobile Notifications, or platform pop-ups. This is helpful as it means you do not need to stare at the charts all day waiting for signals to appear, and you can monitor multiple charts all at once.


ND10X Indicator System can be used on any Forex currency pair and other assets such as stocks, commodities, cryptos, precious metals, oil, gas, etc. You can also use it on any time frame that suits you best, from the 1 minute through to the 1-month charts.
This is only the ND10X Indicator system and the manual, There are three different templets (DashBoard, PhaseScanner, RiskDesk). The only difference between these templates is the attached EA(No automated trading). These EA's provide dashboard, phase scanner, and risk desk. Install Fonts if the arrows don't show up like in the images