Have you ever felt frustrated when trying to install a Tradingview Custom scripts? You're not alone. Installing scripts on TradingView can be challenging, especially if you are new to the platform.
Fortunately, we're here to help. In this guide, we'll walk you through the process of installing a TradingView script step-by-step. We'll explain the basics of how scripts work, and show you how to identify and install them on your charting platform easily.
Plus, by the end of this guide, you'll have learned the secrets to using scripts to get the most out of your trading experience. So let's get started!
Table of Contents
How to Install and Use TradingView Scripts for Your Trading Activities
Creating a TradingView account is the first step in installing tradingview scripts. To do this, you'll need an email address and a password. Once you're logged into your account, you're ready to begin installing tradingview scripts.
To find the scripts you want to install, search for them in TradingView's script library. You can filter by categories such as Technical Analysis, Fundamental Analysis, and News & Events to find just the right script for your needs. When you've chosen the best script for you, click "Add to My Scripts" to save it to your list of installed scripts.
Once the script has been added to your list of installed scripts, it's time to set up your preferences and parameters. This is important because it sets up the conditions under which the script will run and generate signals or alerts. Be sure to thoroughly review all of the settings before saving so that everything is configured correctly and accurately reflects your trading strategy.
By now, you should be ready to begin using TradingView scripts in your trading activities! With a few simple steps, you can get started and start taking advantage of all they have to offer.

How to Install TradingView Custom Scripts
To Install a Custom TradingView script is also quite simple as before. All you have to do is find the right script and then install it on your account. You can expect tradingview scripts from our website in the future.
Installing TradingView scripts is easy, but following the right steps is important. Here's a step-by-step guide on how to install a script:
First, open up a TradingView chart and find the "Indicators" tab.
Then Go to My scripts and Select the "Create" option. (or click on the "Pine Editor" tab)
Copy and Paste the script into the designated field.
Once you've added the script, click "Publish script" to save it. (or click "Save" and "Add to Chart")
Now you can access your script anytime by clicking Indicators and the "My Scripts" tab and selecting it from the created script list.
Finally, run your trading program through your Scripts tab and watch for any indicators that may appear on your chart!
That's all there is to it! By following these steps, you can add any TradingView scripts you purchase directly into your account, allowing for seamless analysis and trading operations every time.
Tips for Customizing and Managing a TradingView Script
Ever wonder how you can customize, manage, and even create your own TradingView script? Here are a few tips to get you started:
Familiarize yourself with the script editor
Before you can customize or build a tradingview script, you must know how to use the script editor. This is the place where scripts are written and edited. Familiarizing yourself with the scripting language and all its features will give you the confidence needed to create complex scripts tailored specifically for your trading strategy.
Understand the components of a Tradingview script
A TradingView Script has three essential components: charting logic, data sources, and parameters. Charting logic is what tells the script how it should display data on the chart. Data sources provide the raw data that is used by the charting logic. Parameters allow user input that can be used to customize how data is displayed on the chart or trigger specific actions within the script.
Test and debug your scripts
Debugging a script before it goes live is key in order to ensure there are no bugs or errors in your code that could lead to costly mistakes when it comes time to trade. Testing involves running test scenarios using actual data and evaluating any output from the script against expected results. This process should be iterative until all results match the expected outcomes.
By understanding these tips and tricks for installing TradingView scripts, you can begin creating custom scripts that work best for your unique needs – and become an even better trader!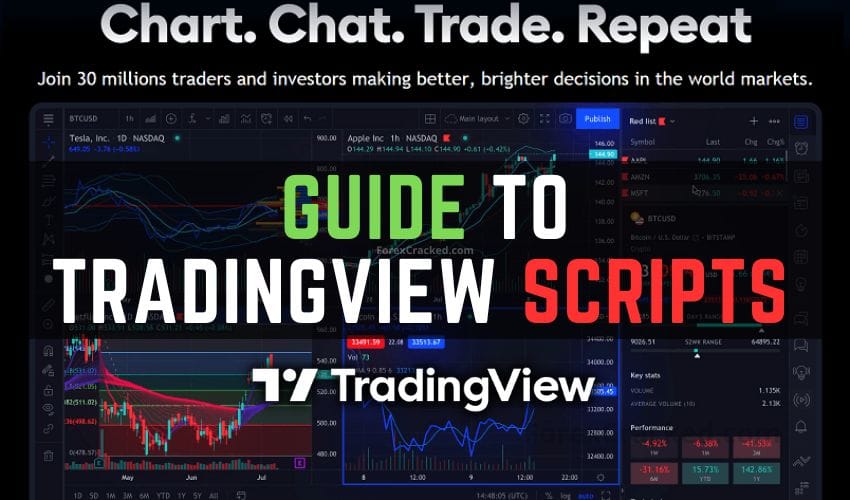 Tips to Get the Most Out of Your Script Trades
Installing TradingView scripts is a great way to make trading easier and more profitable. To get the most out of your script trades, there are a few tips to keep in mind:
Start small to reduce risk. Instead of placing all your funds into one script trade, test out the waters with small amounts first as you become familiar with the platform.
Do your research. Make sure you understand how the script works and its features. Please read up on how other traders have used similar scripts and their strategies for successful trades.
Stay informed about market trends and movements so that you can make informed decisions about the best time to buy, sell or hold for each script trade you make.
When trading in volatile markets, try using stop-loss orders, which are automated orders that help limit losses by getting rid of positions when they reach a specific price point.
With these tips in mind, installing TradingView scripts can be a great way to get started with automated trading with minimal risk and stress!
Strategies for Understanding and Interpreting TradingView Script Results
Interpreting tradingview script results can be tricky, but there are a few strategies that you can use to make sure that you understand what the results mean. Here are some tips to help you out:
Start with the basics
First, understand what the script is measuring and why it was created. Study the documentation, and read up on any additional resources that may help. Make sure you understand the basics of how Tradingview works so that you can interpret your results accurately.
Identify key aspects of your data
Look at your data and identify any outliers or patterns you see. Ask yourself, "What does this tell me?" and "How can I use this information?". Analyzing and understanding the data will help you draw meaningful conclusions.
Draw your own conclusions
Don't rely solely on what Tradingview says. Use it as a starting point and draw your own conclusions by combining other sources of information with what Tradingview provides. This will help you to get a more accurate picture of the market and make better decisions about when to buy or sell.

Troubleshooting Common Issues With Scripts on TradingView
In some cases, you may run into issues with scripts on TradingView. Before you give up, try troubleshooting the problem by following these steps:
Check that the script is enabled in your TradingView settings.
Verify that your browser is up-to-date and that TradingView supports it.
Ensure your device isn't running any heavy programs or tasks in the background.
Try a different browser, such as Chrome, Firefox, or Safari, if necessary.
Check if an update is available for your script, and ensure you're using the latest version.
If none of these steps resolve the issue, try uninstalling and reinstalling the script to see if it works then.
Contact TradingView support for help understanding and resolving the issue if all else fails.
With just a few simple steps, hopefully, you'll be able to get your scripts running smoothly on TradingView in no time!
FAQs on Installing TradingView Scripts
You might have some questions about how to install TradingView scripts, so here are some of the most frequently asked ones:
Is it possible to use two scripts at the same time?
Yes, it is possible to use multiple scripts at once in Tradingview. Ensure each script is installed correctly into your workspace before running them together.
How do I know if a script has been installed correctly?
Once you have installed a script in your workspace, the script will appear in the list of "Scripts" on the left-hand side of your chart window. If the script appears here, it has been successfully installed and is ready to run.
Can I use third-party scripts with TradingView?
Yes, you can use third-party scripts with TradingView. Ensure the script you're downloading is compatible with TradingView before installing it into your workspace.
Using third-party scripts can be tricky, but hopefully, this guide has helped you through the process of installing them onto your TradingView workspace.
What types of scripts can be installed on TradingView?
TradingView supports a variety of scripts, including indicators, trading systems, strategies, and more. All scripts must be written in Pine Script and be publicly available to be installed on TradingView.
How do I uninstall a script?
If you no longer need or want a particular script, navigate to my scripts in your chart settings, select the script you wish to uninstall, and click on the "X" mark. The script will then be removed permanently from your list of scripts.
Conclusion
Installing TradingView scripts is not difficult but requires a few steps. By following these steps, any trader can set up their tradingview scripts quickly and easily.
Having the proper tradingview scripts can give traders the edge they need to be successful in the markets. With the right mix of technical indicators, tradingview scripts can give traders an edge that can put them ahead of the game.
A wide variety of tradingview scripts are available, so it's important to understand the features and capabilities of each one and select the one that best fits your trading style and goals. Installing tradingview scripts is easy, but it's important to ensure you have the right ones for your trading style.