Introduction
There are no forex trading strategies that will generate a profit every single time, but some fundamental strategy can produce some pretty good results.

One such strategy uses exponential moving averages (EMAs), precisely the five and 20-period EMAs.

Exponential moving averages(EMA) provide you with a good indication of the current trend. When a short-term moving average crossing a longer-term moving average, i.e., the 5 EMA crossing the 20 ema in this case, it is a good indication that the trend has changed.

So, in other words, it allows you to enter a position right at the start of a new trend.

How to Get Higher Chances of Success
This is not a foolproof forex trading strategy by any means because there will be times when you will get false ema crossovers that don't turn out to be the start of a new chart trend, but there are ways to increase your winning chances of success.

One of the great ways is to use multiple mt4 time frames. For example, you might look for a solid upward move on the daily and 4-hour time frame, wait for a retracement on the 1-hour chart, and then enter a long trade when the EMA (5) crosses over through the EMA (20) on this same time frame when the longer-term trend prevails.

As an example, the USD/JPY had a strong move upwards on the 4-hour and daily chart the previous month and was starting to make trend nicely upwards before it retraced back nicely with a down EMA crossover (5 crossing the 20) on the 1-hour mt4 chart. It then crossed over upwards once again when the chart trend resumed, which was a perfect entry point: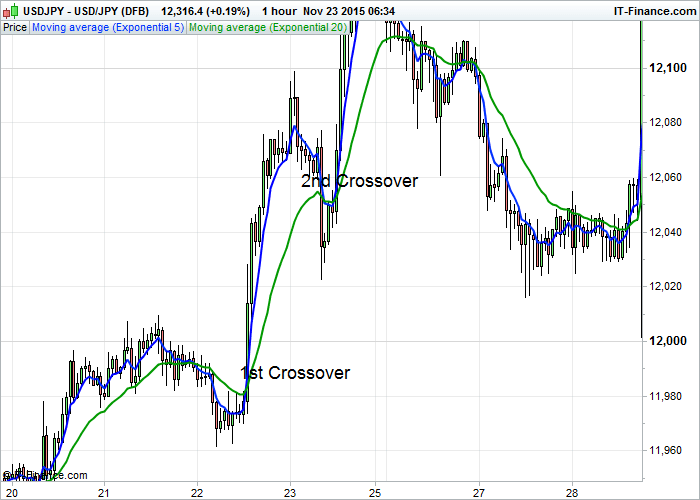 Indeed, another upward EMA crossover the next day would also have been profitable, but we always like to trade the first ema crossover whenever possible.

If you like, you could also look for strong price movements on the 1-hour and 15 minute time frames and then enter a position when you get an EMA crossover on the 5-minute chart. Still, it's generally more profitable to use longer time frames if you can because the price moves can be pretty small on the smaller time frames, which means that the spreads will eat into your profits.
The Key to Success
You are trying to identify pairs in strong trends on two long time frames and then open a position when you get an EMA crossover in the same direction on one of the short time frames because this is an example of an excellent probability trade.

This is a lot more profitable than using a single time frame and is a strategy that many people, including me, use to generate profits regularly.

Exit Strategies
When it comes to exit strategies, you have many options. One is to run the position until the EMAs cross back in the other direction, i.e., when the trend runs to its conclusion, which can sometimes yield tremendous returns. Still, another option is to look to make a good number of pips per trade and move your stop-loss to break-even as soon as it is in profit. That is another good strategy.
Final Thoughts
The point is that there are many options that you can profit from the EMA crossover forex strategy, and the great thing is that you only really need to use two simple technical indicators.

You don't need to stick to the five and 20-period settings because you may find that you get the same good results from using a ten and 20-period EMA crossover strategy instead.

And, if you take a long-term look, the death cross (downward crossover) and golden cross (upward crossover) of the 200 and 50-day EMAs can be more profitable if you wait for a good pull-back and enter at the right time because the resulting price moves can be thousands of pips.
Read More: A low-risk approach for better profits; one-minute forex scalping strategy


Download a Collection of Indicators, Courses, and EA for FREE