This Adaptive Forex EA is a fully automatic, Highly Customizable Adaptive Trading EA that is Free to download. Although it may not provide the most immediate plug-and-play solution, its effectiveness and potential are hinged on fine-tuning and optimization.
Most EA makes tall claims about their AI, adaptive, intelligent, learning algorithms, but often all are just marketing; there is nothing like that in the EA. However, this Adaptive Trading EA, despite not being AI per se, promises an intelligent approach to Forex trading. This novel system uses a learning algorithm that scans past market data to adapt and find the best entry points.
This Trading EA requires a substantial data set to begin trading. It doesn't rely on presumed theories or outdated market models but instead learns from actual market data to provide the most reliable trading signals. Specifically, it requires about a month's worth of chart history before it can start trading. This means traders must ensure this EA has enough data history before utilizing the system. If it lacks sufficient data, you must download it from the historical center or use a history load script. Without this initial data, the system will not open any trades.
But why the insistence on such a large data set? This is where the adaptive learning algorithm comes into play. Unlike conventional algorithms that follow set patterns and rules, this learning algorithm studies past market behavior, identifies patterns, and adapts to them, consequently determining the best entries. The system progressively improves its prediction accuracy by continuously learning from past and present data.
Adaptive Forex EA also stands out due to its extensive customization options. Many trading platforms offer limited customization, making it challenging for traders to adjust the system to their unique trading style or strategy. In contrast, this platform provides comprehensive documentation of input parameters, allowing users to understand and tailor the system to suit their preferences better. This level of customization could potentially lead to more efficient and profitable trades, elevating the user experience.
However, this level of adjustability and emphasis on optimization implies a level of commitment from the user. The EA isn't designed for those seeking an immediate plug-and-play solution. Instead, it's tailored for those willing to invest their time and effort to fine-tune the settings for optimal performance. Traders who are willing to engage with the Adaptive Trading EA, learn its nuances, and tweak the parameters are the ones who will find the most success with this Customizable Expert Advisor.
Please test in a demo account first for at least a week. Also, please familiarize yourself with and understand how this Adaptive Forex Robot works, then only use it in a real account.

Recommendations for Adaptive Forex EA
Minimum Account Balance of 100$ for 0.01 lot.
Work on all Pairs. ( We recommend experimenting and fine-tuning to find the best pairs)
Work on all TimeFrames, But we recommend Lower TimeFrames.
It will take time to start trading.
Traders should verify that this Forex EA has adequate data history before deploying it.
If the system lacks the necessary data, traders must download it either from the historical center or utilize a history load script.

The EA will not open any trades without a sufficient data set.

This Adaptive Forex EA should work on VPS continuously to reach stable results. So we recommend running this MT4 EA Download on a reliable VPS (Reliable and Trusted FOREX VPS – FXVM)
The EA is NOT sensitive to spread and slippage. But We advise using a good ECN broker (Find the Perfect Broker For You Here)


Moreover, it incorporates a news filter, a feature that makes the system even more appealing. The financial market is highly sensitive to news events, with market dynamics often changing drastically following major announcements. The news filter feature screens such information, filtering out the noise and focusing on news that could significantly impact the market. This feature aids traders in making more informed decisions, reducing the risk of unexpected market movements affecting their trades.
Lastly, the platform supports prop firm trading with drawdown limits. Prop trading firms often limit the amount a trader can lose in a trading period (a drawdown limit), and exceeding this limit can lead to a cessation of trading. The system's support for such trading scenarios further amplifies its versatility and applicability in various trading environments.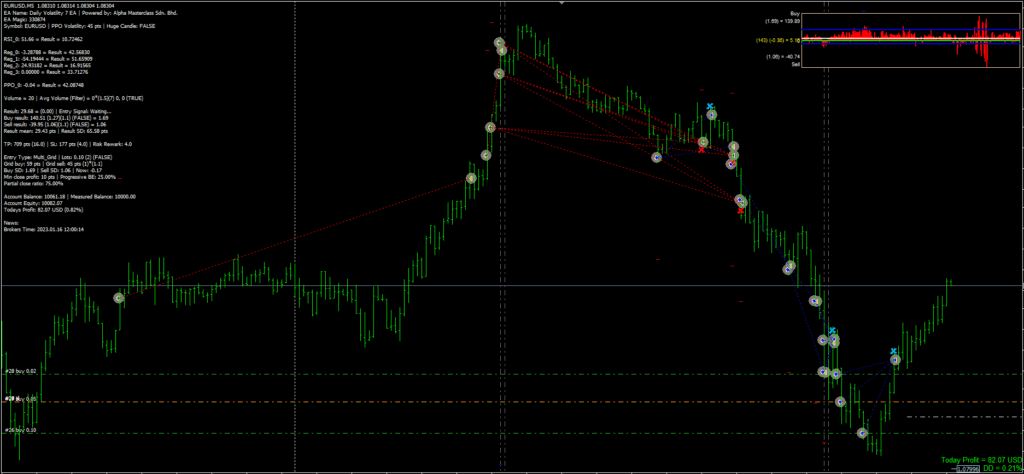 Update – 2023/08/26
Conclusion of this Trading EA
In conclusion, while it might not be AI in the traditional sense, this Trading EA harnesses the power of adaptive learning algorithms, offering a more refined, data-driven approach to Forex trading. With its focus on large-scale data analysis, extensive customization, news filtering, and prop firm support, it positions itself as a viable tool for modern traders. However, as always, traders must remember that all types of trading come with inherent risks and should proceed with caution, even when using sophisticated tools like this one.