DO IT EA is a Fully Automatic Autonomous Robot Expert capable of independently analyzing the market and making trading decisions. It doesn't utilize Martingale, GRID, Averaging, and other dangerous strategies. DOIT EA is in full compliance with the FIFO method.
DO IT Expert uses only pending orders on the broker's server, which initially reduces the degree of risk through delays and slippages. The System has built-in protection against increased broker Slippage and significant Broker Spreads Fluctuations in the Market. The trading system Does Not leave Orders on Weekends. Also, Each trade has a FIXED StopLoss and each Deal follows the expiration time.
DO IT System only trades during certain working hours when the market is most profitable. The trading system uses a searching mechanism for the most concentrated prices in the market, it allows you to predict the behavior of the market with amazing accuracy.


Recomedetions
Minimum account balance of 100$
Work Best On EURUSD, GBPUSD, USDJPY, SPX500, DAX30, GOLD( DEFAULT settings are optimized for EURUSD H1 and GMT=3 Broker server time )
Work on ANY Time Frames(work same in all timeframes)
Recommend running the Free Forex EA 24/5 on a VPS (Reliable and Trusted FOREX VPS – FXVM)
Low Spread ECN account is also recommended (Find the Perfect Broker For You Here)
Enable News Filters


To add a news filter link, open Tools –> Options –> Expert Advisors. Check the option "Allow WebRequests for listed URL" Add the following: "http://ec.forexprostools.com/ " and press "OK." The EA takes news from the specified websites.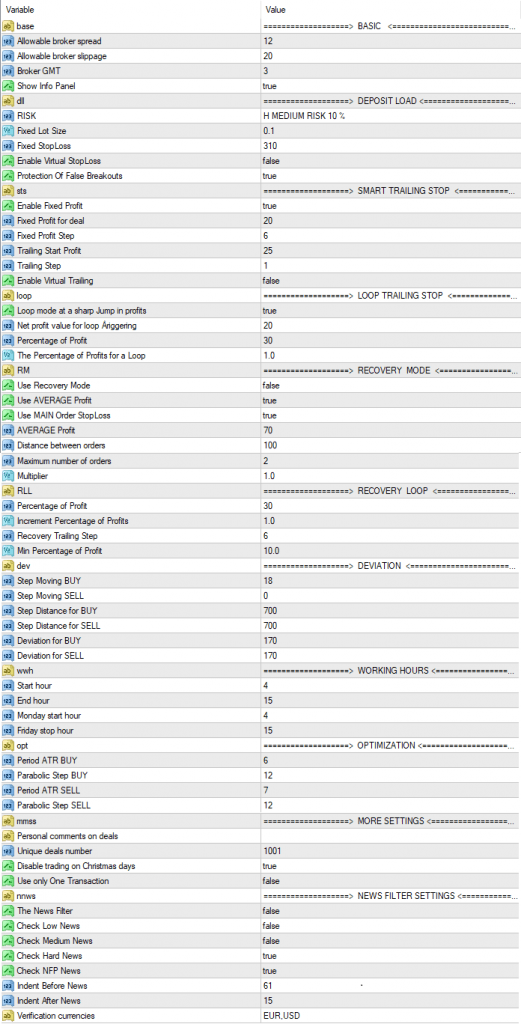 BASIC
Allowable broker spread – Acceptable spread
Allowable broker slippage – Acceptable slippage
Broker GMT – fixed broker GMT (summer time GMT=3)
Show Info Panel – Show Panel
DEPOSIT LOAD 
RISK – Deposit Loading for one transaction
Fixed Lot Size – Fixed Lot size (If RISK=FIXED_LOT)
Fixed StopLoss – Fixed StopLoss
Enable Virtual StopLoss – Virtual StopLoss
Protection Of False Breakouts – Additional protection against false levels
SMART TRAILING STOP 
Enable Fixed Profit  – Enable First Fixed Profit for each transaction
Fixed Profit for deal – Fixed Minimum Profit for Each trade (without slipping)
Fixed Profit Step – Price Deviation from the first profit
Trailing Start Profit – Minimum Profit to Start Trailing Profit
Trailing Step – Trailing step
Enable Virtual Trailing – Enable Virtual Trailing 
LOOP TRAILING STOP
Loop mode at a sharp Jump in profits – Enable Loop mode for Profit Taking
Net profit value for loop Triggering – Minimum profit required to activate the mode
Percentage of Profit – The percentage of the profits
The Percentage of Profits for a Loop – The percentage increment during compression of the profits
RECOVERY MODE 
Use Recovery Mode – Activating recovery mode
Use AVERAGE Profit – Use the average profit from all orders
Use MAIN Order StopLoss – Use StopLoss from the very first order
AVERAGE Profit – Minimum profit to activate the trailing of orders
Distance between orders – Distance between orders
Maximum number of orders – Maximum allowed number of orders
Multiplier – Transaction multiplier ( optional Default=False )
RECOVERY LOOP 
Percentage of Profit – The percentage of profit for the Trailing multiple orders
Increment Percentage of Profits – Percentage of deferred profit compression
Recovery Trailing Step – The trailing step, the average position
Min Percentage of Profit – Minimum percentage of profit-taking after the increment
DEVIATION 
Step Moving BUY –  deviation for BUY trades
Step Moving SELL  – deviation for SELL trades
Step Distance for BUY  – accepted channel deviation for BUY trades
Step Distance for SELL  – accepted channel deviation for SELL trades
Deviation for BUY –  horizontal market offset for BUY trades
Deviation for SELL – horizontal market offset for SELL trades
WORKING HOURS 
Monday start hour – start time Monday morning
Friday stop hour – end time Friday night
Start hour – daily trading start time
End hour – daily trading end time
OPTIMIZATION  
Period ATR BUY –  ATR period to optimize the orders of the BUY type
Parabolic Step BUY –  Parabolic step to optimize BUY orders
Period ATR SELL – ATR period to optimize SELL orders
Parabolic Step SELL – Parabolic step to optimize SELL orders