Forex DJ Market Pro is a trading system that can analyze market movements technically with very high accuracy. This system is simple and easy to use and understand, if used properly, it can increase your trading success rate and maximum profit
The DJ Market Pro System has been impeccably programmed. It comes with an ON-SCREEN Panel that tells you Buy/Sell and various information that you need for trading. It will not overlap the candlesticks so it will always be crystal clear for you to read.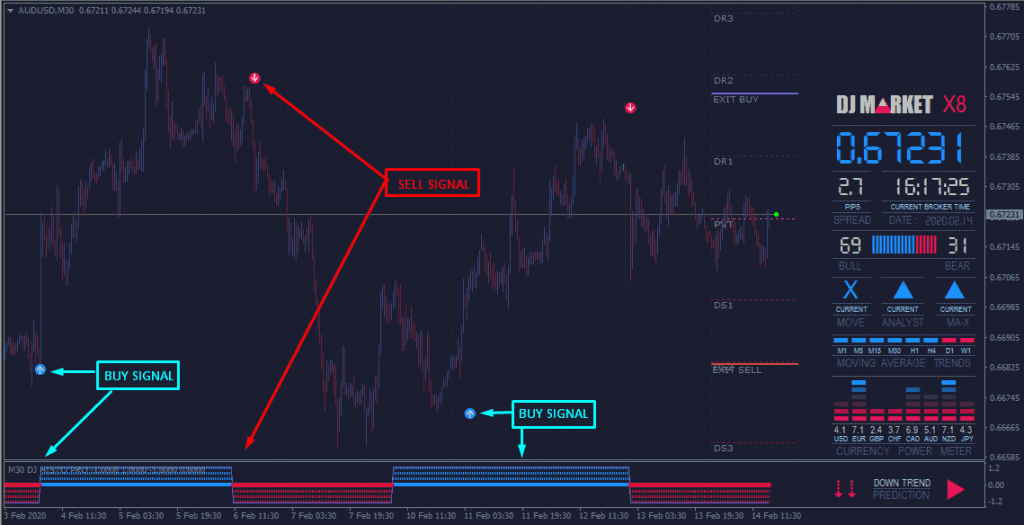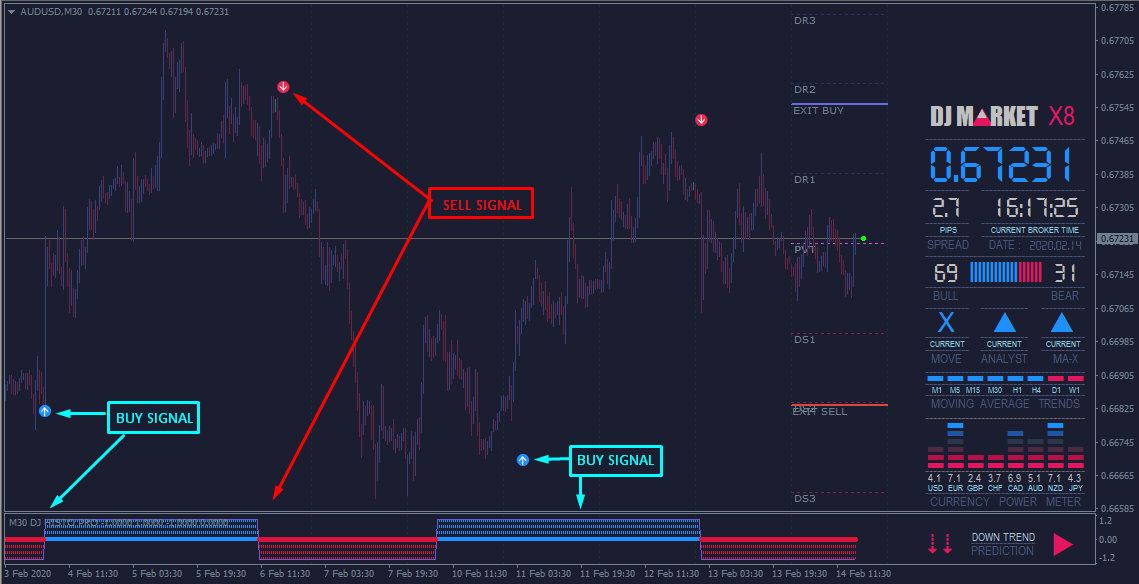 DJ Market Pro free forex indicator system can give you trading signals you can take as they are or add your additional chart analysis to filter the signals further, which is recommended. While traders of all experience levels can use this system, it can be beneficial to practice trading on an MT4 demo account until you become consistent and confident enough to go live.
Features
You can set the DJ Market Pro Indicator to send you a signal alert via email, SMS, or platform pop-ups. This is helpful as it means you do not need to stare at the charts all day waiting for signals to appear, and you can monitor multiple charts all at once.


DJ Market Pro Indicator System can be used on any Forex currency pair and other assets such as stocks, commodities, cryptos, precious metals, oil, gas, etc. You can also use it on any time frame that suits you best, from the 1 minute through to the 1-month charts.
1.DJPVT
Explanation Pivot Point
Pivot PointsIndicator is a simple pivot indicator that would give basic information such as Daily Pivot Points, Support 1, Support 2, Support 3, Resistance 1, Resistance 2, and Resistance 3.

The advantages of pivot points compared to other Support & Resistance methods, namely every trader around the world uses the same formula to calculate pivots so they are the most frequent market psychology level used by traders to make decisions.
The basic principles of Pivot are:
Usually when the price is opened above the pivot, psychologically the price will go up (although not always) and vice versa.
Prices tend to try to break pivot, support & resistance levels.
If the momentum is strong then the price will break the pivot towards support or resistance but if the momentum is weak then the price will reverse direction. • If the price does not touch the pivot, it usually tends to move away from the pivot.
Explanation of Range Daily

Range Daily Is the Range of High and Low Movement to determine the exit level Maximum trades, including Taking Profit and Stop trades in one day, this level will change every day. In addition, this indicator is also useful so that we don't until over trade.
2. DJ X6 DJ X6
indicator in the form of points / arrows can be used to determine the trend that will take place. This indicator does not repaint, DJ X6 issues an alert when there is a change in trend / new signal.

3. DJ CSM

DJ CSM provides visual information on the current trend based on the analysis of more than 5 indicators that are displayed visually on the chart, you can adjust the settings of all the indicators in the input parameters. DJ CSM displays the following information in the lower right corner of the chart:
Forex Currency Strength Meter is a type of Forex indicator that functions to measure the index of the strength of one currency against another. With this indicator, you don't need to open multiple charts at once to perform trend analysis (correlation between currencies)
Moving Average Trends is an indicator that displays the average value of price data in the time period M1, M5, M30, H1, H4, D1 and W1 . – MACD is a technical indicator that can help you identify changes in direction.
MA-X indicator on the basis of crossovers 5 SMA periods (periods can be changed).
Buyer & Seller Volume displays the average volume of buyers and sellers, helping you see the strength of buyers and sellers.
Spread This indicator can be relied upon in knowing the spread changes. For those of you who need information about spreads, changing spreads, or periodic changes, this indicator is for you. Knowing the spread is an important factor before you open a position. Because when the spread is widened or suddenly the open time is immediately floating 15 points or 30 points of course
4. DJ ROCK

DJ ROCK appears in the sub-window Providing Trend Information in the form of a Histogram
SELL

Entry
Arrows appear

Down

DJ ROCK color histogram

RED

The seller is bigger than the buyer
Moving average trend M30, H1, H4 color

RED

BUY

Entry
Arrows appear

Up

DJ ROCK color histogram

Blue

The buyer is bigger than the seller
Moving average trend M30, H1, H4 color

Blue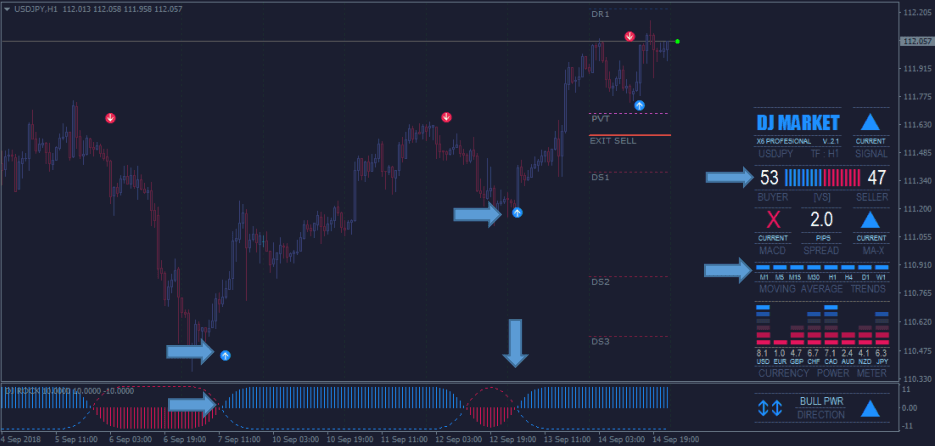 Install Fonts if the ON-SCREEN Panel in your MT4 doesn't show up as in photos