THE FX SONIC WAVE PRO System is a NON-Repainting PRO indicator system that is FREE to download. It is an innovative tool for both experienced and novice traders. This brand-new trading formula is designed to capture major and minor market trends, armed with powerful technology that provides accurate market predictions. It has an ON-SCREEN dashboard that shows you various helpful information such as economic news, range flow, trading session, and more.
At its core, the MT4 Sonic Wave Pro is a predictive tool aimed at providing highly accurate market forecasts. As a result, it becomes an invaluable asset for traders seeking to navigate the sometimes volatile and unpredictable world of forex trading.
This Indicator caters to diverse trading styles, including scalping, day trading, and swing trading. With its newbie-friendly interface, even those new to the trading world can quickly get started and make informed decisions.
This Indicator is straightforward. Even a complete beginner can start trading and making profits with this system. You can set it to send you a signal alert via Mobile Notification, platform pop-ups, and Email. This is helpful as it means you do not need to stare at the charts all day, waiting for signals to appear, and you can monitor multiple charts simultaneously.
This PRO Indicator can be used on any Forex currency pair and other assets such as stocks, commodities, cryptos, precious metals, oil, gas, etc. You can also use it on any time frame that suits you best, from the 1-minute through to the 1-month charts.
FX Sonic Wave Software is entirely manual. The indicators produce the signals, but any decisions to enter the market and set protection or profitable exit stops will depend on the trader. Therefore, the trader must be familiar with the principles of risk and reward and use initial support and resistance areas to set entries and exits.
This SONIC WAVE Forex System can give you trading signals you can take as they are or add your additional chart analysis to filter the signals further, which is recommended. While traders of all experience levels can use this system, practicing trading on an MT4 demo account can be beneficial until you become consistent and confident enough to go live.
The Main Chart of this PRO Indicator

Bonus Indicator: The Dash Multi-Indicator Signal
Besides the Sonic Wave Pro Indicator, traders also get a bonus tool: the Dash Multi Indicator Signal. This dashboard serves as an additional trading filter and an optimal exit tool, adding an extra layer of security to your trading decisions.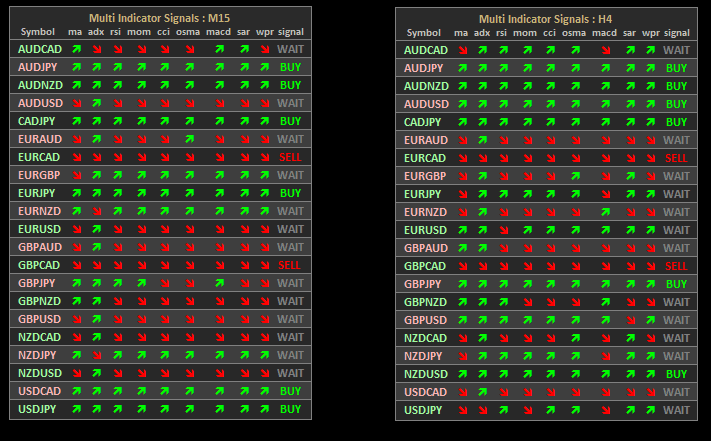 Additional Confirmation Tool
The Dash Multi-Indicator Signal serves as a confirmation tool. It processes market data and uses it to confirm the signals the Sonic Wave Pro generates. Providing additional confirmation increases the trader's confidence in the trades and helps to avoid false positives.
Multi-Timeframe Capability
One of the key features of the Dash Multi-Indicator Signal is its multi-timeframe capability. You can set it up to track any timeframe you want, offering versatility for traders who operate on different trading schedules.
Live Time Data Feed
With the Dash Multi-Indicator Signal, you get real-time data straight from your MT4. It is continuously updated, providing the latest market information at your fingertips. This feature ensures you are always up-to-date with market conditions and allows you to make well-informed trading decisions.


Three Distinct Modes of SONIC WAVE Forex
The SONIC WAVE Forex Indicator offers three unique modes, each designed to cater to specific trader needs:
SonicWavePro 1: It's characterized by the fastest signals and the largest potential profit with increased risk. Choose this trading mode if you are familiar with scalping and catching quick market movements. Scalping mode is recommended for advanced traders.
SonicWavePro 2: This is the universal mode, providing the most balanced signals. It offers stable signals with limited risk. This mode is recommended for beginners as well as experienced traders.
SonicWavePro 3: This mode provides the most secure signals with less profit potential at the same time. Pick this mode if you want to spend the minimum time in front of the computer. This mode is recommended for every type of trader.
Trading rules for FX SONIC WAVE
Remember to tighten your Stop Losses around High Impact News Releases or avoid trading at least 15 minutes before and after these events when using this FX SONIC WAVE System.
As always, to achieve good results, remember about proper money management. To be a profitable trader, you must master discipline, emotions, and psychology. It is crucial to know when and when not to trade. Avoid trading during unfavorable times and market conditions like low volume/volatility conditions, beyond major sessions, exotic currency pairs, wider spread, etc.
Buy Entry
Buy Signal

GREEN

Arrow.
Range flow indicator showing Overall Bullish. (Above 50%

GREEN

)
Then You can place take profit at WAVE, and if you want to risk it, you can go for WAVE2. (maybe with half close method)
Place stop loss at the STOPLOSS line.
Buy Entry
Sell Signal

RED

Arrow.
Range flow indicator showing Overall Berish. (Above 50%

RED

)
Then You can place take profit at WAVE, and if you want to risk it, you can go for WAVE2. (maybe with half close method)
Place stop loss at the STOPLOSS line.

Conclusion of this MT4 SONIC WAVE
In summary, the FX Sonic Wave Pro Indicator appears to be a comprehensive tool for traders, offering various features to help them succeed in the market. Its robust prediction algorithms, three-way alert system, user-friendly design, and bonus Dash Multi Indicator Signal all contribute to its effectiveness. Whether you are a seasoned trader or a beginner, the MT4 SONIC WAVE is an excellent addition to your trading toolbox, assisting you in navigating the complex world of forex trading easily and confidently.