This News Info Indicator displays the release of upcoming and past economic news on the MT4 charts. It has the ability to automatically stop the Forex EA before the economic news arrives. In today's rapidly evolving world, economic news plays a pivotal role in the fluctuation of the foreign currency market, otherwise known as forex. Consequently, professional traders must consider the potential impact of upcoming news events when planning their trading strategies.
Manual traders can use NewsInfo to brace for a news event, while traders using EAs may find it crucial for stopping their robots before the event. This is because, during significant events, the price movements can be drastic, leading to false data for indicators and erroneous indications for EAs. Furthermore, the rapid spread and slippage increase during news periods can result in significant losses, potentially ruining an otherwise profitable trading strategy.
News EA Stop offers a comprehensive solution by integrating the event details directly on your MetaTrader 4 chart. With this "all-in-one" NewsInfo tool, there is no need for a separate application or website to track the events. The user-friendly interface elegantly displays all news information.
One of the remarkable features of NewsInfo is its ability to stop EAs and turn them back on after a predefined time post-news event. The program also provides different interfaces dedicated to developers, who can then check the indicator's last and next news indications. With the understanding of almost all popular forex news providers, traders can easily choose their preferred news source.
This News EA Deactivation Indicator can be used on any Forex currency pair and other assets such as commodities, Cryptos, Binary Options, Stock markets, Indices, etc. You can also use it on any time frame that suits you best, from the 1-minutes to the Month charts.
This is an entirely free Indicator without any restrictions made by IceFX, now the DarkmoonFX website. There are more useful free and paid indicators on this website. So check out their other indicators and show some love for the Darkmoon FX.
How News Info Indicator Looks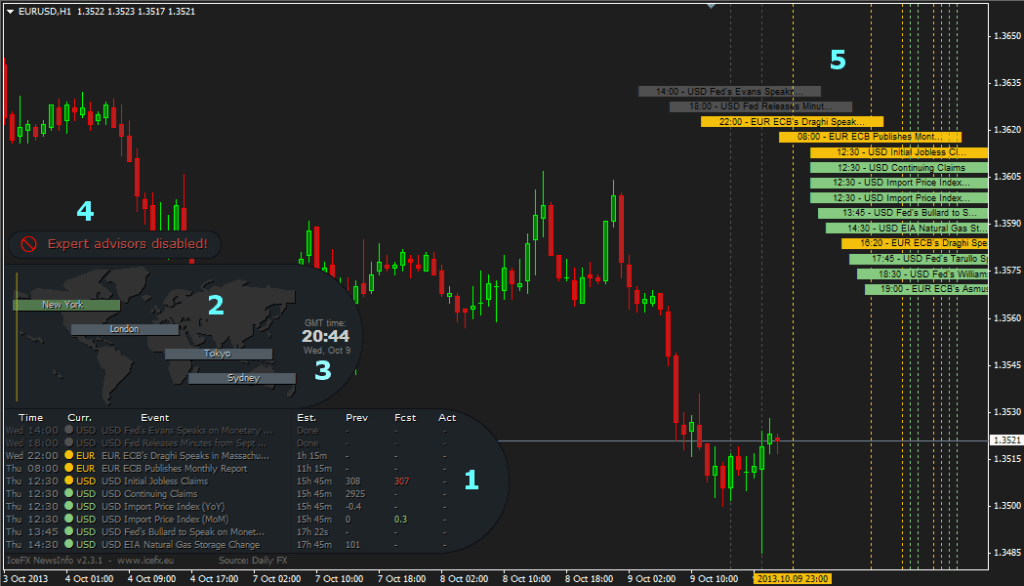 News viewer window (NewsBox)
Indication of Global Trade Sessions on a Map
Current GMT date and time
Expert Advisor (EA) shutdown warning message window
Timelines on the chart (showing the exact dates based on the actual broker's time)


Features of this News EA Stop Indicator
Display of upcoming news: This feature shows the last two and the next eight news events, complete with the involved currency, date (GMT), time remaining to the news, and the previous, current, and predicted values associated with the news, if available.
Timeline lines: News is displayed based on the actual broker date and time, with colors indicating the strength or impact of the news.
Choice of news providers: Users can select from four different news providers, including ForexFactory, Forex-TSD, DailyFX, and Myfxbook.
Data Display: The previous, current, and predicted values associated with the news are displayed, if available.
GMT Time Display: The current GMT time is displayed for convenience.
Current Session Display: The current global trading sessions are displayed on a map.
Currency Filtering: Users can specify which currencies they want to display related news for.
Impact Filtering: News can be filtered based on its impact strength.
Mobile Notifications: NewsInfo can send notifications to a user's mobile phone a few minutes before the news via MT4's built-in Notification Service.
Disabling EAs: News EA Deactivation can switch off EAs running in MetaTrader before news events and switch them back on afterward. Keyword filtering for operation before specific news can also be set.
Reading Important Values from EAs: Data for important news can be easily queried from the EA.


Forex News Indicator Input Parameters

Symbols – In this parameter, you can list the appropriate currency which you want to display affected by the news. If left it blank, then only the news related to the currency pair on the actual chart will be displayed. Otherwise,, you can list the currencies with commas (without spaces). For example: "EUR,USD,JPY,AUD,CAD"
MinimumImpact – News strength filter. Here you can set NewsInfo to display news with predefined strength.

0 – All news
1 – Low
2 – Medium
3 – High

DataProvider – Here, you can select the news provider.

1 – ForexFactory
2 – Forex-TSD
3 – DailyFX
4 – Myfxbook

ShowOldNewsCount – The information given here shows the number of recent news in "NewsBox" and on the chart with "Timeline" lines.
ShowPrevForecast – This parameter displays previous/forecast and actual values if the source could provide these.
AutoGMT – This is the method of GMT calculation. When this is switched on, the program automatically finds the broker GMT offset, and it will display the data of news on the chart accordingly.
GMTOffset – If "AutoGMT" is turned off or running in "Backtest Mode" with this parameter, you could set up your broker GMT offset value manually (in hours).
NewsBeforeMin – News activation time signaling specified in minutes. Activation means that NewsInfo will raise the news in the "NewsBox".
NewsAfterMin – News de-activity time specified in minutes.
DisableExpertAdvisors – This parameter is used to activate the function.
DEA_NewsBeforeMin – The indicator will turn off EA within the specified minutes before the news.
DEA_NewsAfterMin – The indicator will turn on EA within the specified minutes after the news.
DEA_MinimumImpact -The minimum strength of the news to turn off EA.

0 – Every news
1 – Low
2 – Medium
3 – High

DEA_IfNoOrders – NewsInfo is only allowed to turn off any EA if there's no open position in the actual trading account.
DEA_FilterText – Stop operation with filtered keywords. With this parameter, you can specify before which news NewsInfo should stop Expert Advisor operation. You can also set keyword filtering with commas. For example: "Non-farm, Unemployment, FED."
SendNotifyBeforeNews – This parameter is used to activate the function.
Notify_NewsBeforeMin – Here, you can specify how many minutes before news NewsInfo will send notify message.
Notify_MinimumImpact – A Minimum impact of the event /news when notification will be dispatched.

0 – All news
1 – Low
2 – Medium
3 – High

Notify_Message – This is the text of the notification message. With special text fields, this feature allows you to customize the message:

%IMPACT% – Strength of the news
%CURRENCY% – Currency
%TIME% – Exact time of the news
%TIMEDIFF% – Time before news
%TITLE% – Title of the news
%PREV% – Previous values
%FORECAST% – Forecast value

ShowTimeLines – Show "Timelines" on the actual chart.
ShowNewsBox – Show "NewsBox."
ShowMarketOpens – This parameter displays a map's current (global) trading sessions.
Flexibility in Display and Filtering Options
News Info Indicator offers flexibility in the display and filtering of news information. With its filtering options, you can specify which currencies you want to see news related to. You can also filter the news display according to its impact or strength. Moreover, it displays the current time in GMT and shows the current global trading sessions on a map.
Mobile Notifications Before News Events
With News EA Stop Indicator, you can stay updated even when you're away from your trading desk. The indicator can send notify messages to your mobile phone a few minutes before a news event. It uses MetaTrader 4's built-in Notification Service, providing a reliable alternative to SMS.
Temporarily Disabling Expert Advisors
One of the essential features of NewsInfo is its ability to disable EA running on MT4 before a news event. This is a crucial safeguard, as the unpredictable price movements during news events can give false indications to EAs, potentially leading to significant losses.
You can preset News EA Deactivation to turn off EAs before a news event and switch them back on after a predefined time. This feature ensures that your automated trading operations are safe from the effects of major news. Moreover, you can set keyword filtering to halt operations before specific news.


Conclusion of Auto News EA Deactivation
In conclusion, News Info Indicator and Auto News EA Stop is an indispensable tool for any professional forex trader on the MT4 platform. By offering comprehensive news data, compatibility with popular forex news providers, and safeguards against the unpredictable effects of news events, they help traders navigate the forex market with confidence and precision.