Flex Beggar EA is an automated scalping forex robot Free to Download. It aims to pick up a small number of Pips aiming at a time zone with low volatility, and is suitable for the so-called "morning scan".
It does not use dangerous trading methods like martingale, grid, HFT and all transactions are always protected by SL. Also, Pips Eater EA only opens one trade at a time. This EA trade with a trading logic based on long-term forward and short-term contrarian.
Please test in a demo account first for at least a week. Also, Make yourself familiar with and understand how this Flex Beggar Robot works, then only use it in a real account.
Recommendation for Flex Beggar EA
Minimum account balance of 1000$. (It could even work with 200$)

Work best on

EURUSD, AUDNZD, CADCHF, EURAUD, EURCHF, USDCHF.

(Work on any pair)

There are different EAs for all the best different pairs.

Work best on M5 TimeFrames. (Work on any time frame)

Recommend experimenting with timeframes.

For best performance Flex Beggar EA must be online at its specified trading hours, Recommend using a VPS

(Reliable and Trusted FOREX VPS – FXVM)
Low Spread ECN account is also recommended (Find the Perfect Broker For You Here)

Input Parameters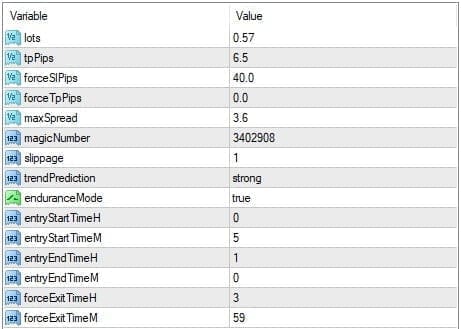 lots – Number of lots during simple profit operation (1.)
tpPips – Number of Pips expected to be acquired in one trade (2.)
forceSlPips – Forced loss cut Pips value specified at the time of market order (1.,3.)
forceTpPips – Forced profit Pips value specified at the time of market order (4.)
maxSpread – Maximum spread value allowed at the time of market order/settlement (5.)
magicNumber – Magic No (6.)
slippage – Allowance at the time of ordering Slip page (unit is point) (7.)
trendPrediction – Strict trend judgment flag (8.)
entryStartTimeH – Entry start time (hour) (9.)
entryStartTimeM – Entry start time (minute) (9.)
entryEndTimeH – Entry end time (Hour) (9.)
entryEndTimeM – Entry end time (minute) (9.)
forceExitTimeH – Forced settlement time (hour) (9.)
forceExitTimeM – Forced settlement time (minute) (9.)


Pips Eater EA Input Parameters Explained
Regarding the number of lots, we recommend that you refer to the back test and operate with reasonable settings to your deposit.
This value is a value that is expected to be acquired in profit, and in reality, it is almost always the case that Pips larger than this value are acquired or Pips that are smaller than this value are acquired.
When you make a loss, the Pips Eater robot dont't always closes the order at the Pips specified here, EA logic may cut the loss at an early stage but EA won't let loss pass this. Be sure to specify a value greater than 0.0.
When making a profit, it is not always the case that you will get the Pips specified here, and you may make a profit at an early stage by the logic of EA. If 0.0 is specified, only logical profit will be obtained.
When the spread exceeds this value, basically no new order or settlement will be made. The recommended value is the standard spread of the currency pair plus 0.1. If the compulsory settlement time has passed, the compulsory settlement will be performed regardless of this value.
This is an identification number unique to this automatic trading software (EA). When using it at the same time as other automatic trading software (EA), change the setting so that it does not conflict with the magic number of other EA.
1 corresponds to 0.1 pips and 10 corresponds to 1.0 pips. If order failures such as requotes and off quotes occur frequently in the state of the default value, please consider increasing this value. However, please note that there may be a disadvantageous contract.
Specify how strictly the long-term ordering is applied to the trading logic. It is applied strictly in the order of strong, medium, weak, and none, and tends to reduce the number of trades. Please note that if none is specified, long-term forward-looking will not be considered and trading will only be done with short-term contrarian logic.
The time-related parameter in the Flex Beggar 2 is the server time, not JST or UTC. If you do not understand the concept of server time, we recommend that you do not adjust this parameter and operate with the default value. These parameters must meet the following conditions at the same time, otherwise, no trade will take place.
The parameter with H at the end is in the range of 0 to 23-The parameter with M at the end is in the range of 0 to 59. (hours and minutes)
-entryStartTime <entryEndTime
-entryEndTime <forceExitTime

More Scalping EA, Indicators, and strategies HERE