Pip Magnet MT4 Forex Trading System is one of the more popular forex trading systems currently on the market. Sometimes, Trading signals provided by the MT4 trading system can be repainted So, so traders have to wait for more accurate signals.
The Forex Pip Magnet includes a few indicators which consist of different profitable strategies and techniques. It analyzes the price behavior on the chart every second and determines the ideal entry points based on the built-in algorithm, informing you when you need to open a deal and close it to take profit.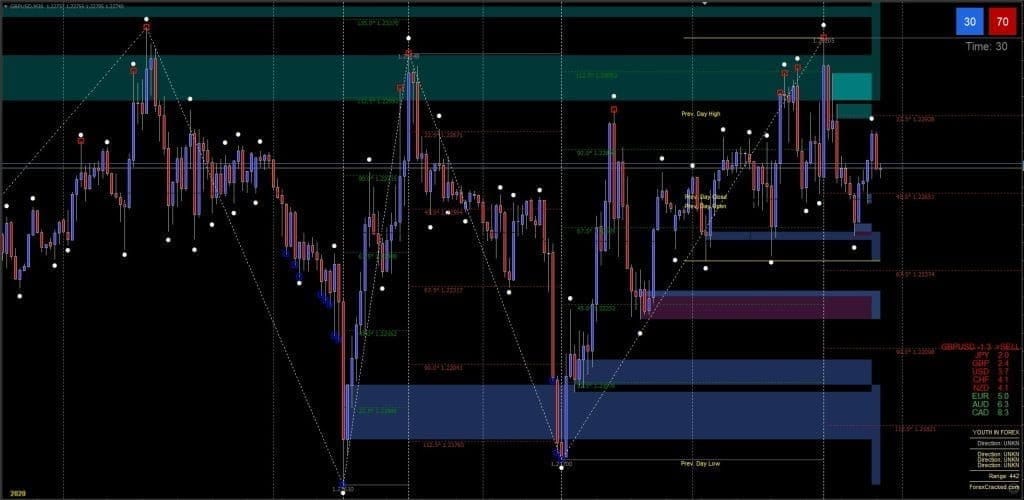 Red and Blue squares indicate short-term up and downtrends. Red and Blue squares with the white dot indicate a little bit of powerful signals.  Red and blue squares provide an idea about long-term up or downtrend in the future. A set of red squares indicates the future downtrend and a set of blue squares indicates the future uptrend.
Fibonacci levels also are there as up and downtrends. Blue and green support and resistance bars indicate the strength and direction of the trend. If the big blue bar is below the candles, then starts an uptrend, and If the green bar is above the candles that indicates a downtrend. The sizes of blue and green bars indicate the strength of the trend. the long and short zigzag patterns are also available to understand the different short and long trends. 


Pip Magnet Indicator system can give you trading signals you can take as they are or add your additional chart analysis to filter the signals further, which is recommended. While traders of all experience levels can use this system, it can be beneficial to practice trading on an MT4 demo account until you become consistent and confident enough to go live.
Youth In Forex PIP magnet can be used on any Forex currency pair and other assets such as stocks, commodities, cryptos, precious metals, oil, gas, etc. You can also use it on any time frame that suits you best, from the 1-minutes through to the 1-Hour charts. It works best on M1 or M5 timeframes.


Trading rules for This MT4 Forex Trading System
You can use this indicator for any kind of trading, it works great on M5, 15M, and 30M timeframes. But you can use it on any. We also recommend altering(adding or removing) indicators to your need and experimenting with new strategies.
Buy
When the Blue bar is below the candles or Touches the blue bar (the big blue bar is the support)
Shows a set of

Blue

squares, If they are white dots even better.
Check Fibonacci to get more accurate entries
Sell
When the

Green

bar is above the candles or Touches the green bar (the big green bar is the resistance )
Shows a set of Red squares, If they are white dots even better.
Check Fibonacci to get more accurate entries