This Perfect Score EA is a fully automated MT4 and MT5 Robot that works based on short-term reversal patterns at the opening of the London Stock Exchange. Timing is everything in trading. The Perfect Score EA recognizes this and capitalizes on the opening hours of one of the world's premier stock exchanges, the London Stock Exchange (LSE). But why this particular time? The LSE opening hours often witness substantial liquidity and volatility in the FX market. The EA aims to leverage short-term reversal patterns by entering this strategic juncture.
Instead of relying on conventional indicators or intricate algorithms, the Perfect Score EA looks at the inherent nature of FX prices. During the LSE session, there's a noticeable tendency for prices to gravitate towards their average value. This tendency forms the crux of the strategy, allowing the EA to pinpoint potential profitable trades.
Features of Perfect Score EA
Safety First: Every trade executed by Perfect Score EA has a stop-loss, ensuring that the potential downside of any trade is capped.
Broker-Neutral: Whether it's a big-name broker or a new entrant, this MT5 Robot works seamlessly across all, ensuring that you always trade with your trusted broker without any compatibility issues.
No Risky Business: With no reliance on dangerous money management techniques such as grid (unless optionally chosen) or martingale, traders can have peace of mind.
Battle-Ready: Markets can sometimes throw the unexpected, but the Perfect Score EA is built to withstand such shocks, offering good resistance to unforeseen market events.
User-Friendly: For those who are wary of the complexities of setting up an EA, the Perfect Score offers a breath of fresh air with its straightforward setup process.
While the EA boasts a range of advantages, users must be particularly attentive to the GMT parameters. Ensuring these are aligned with your broker's GMT Offset is pivotal to working correctly.
Please test in a demo account first for at least a week. Also, please familiarize yourself with and understand how Perfect Score Robot works, then only use it in a real account.

Recommendations for this MT5 Robot
Minimum account balance of 100$.
It Works best on EURUSD and GBPUSD. (Work on any pair.)
Work Best M5 TimeFrame. (Work on any TimeFrame.)

To get proper results

, You have to set the GMT parameter correctly according to your broker's GMT Offset.
This MT5 Robot should work on VPS without interruption to reach stable results. So we recommend running this free forex EA on a reliable VPS (Reliable and Trusted FOREX VPS – FXVM)
The EA is NOT sensitive to spread and slippage. But We advise using a good ECN broker (Find the Perfect Broker For You Here)


Download a Collection of Indicators, Courses, and EA for FREE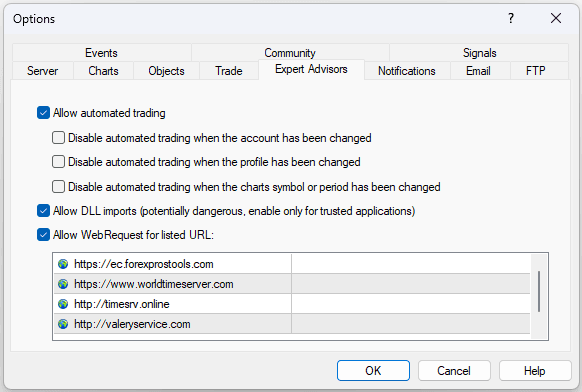 Open Tools –> Options –> Expert Advisors. Check the option "Allow WebRequests for listed URL" Add the following: "https://www.worldtimeserver.com" and press "OK." The EA takes news from the specified websites.
Input Parameters

Fixed Order Size – fixed trading lot
Enable AutoLot – use automatic lot calculation
Balance For Every 0.01 Lots – balance to be used per 0.01lots (automatic lot size based on balance)
Max Risk Per Trade – auto MM based on the stop loss and deposit size. For example, at a value of 5, closing a trade by stop loss will result in a loss of 5% of the balance.
Maximum LotSize – maximal allowed trading lot
GMT Offset Auto – if true, the EA will find the GMT offset automatically. Allow requests to https://www.worldtimeserver.com
GMT Offset Manual – set your broker's time zone (in winter)
Adjust DST Manual – set your broker's DST
Monday Trading – enable or disable trading on Monday
Tuesday Trading – enable or disable trading on Tuesday
Wednesday Trading – enable or disable trading on Wednesday
Thursday Trading – enable or disable trading on Thursday
Friday Trading – enable or disable trading on Friday
Friday Exit – if you wish to close all trades on Friday, you should use FridayExit=true
Friday Exit Hour – the robot will close all open positions at this hour on Friday
Trade Direction – long and(or) short can be selected
Volatility Ratio – filter based on intraday volatility. Default value: 40. Recommended values: 0…100
Hour/Minute to Open a Trade – here, you can adjust the hour/minute for opening a trade. It has to be set in GMT+2 DST:US/EU (corresponds to GMT+2 in winter, GMT+3 in summer) timezone, which gives five full 24-hour daily candles each week and is used by most brokers. The daily candles open at 0:00 during the bank rollover time. I use default settings. This parameter does not depend on the broker or PC/VPS local time. Minutes should be divisible by 5, for example, 0,5,10…55
Maximum Spread – maximum allowable spread, pips
Maximum Slippage – maximum allowable slippage for instant accounts, pips. Increase it to avoid re-quotes and off-quotes
Take Profit – take profit in pips (1 pip = 10 points for a 5-digit broker)
Stop Loss – stop loss in pips
Hide Stop Loss – enable/disable hiding stop-loss (the EA executes SL). If Grid strategy is enabled, SL will be disabled at all.
Trailing SL – trailing stop in pips
Trailing SL Start – when to start the trailing stop
Max Holding Time – max position holding time – a maximum number of bars between opening and closing a position completely. This feature closes orders regardless of whether the trades are profitable or not.
Magic Number – unique identifier for EA's orders
Order Comment – comment for EA's orders
Enable Grid – enable/disable grid strategy. I will not use the grid strategy; it was requested by the customers
Grid Spacing/Grid Multiplier/Grid Size – space between orders (pips) / grid multiplier/max. Number of grid orders
Grid Custom Multipliers – custom multipliers for each step separated by a comma, for example – 1,2,4,8,16


Conclusion
In an era where automated trading systems are aplenty, the Perfect Score EA stands out with its robust strategy, emphasis on safety, and ease of use. For both seasoned traders and beginners looking to navigate the tumultuous waters of the FX market, this MT5 Robot might just be the perfect companion. As always, while automation can provide an edge, it's essential to do one's own research and understand the system thoroughly before diving in.