White Dragon EA is an automated forex robot usually being sold for 30$. It initiates a trade based on the color of the indicator. You have the option of increasing the network of orders and applying stop losses for each order. It is based on a trend detection indicator that supports all kinds of strategies. You can make your entry based on a modified stochastic while using the color of the Black Dragon indicator as a filter.
From the Black dragon EA inputs, you can select the size of the initial lot. There is an auto lot feature that you can enable for the EA to calculate the lot size automatically. You can also set a lot multiplier for subsequent orders. It is also possible to set the maximum volume that can be opened by the EA.

Please test in a demo account first for at least a week. Also, Make yourself familiar and understand how the free forex robot works, then only use it in a real account.
Recommendations
Work Only on EURUSD, AUDUSD, NZDUSD, USDCHF, USDCAD (Work on any TimeFrame)
Work best on 15M (Work on any TimeFrame)
Minimum standard account balance of 1000$ or equivalent cent account.
For best performance this free forex EA should be online 24 hours, Recommend using a VPS (Reliable and Trusted FOREX VPS – FXVM)
Low Spread ECN account is also recommended (Find the Perfect Broker For You Here)


Download a Collection of Indicators, Courses, and EA for FREE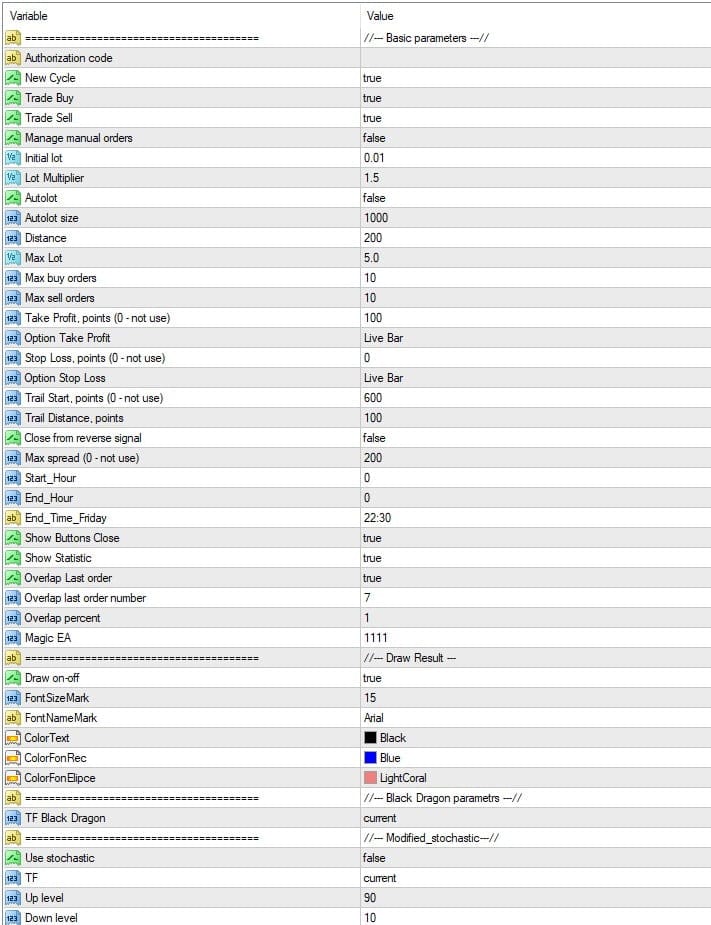 Open new series –> True/False – EA will open another series of orders (enable/disable)
Trade Buy – True/False –> EA will buy or not buy (enable/disable)
Trade Sell – True/False –> EA will sell or not sell (enable/disable)
Manage manual orders –> True/False – If true EA will manage manual orders (enable/disable)
Use hedge – True/False –> EA will hedge (buy and sell)
Order Comment –> Type in the comment of your choice
Max spread (0-not use) –> Maximum spread allowed
Start Hour –> the hour that the EA will start trading
End Hour –> the hour that the EA will stop trading
Magic –> the number for the EA to recognize its own positions
TF Black Dragon –> choose time frame from a selection
Show stochastic –> True/False – if True EA will use stochastic settings below to enter trades
Max buy orders –> Maximum buy orders allowed
Max sell orders –> Maximum sell orders allowed
Initial Lot –> Start lot
Autolot –> True/False – enable/disable auto lot calculation
Autolot size –> Amount of the deposit on which start lot is to be used when auto lot is True
Lot multiplier –> Lot multiplier for subsequent orders
Max Lot –> Maximum lot size that can be opened by EA
TP (0-not use) –> Take profit in pips
SL (0-not use) –> Stop loss in pips
Overlap last order –> True/False – The first and last order will close together and cancel each other out to reduce drawdown (enable/disable)
Overlap last order number –> At what order number will the overlap start?
Overlap percent –> The percentage profit after the first order will close in loss and the last order will close in profit, recovering the loss plus X percent
Pause between orders (min 0 – not use) –> Amount of minutes to pause between order six distance – The distance between orders