Crypto Trading Indicator is a Crypto MT5 Indicator FREE to Download. As the popularity of cryptocurrencies continues to grow, traders are seeking innovative and reliable ways to improve their trading strategies. One such technique is the Crypto Trading System, a trend-following trading system explicitly designed for crypto and volatility currency pairs. This system capitalizes on the crossover of moving averages in the direction of the trend and employs various filters to ensure accurate trading signals. This article will delve into the Crypto Indicator System, its components, and the two variations for traders.
Core Components of the Crypto Indicator System
Moving Averages – The system relies on the crossover of the fast and slow-moving averages, which helps identify the trend direction. The fast-moving average reacts more quicker to price changes, while the slow-moving average provides a more stable trend indicator.
MTF Parabolic SAR – This indicator is used as a filter to confirm the trend direction. The Multi-Time Frame (MTF) Parabolic SAR allows traders to visualize the trend across different time frames, further bolstering the strategy's accuracy.
MACD Flat – The Moving Average Convergence Divergence (MACD) Flat filter helps to identify periods of market consolidation or sideways movement, allowing traders to avoid false signals.
Awesome Oscillator – Positioned below the chart, the Awesome Oscillator is an additional filter used to gauge market momentum and confirm trade signals.
This Crypto Indicator System is entirely manual. The indicators produce the signals, but any decisions to enter the market and set protection or profitable exit stops will depend on the trader. Therefore, the trader must be familiar with the principles of risk and reward and use initial support and resistance areas to set entries and exits.
Crypto Trading Indicator can give you trading signals you can take as they are or add your additional chart analysis to filter the signals further, which is recommended. While traders of all experience levels can use this system, practicing trading on an MT5 demo account can be beneficial until you become consistent and confident enough to go live.
Main Chart of Crypto Trading System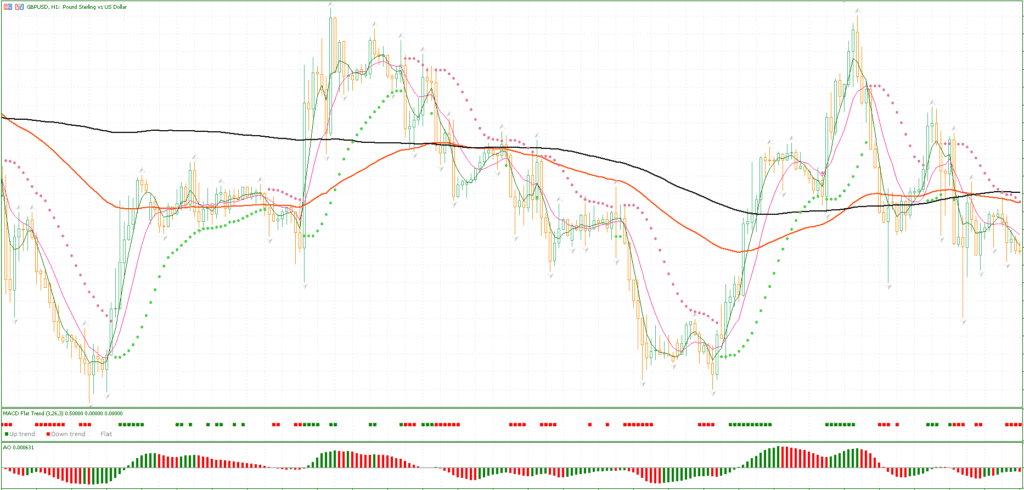 This Crypto Trading System can be used on All major cryptocurrencies, GBPAUD, GBPUSD, GBPCAD, EURAUD, EURCAD, EURNZD, GBPJPY, AUDUSD, AUDJPY, and Nasdaq 100. You can also use it on any time frame that suits you best, from the 1-minute to the 1-month charts. Work best on M15 TimeFrame.
Interpreting the Crypto MT5 Indicator: Conservative vs. Aggressive
Crypto MT5 Indicator offers two distinct interpretations: the conservative approach and the aggressive approach.
Conservative Approach: This method requires traders only to take signals in the direction of the main trend, as defined by the slow-moving averages. This approach is ideal for beginners or those who prefer a cautious trading style, as it minimizes risks and allows for a more stable learning curve.
Aggressive Approach: This interpretation allows traders to take all signals, provided they pass through the system's robust filtering process. While this method may be more lively and yield higher returns, it is best suited for experienced traders confident in their abilities to navigate the increased risk.


Download a Collection of Indicators, Courses, and EA for FREE
Trading rules for this Crypto Trading Indicator
Remember to tighten your Stop Losses around High Impact News Releases or avoid trading at least 15 minutes before and after these events when using this Crypto Trading Indicator.
As always, to achieve good results, remember about proper money management. To be a profitable trader, you must master discipline, emotions, and psychology. It is crucial to know when and when not to trade. Avoid trading during unfavorable times and market conditions like low volume/volatility, beyond major sessions, exotic currency pairs, wider spread, etc.
Buy Entry
LW 5 above the LW 12 moving average.
Parabolic Sar Green dot below the candle.
MACD flat Green.
Awesome oscillator Green bar.
Sell Entry
LW 5 below the LW 12 moving average.
Parabolic Sar Violet dot above the candle.
MACD flat

Red

.
Awesome oscillator

Red

bar.
Trade Exist
Any positions with Crypto Indicator System can be liquidated using a fixed profit target. Alternatively, the profit target should be set using previous support, resistance, or high-low level as a reference point. You may also exit the trade manually if the system conditions reverse.
Place the initial stop loss above/below the dot of the Parabolic Sar.
Profit Target minimum ratio stop loss 1:1.3
It is recommended to use a stop loss. Set SL below the entry price using previous support/resistance as a reference point Or on the previous high/low swing. Using fixed stop loss settings without any reference points is not advocated.

Conclusion
The Crypto Trading System is an innovative trading system that enables traders to capitalize on the fast-paced and ever-evolving cryptocurrency market. With its reliance on moving average crossovers, trend confirmation, and robust filtering processes, the system offers both conservative and aggressive interpretations to cater to different trading styles. By choosing the approach best suited to their experience and risk tolerance, traders can enhance their cryptocurrency trading performance and enjoy greater success in the market.