USA Bank Academy FX Hedge Fond Strategy is a Forex Hedge Fund Strategy that gives Non-Repaint buy/sell signals. This system is based on 3 different indicators. They are DST_WeeklyTrend, DST_WeeklyTrendBars, and TOP_Ultimate_Breakout.
There are different templates for Buy trades and Sell trades. Also, If you want easier visibility in candle sticks, you can also use colored candle sticks in the colors of the weekly trend. You get this indicator of colored candles in the content, so you can use them as much as you like your eyes, unlike ordinary candle sticks. for that Load "WEEKLY BARS" Templates.
Here are indicators that help, based on the global picture of the trend to find ideal positions for market entrances as well as their minimum Stop Losses and projected calculated Take Profit Zones.
The indicators used are "NO REPAINT", This means after the candle is finished and closed and the new candle is opened, Old Signals will never change their color or anything like that.
This FOREX Hedge Strategy is entirely manual. The indicators produce the signals, but any decisions to enter the market and to set protection stops or profitable exit stops will depend on the trader. Therefore, the trader must be familiar with the principles of risk and reward.
FX Hedge Fond Strategy can give you trading signals you can take as they are or add your additional chart analysis to filter the signals further, which is recommended. While traders of all experience levels can use this system, it can be beneficial to practice trading on an MT4 demo account until you become consistent and confident enough to go live.
Main Chart of this Forex Hedge Fund Strategy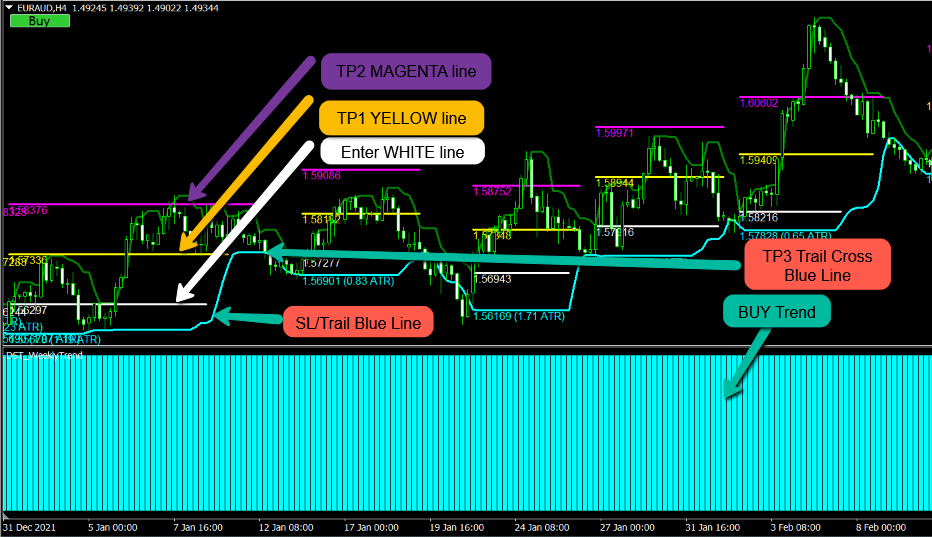 "

BLUE

" or "

MAGENTA

" Trend indicator. It shows you a weekly Global Trend.

If it is in "BLUE", that means the Trend is "BUY" and you can look for "BUY" setups only
If it "

MAGENTA

" that means the Trend is "SELL" and you can look for "SELL" setups only

Light Blue

Line is the line where you can place your STOP LOSS. Also as a price moves, this line is dynamic, and you can use it as a "TRAILING STOPLOSS".
"

WHITE LINE

" is the line where you can place your order (BUY or SELL).
"

YELLOW LINE

" is the line of your first TP1.
"MAGENTA LINE" is the line of your second TP2.
KEEP ON MIND: When the price Hit your TP1, move your SL on Break Even, and after that, use "LIGHT BLUE LINE" as your Trail SL
You can set the USA Bank Academy Indicator System to send you a signal alert. This is helpful as it means you do not need to stare at the charts all day, waiting for signals to appear, and you can monitor multiple charts simultaneously.
FX Hedge Fond Strategy can be used on any Forex currency pair and other assets such as stocks, commodities, cryptos, precious metals, oil, gas, etc. You can also use it on any time frame that suits you best, from the 1-minute through to the 1-month charts.


Trading rules for this Forex Hedge Strategy
As always, to achieve good results, remember about proper money management. To be a profitable trader, you must master discipline, emotions, and psychology. It is crucial to know when and when not to trade. Avoid trading during unfavorable times and market conditions like low volume/volatility conditions, beyond major sessions, exotic currency pairs, wider spread, etc.
The FX Hedge Fond Strategy is very precise on H4, because we have adjusted the fixed weekly trend indicator, you can also use H1 or M30, M15 … but our recommendation is to use "Exclusively on H4 TimeFrame" due to the implemented optimization of all indicators according to H4 time frame.
First, Load One of 4 Templates given.
Buy Entry
The trend must be for BUY (

BLUE BARS

).
When you first detect a global trend (bottom trend indicator), load the appropriate TEMPLATE for that direction. In this case, Load "BUY TEMPLATE."
After you notice that the candle has touched or passed through "

LIGHT BLUE LINE

" after your Closed previous trades or Stop Loss hit, place a pending order (BUY STOP) on "

GREEN LINE

" which is located above "LIGHT BLUE LINE".
When BUY STOP is activated, you will be shown the network with the displayed (ENTER line "

WHITE

", TP1 line

YELLOW

, TP2 line MAGENTA). Place your TP1/TP2 there, and SL few pips below "

LIGHT BLUE LINE

", for TP3, use Trail Stop and close TP3 when Price hits "

LIGHT BLUE LINE

".
NOTE: The Advice is when you enter in BUY (manually or with pending order) (Do this with 3 orders), because you have 3 TP (TP1/TP2/TP3).
KEEP ON MIND: When the price Hit your TP1, move your SL on Break Even, and after that, use "

LIGHT BLUE LINE

" as your Trail SL.
Sell Entry
The trend must be for SELL (

MAGENTA BARS

)
When you first detect a global trend (bottom trend indicator), load the appropriate TEMPLATE for that direction. In this case, Load "SELL TEMPLATE"
After you notice that the candle has touched or passed through "

LIGHT BLUE LINE

" after your Closed previous trades or Stop Loss hit, place a pending order (SELL STOP) on "

GREEN LINE

" which is located below "LIGHT BLUE LINE"
When SELL STOP is activated, you will be shown the network with the displayed (ENTER line "

WHITE

", TP1 line

YELLOW

, TP2 line

MAGENTA

). Place your TP1/TP2 there, and SL few pips above "

LIGHT BLUE LINE

", for TP3 use Trail Stop and close TP3 when Price hits "

LIGHT BLUE LINE

"
NOTE: The Advice is when you enter in SELL (manually or with pending order) (Do this with 3 orders), because you have 3 TP (TP1/TP2/TP3)
KEEP ON MIND: When the price Hit your TP1, move your SL on Break Even, and after that, use "

LIGHT BLUE LINE

" as your Trail SL