FX VENOM PRO is a NON-repaint indicator designed for making a profit from major and minor trends. This Indicator catches very fast and profitable price movements and gives you easy BUY/ SELL signals. FX VENOM PRO provides three common types of alert features so that you will never miss a trade.It has been made super user-friendly.
It is straightforward to use even by complete forex beginners. You don't have to be a professional to use it. Just load the One of 3 different Templeton your chart. It's so simple that Indicator doesn't provide any customization options except for those three, which is a bad thing for most traders.


3 different templates provided by FX VENOM PRO System are for 3 different risk levels.
FXV_RISK1 – is the safest one. The risk is small, entries are a bit slower but they are more filtered than other signals. Pick this template if you expect smaller, but more sure profits.
FXV_RISK2 – is the most balanced template. Risk is higher, entries are faster than the previous template, but still at a safe/medium risk level. This mode is ideal for typical day trading.
FXV_RISK3 – is the most aggressive template. It provides faster signals with increased risk. Pick this one only if you are an experienced trader, or when you have spent sufficient time with the trading system.
Read More FX CORRELATION EA – [Cost $99]- For FREE
BUY TRADE RULES (3BAR SIGNAL)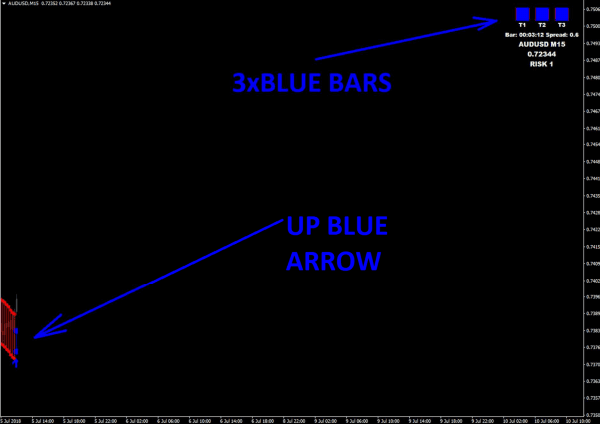 We're waiting for the UP blue arrow and blue band to appear up. When the arrow appears (there will be an alert), we check the strength of the trend in the upper right corner.
The perfect situation (for buy signal) is three blue bars, which tells us that the signal is strong and it is in agreement with the major trend.

Trade should be closed, when the opposite signal appears (red down arrow and red band).
For Sell Trade Do the opposite of this


BUY TRADE RULES (1-2 BAR MEDIUM/WEAK SIGNAL).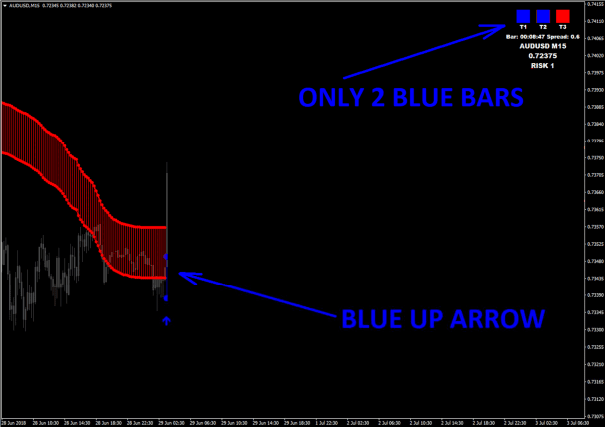 FX VENOM PRO can produce also more risky signals. This can happen for example if the signal is generated against a higher timeframes trend.
How to recognize such signals? It's very easy, you will see that not all bars are blue on the dashboard when the buy signal is produced.
Exit rules are the same as with 3 bars signal ➡ close the trade when a red down arrow appears.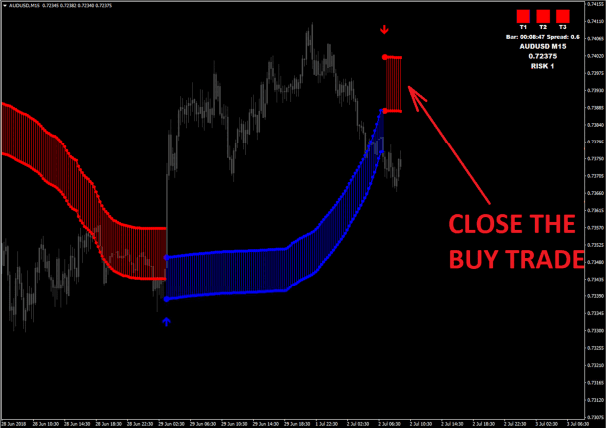 Trades that have only 1-2 blue bars (for BUY signal) are not always losing one, they are simply more risky ones.
Even the major trend on the highest timeframes has to turn back somewhere and this maybe this moment.
If you decide to trade with only 1-2 bars confirmation, use a smaller lot. You can also set a tighter SL.
We can also notice in the above example that the trade generated a small number of pips (it was probably just a pullback of a higher trend).
For Sell Trade Do the opposite of this
SL for the order should be placed at the last swing high (for sell trades) or on the last swing low (for buy trades) Or at the nearest support/resistance level (if close).
When to break-even an order
An open order that generates profit can be secured by a BE order. For example, if your trade generates a profit of 1R and the price moves very dynamically, you can use a BE order which will secure this transaction in case the price reversal.


A handful of advice
Look for 3 bar signals in the first place. If you have favorite trading pairs (like for example EURUSD or GBPUSD), and you can't get 3 bar signals for a long time, check the 2 bar signals confirmation. 1 bar signal confirmation is the riskiest one. Usually, it's better to look for signals on other pairs.
glance through the calendar of economic news before each day of trade. If there is some important 'red' news, it is best to wait until they are announced.
don't worry, if the colored bars on the trend dashboard changes to opposite during trading. Every signal needs some space and can make pullback. Wait for the opposite signal to exit.
pay particular attention to days in the calendar where the most important news are, like non-farm payrolls, ECB press conference, FOMC. This news is crucial to the market and sometimes investors will wait outside of the market for their announcement.
do not worry if you are late for a signal. It is better to wait for another trade than get into one that has already been on its way a long time and may very well turn back.
As is the case with any system, trading during 'dead' hours is not recommended, (after EU session close or bank holidays.)
Trading should be well thought out, and our entrances supported by at least a simple analysis. Please take note of the nearest support and resistance areas.
I advise spending the first days with the FX VENOM PRO system trading on a demo account to get accustomed to its principles, learn how things work and how to use it appropriately.