The Elliott Wave Forex Indicator represents an automatic price action indicator for MT4. It thoroughly scans price charts and accurately spots all five waves of the famous Elliott Wave pattern.
In essence, the Elliott Wave strategy is a theory that enables traders to understand the price cycle in financial markets. By identifying price extremes and investor psychology, this theory aids Forex traders in predicting upcoming market patterns.
This guide will explain how to trade the Elliott Wave like a pro using the Elliott Wave indicator in MT4.
How to Anticipate Precise Buy-Sell Signals using the Elliott Wave Forex Indicator for MT4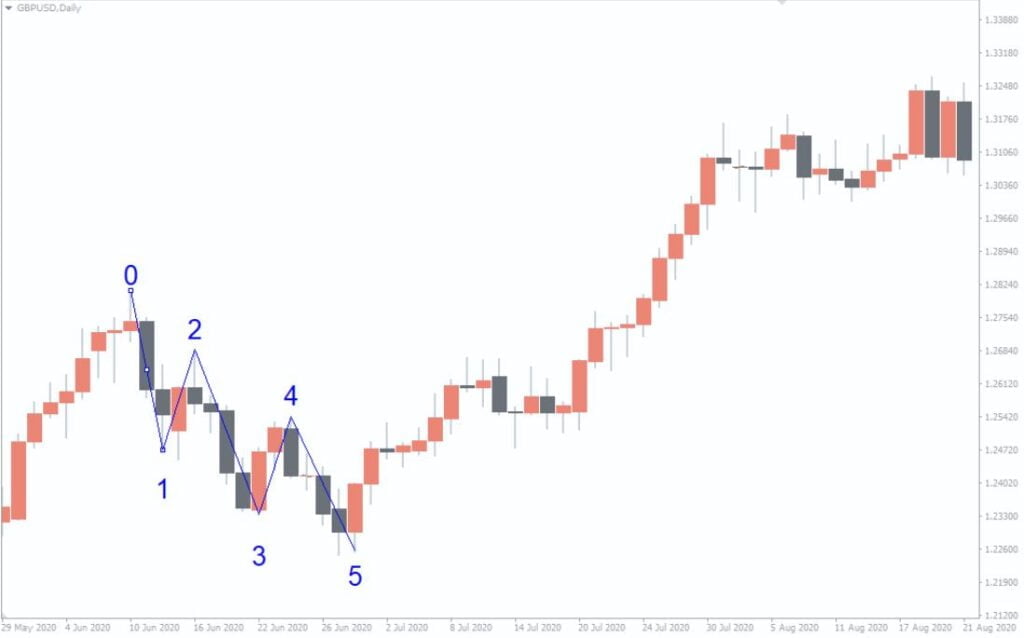 The Elliott Wave initially plots a horizontal line with numbers. You can customize the line by dragging the numbers to the correct Elliott Wave points. You must double-click on the numbers to unlock them before you sketch a wave pattern.
In the above GBPUSD (daily) chart, the price initially went for a correction after making a sharp bullish move. The correction period formed an Elliott Wave pattern. We've marked the peaks and bottoms of the waves with numbers 1 to 5, which turned out to be a corrective wave pattern.
Once the price rebounds from point 5 at the bottom, we can assume the price has finished moving within the corrective wave and is ready to reverse for a bullish rally.
Conclusion
The Elliott Wave forex indicator is a useful MT4 indicator that makes wave counting easier and enables forex traders to choose the optimal buy-sell entry points. To validate the start and end of the waves, traders can utilize an additional technical indicator, such as the ZigZag and Average True Range (ATR). Technically, Elliott Wave is an advanced price action indicator. Therefore, novice traders must acquire prior knowledge of the Elliott Wave theory before applying it to live trading.
FXC Elliott Wave Forex Indicator MT4 Free Download

Read More Trend Intensity Index Indicator MT4/MT5 FREE Download