FXVORTEX Indicator is a Non-Repaint trading algorithm designed for making maximum profit from minor and major trends. Developers claim FX Vortex can make amazingly accurate market predictions by constantly auto-analyzing every price movement, trading patterns, and with the help of complicated trading algorithms based on the great experience of their development team.
FX Vortex system combines several analytical techniques and gives you BUY/SELL signals in an easy-to-read form. You don't need to be a professional to use it. FXVortex order opening technique will show you razor-sharp signals and provide you with exact Take Profit and Stop Loss levels.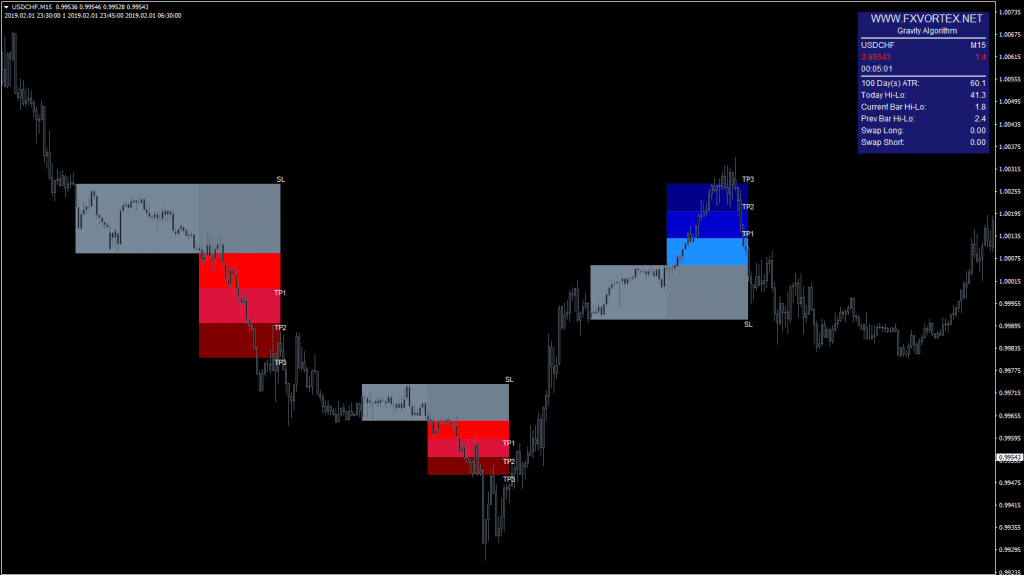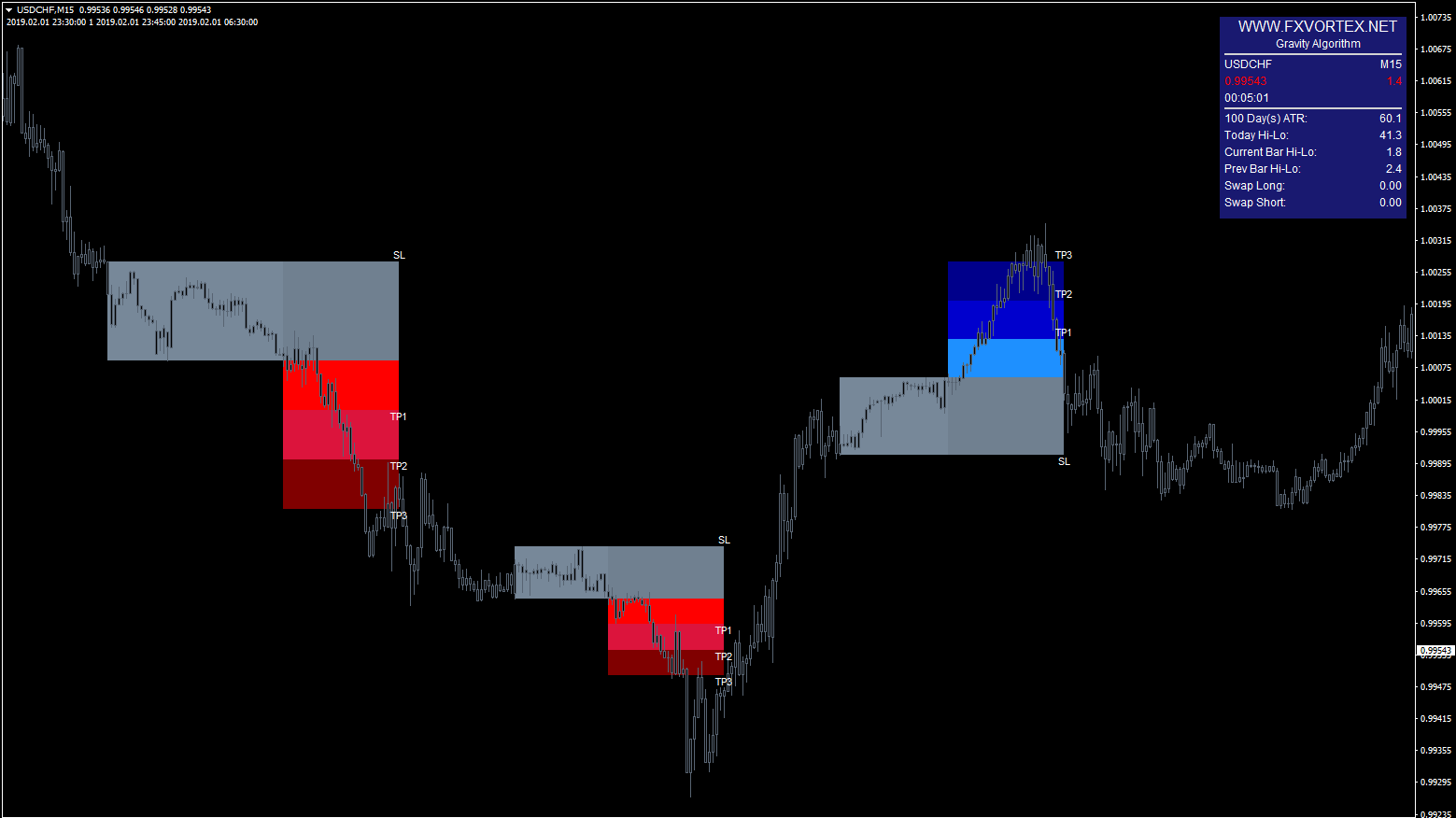 FXVORTEX 2.0 can give you trading signals you can take as they are or add your additional chart analysis to filter the signals further, which is recommended. While traders of all experience levels can use this system, it can be beneficial to practice trading on an MT4 demo account until you become consistent and confident enough to go live.
Features
You can set the FX VORTEX 2.0 to send you a signal alert via email, SMS, or platform pop-ups. This is helpful as it means you do not need to stare at the charts all day waiting for signals to appear, and you can monitor multiple charts all at once.


The FXVORTEX Forex System can be used on any Forex currency pair and other assets such as stocks, commodities, cryptos, precious metals, oil, gas, etc>. You can also use it on any time frame that suits you best, from the 1 minute through to the 1-month charts.
This system provides 4 different templates. If you prefer standard trading, use the
FXVORTEX1, FXVORTEX2 (for low volatility market)
FXVORTEX3 and FXVORTEX4(for high volatility markets)
If you open a chart and see a small number of signals, check the FXVORTEX3 or FXVORTEX4 template.
BUY trade Bxample
Fx Vortex algorithm's main task is to look for gravity zones and generate a buy/sell signal with exact SL and TPs location.
When specified conditions are fulfilled, a grey rectangle appears on the chart. This is the place where the price is getting ready for further move.

Price still in the narrow range. Waiting for signal.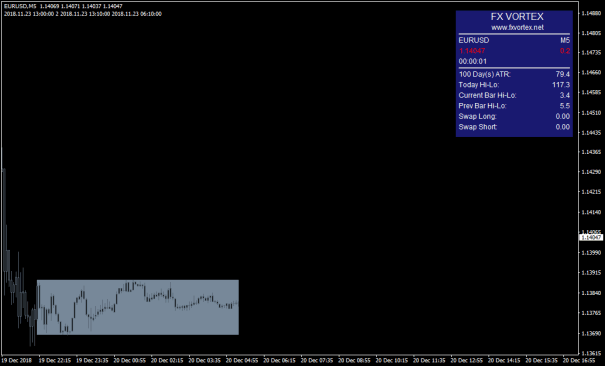 As we can see price finally broke to the upside. We can see SL/TP1/TP2/TP3 levels. This is a valid buy signal.

The trade should remain open until it hits take profit. As we can see on the below example it went much higher than the TP3 level.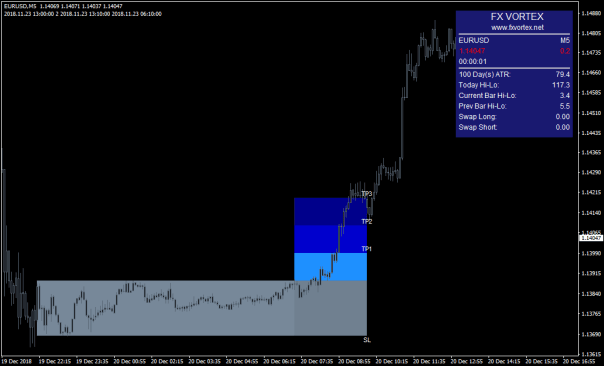 SELL trade Example
Well, opposite of the buy 😁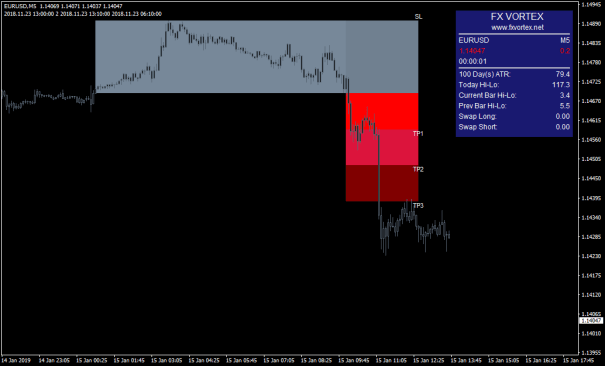 STOP LOSS Order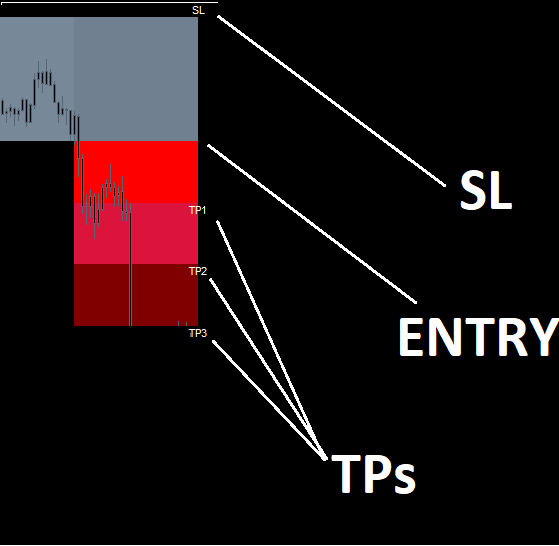 SL level is always printed on the opposite side to the signal.
It's usually enough space for the transaction for small pullbacks and making a profit. However, if it's too small for you, you can move the SL for a few pips more for example to the round level or an important support/resistance level.
TAKE PROFIT Order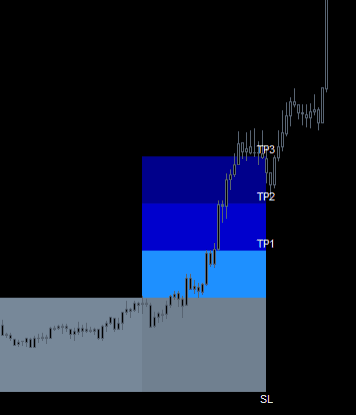 Each signal gives us 3 different take profit levels. This number is not accidental, because it reflects every type of trader from a very conservative one, through a standard one to a much more favorable RR ratio.
How to use it correctly? The simplest method is to observe the price. If it moves quickly and dynamically, we can usually count on TP3. If it has difficulties with volatility, or the market is just about to close an important trading session (like EU or US), it's better to aim for lower values like TP1 or TP2.

DASHBOARD Indicator

The system is also equipped with a trading dashboard that will assist you during trading.
It provides important information like trading pair/timeframe/time to the next candle, spread value, ATR values from XXX days, current ATR values, Swap value.