FX Phantom is a Complete FREE Forex System with a trading assistant EA for MT4 that gives NON-Repaint buy/sell signals. It's designed to provide an easy-to-use trading platform for beginner and experienced traders. This software is designed to help users make informed decisions when trading in the forex market. It comes with ON-SCREEN dashboards that show you various helpful information.
FX Phantom operates on an easy-to-understand set of system rules. At its core, the system's algorithm analyzes price action, momentum, and basket pairs across multiple time frames. This multi-layered approach is designed to generate consistent profits during both trending and ranging market conditions. Whether you are a beginner or an experienced trader, the rule-based nature of Phantom Indicator ensures that you are not trading based on hunches but on high-probability setups.
This FREE Forex System is entirely manual. The indicators produce the signals, but any decisions to enter the market and set protection or profitable exit stops will depend on the trader. Therefore, the trader must be familiar with the principles of risk and reward and use initial support and resistance areas to set entries and exits.
This Phantom Indicator can give you trading signals you can take as they are or add your additional chart analysis to filter the signals further, which is recommended. While traders of all experience levels can use this system, practicing trading on an MT4 demo account can be beneficial until you become consistent and confident enough to go live.
Features of this FREE Forex System
This FREE Forex System contains four main components:
Entry Indicator (BUY / SELL Signals).
5 Nitro Indicator
Basket Dashboard
Trading Assistant.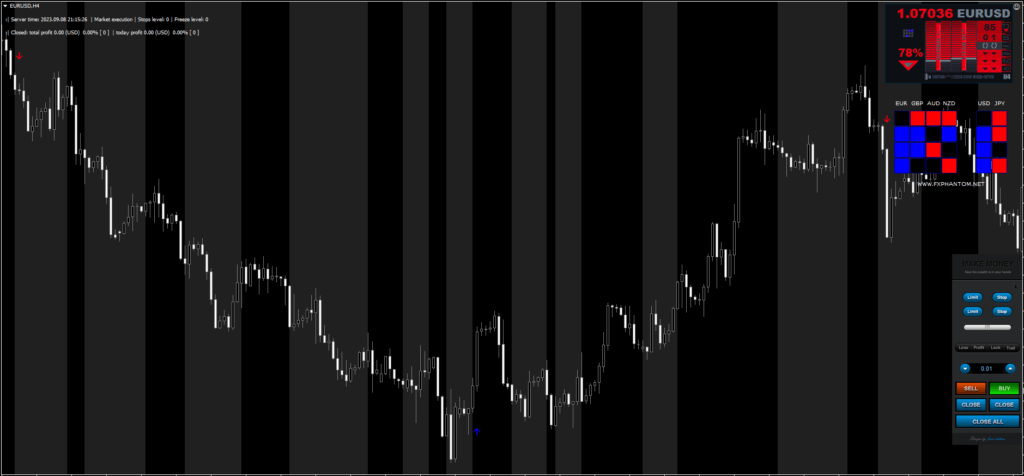 Entry Indicator (BUY / SELL Signals)
The Entry Indicator is the main signal indicator that performs comprehensive analyses of various metrics. All these analyses are then condensed into NON-Repaint, easy-to-read signals, making the decision-making process much simpler.
5 Nitro Indicator
The 5 Nitro Indicator is another advanced tool that FX Phantom utilizes. This indicator considers a wide range of technical indicators like AC, ADX, Alligator, CCI, and more. It also incorporates an author's method called MatrixX™ to calculate the price movement direction. The indicator displays this information in a window with a percentage, indicating the strength of the forecast of the price direction.
Basket Dashboard
FX Phantom System also has a unique Basket Dashboard feature displaying FX major pairs. This means that when you take a trade, you can ensure that it is supported by the overall market and not just a single pair. For example, if you're considering a SELL signal on the EUR/NZD pair, the Basket Dashboard will display the current direction of other EUR pairs for added confirmation.



FX Phantom Trading Assistant
The trading assistant in FX Phantom is akin to an expert at your side. You can open all types of trades with a single click, including standard, limit, and stop orders. It also has features like trailing stop, break-even profit lock, and trade risk calculated based on equity percentage. The assistant provides useful live data like daily performance directly on your chart. Moreover, the assistant is fully mobile; you can drag it anywhere on the chart or hide it to the side.


Phantom Indicator is straightforward. Even a complete beginner can start trading and making profits with this system. You can set it to send you a signal alert via Mobile Notification, platform pop-ups, and Email. This is helpful as it means you do not need to stare at the charts all day, waiting for signals to appear, and you can monitor multiple charts simultaneously.
This FREE Forex System can be used on any currency pair and other assets such as stocks, commodities, cryptos, precious metals, oil, gas, etc. You can also use it on any time frame that suits you best, from the 1-minute to the 1-month charts.
It is straightforward to use even by complete forex beginners. You don't have to be a professional to use it. Just load one of 3 different Templates to your chart.
FX PHANTOM SC – It's characterized by the fastest signals and the largest potential profit with increased risk. If you are familiar with scalping and catching quick market movements, you should choose this trading mode. Scalping mode is recommended for advanced traders.
FX PHANTOM DT – This is the most universal mode, providing the most balanced signals. It provides stable signals with limited risk. This mode is recommended for beginners as well as experienced traders.
FX PHANTOM SW – Provides the most secure signals with less profit potential simultaneously. Pick this mode if you want to spend the minimum time in front of the computer. This mode is recommended for every type of trader.
Trading rules for Phantom Indicator
Follow money management and don't enter to trade within the high-impact news period. Exit from your trades half & an hour from the high-impact forex news.
As always, to achieve good results, remember about proper money management. To be a profitable trader, you must master discipline, emotions, and psychology. It is crucial to know when and when not to trade. Avoid trading during unfavorable times and market conditions like low volume/volatility conditions, beyond major sessions, exotic currency pairs, wider spread, etc.
Buy Trades
Blue Buy Arrow: The first indicator to look for is a blue buy arrow on the chart. This signals that the system has identified a high probability buy setup.
5 Nitro Indicator: The 5 Nitro indicator should display an uptrend, signified by turning blue.
Basket Dashboard Alignment: Before confirming your Buy trade, consult the Basket Dashboard to confirm the trend. For example, if you want to buy the USD/JPY pair, make sure that other USD pairs also show an uptrend, represented by the color blue.
Sell Trades
Opposite of Blue Buy Arrow: Look for a Sell arrow. This indicates a high-probability Sell set up according to the system.
5 Nitro Indicator: For Sell trades, the 5 Nitro indicator should indicate a downtrend, turning red.
Basket Dashboard Alignment: Similar to the Buy trades, consult the Basket Dashboard for confirmation. If you're considering a Sell order, make sure other pairs with the same base currency are also in a downtrend.
Trade Exist
Any positions with this Phantom Indicator can be liquidated using a fixed profit target. Alternatively, the profit target should be set using previous support, resistance, or high-low levels as a reference point. You may also exit the trade manually if the system conditions reverse (the opposite signal appears).
It is recommended to use a stop loss. Set SL below the entry price using previous support/resistance as a reference point Or on the previous high/low swing. Using fixed stop loss settings without any reference points is not advocated.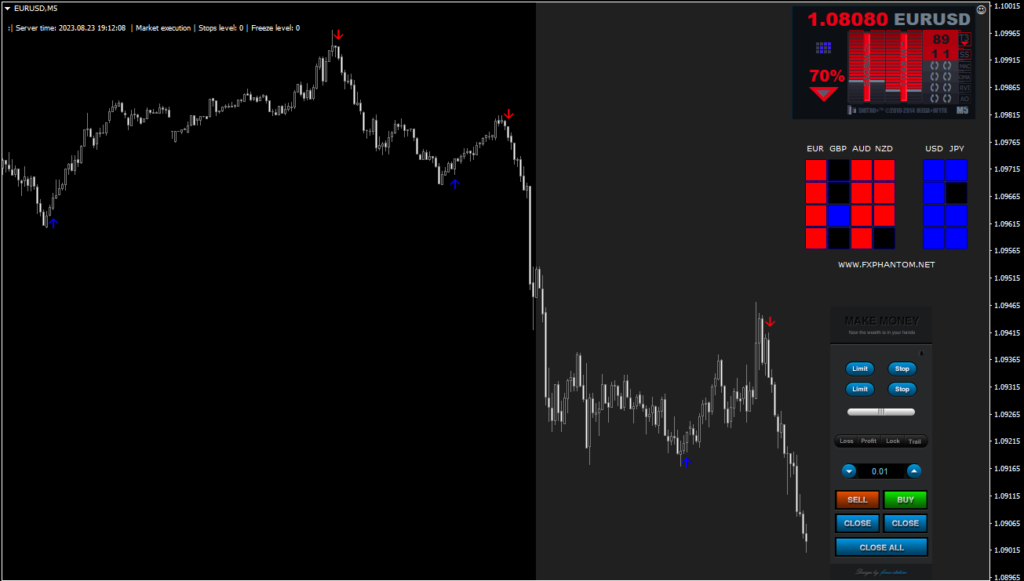 Conclusion
FX Phantom is a robust, rule-based trading system offering comprehensive features to make Forex trading as efficient as possible. With advanced indicators, minimal screen time requirements, and a versatile trading assistant, this software is engineered for both beginners and seasoned traders. By using This FREE Forex System, you're not just trading; you're making data-driven decisions to elevate your trading experience.