German Sniper Indicator is a Forex Trading Indicator that gives easy-to-use buy/sell signals with Take profit and Stop loss on the chart. It usually being sold for 49$ a Life Time. If you are looking for a scalping strategy or looking to secure at least 50 pips a day then this is a good choice.
Through mathematical algorithmic market analysis, the indicator uses clever technology to ensure that you enter trades in safe zones for minimal drawdown. The indicator analyzes the market for you and displays precise sell and buy entries with target and stop loss.
This Indicator will make your analysis much more precise and your trades more accurate. Thanks to the smart trend analysis calculation mechanism, you will recognize the trending market and you will be able to open transactions in line with the big traders. 
German Sniper system can give you trading signals you can take as they are or add your additional chart analysis to filter the signals further, which is recommended. While traders of all experience levels can use this system, it can be beneficial to practice trading on an MT4 demo account until you become consistent and confident enough to go live.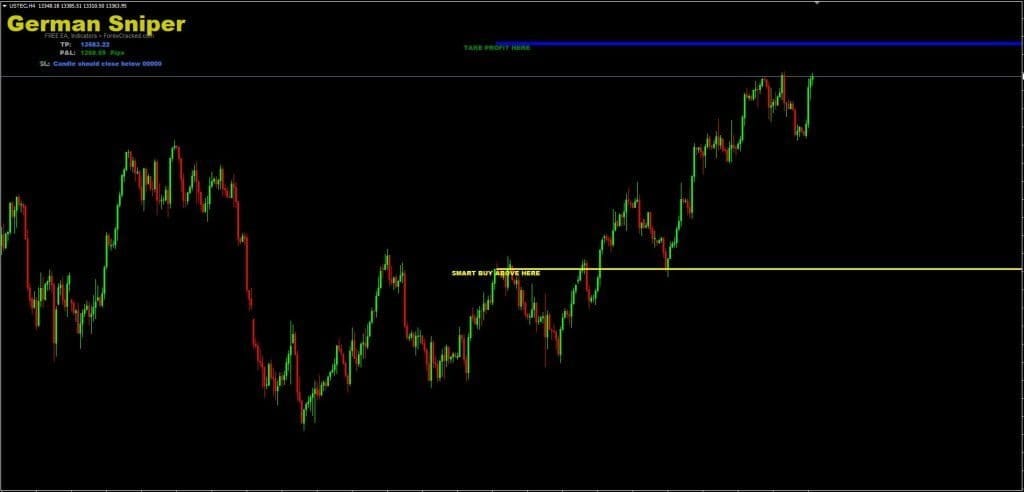 Unfortunately, it seems to be there aren't any mobile notifications or even platform pop-up alerts.
German Sniper Forex Indicator can be used on any Forex currency pair and other assets such as stocks, commodities, cryptos, precious metals, oil, gas, etc. You can also use it on any time frame that suits you best, from the 1 minutes through to the 4-hour charts.


How to Use German Sniper Forex Trading Indicator
This indicator is the best to use for Nas100, GER30/40/DAX and XAUUSD due to its nature of minimal drawdown and ability to catch huge reversals on the forex charts .
We advise using the German Sniper V1 on 4 Hours Time frame and focus on long-term trades. (You will be profitable in the long run)
Enter trade on the area marked as sell entry/buy entry.
We also recommend taking two trades with one of the take profit at the marked zone and the other trade take profit at the halfway mark. (Or just half close the trade at the mid-point)