Verified Profit System (VPS) has become a significant player in financial trading, providing a robust and intuitive approach to market analyses. This price action trend strategy is built on the principle of 'TMA' (Triangular Moving Average) for its trend orientation and an array of advanced tools such as levels of continuation/reversal, support, and resistance zones.
Indicators Used in this Trend Strategy
Let's dive deeper into the specific indicators utilized in this system
Confluence 2 and Confluence 5
This proprietary indicator is a critical tool in the VPS, helping traders identify high-probability trading opportunities where multiple factors align in favor of a particular price move. The Confluence 2 and 5 indicators offer different degrees of analysis, giving traders a wider perspective of market conditions.
Zone Indicator
The Zone Indicator in the VPS is crucial for identifying support and resistance zones in the market. These are the price levels at which buying or selling pressure significantly changes, leading to possible price reversals or continuations. Recognizing these zones allows traders to anticipate potential price movements and plan their trades accordingly.
Trend Signal
The Trend Signal indicator is where the VPS truly stands out. These tools assist traders in identifying the market's overall trend direction and potential entry points.
Trend Meter
The Trend Meter is an essential component of the VPS, providing a visual representation of market trends. It's a helpful tool for traders, enabling them to gauge the strength of a trend at a glance, thereby assisting in informed decision-making.
Levels Reversal
The Levels Reversal tool in VPS is primarily employed to indicate potential turning points in the market. It pinpoints those areas where the price has a high probability of reversing direction. Recognizing these levels can help traders capitalize on potential opportunities in the market.
This Trend Strategy is entirely manual. The indicators produce the signals, but any decisions to enter the market and set protection or profitable exit stops will depend on the trader. Therefore, the trader must be familiar with the principles of risk and reward and use initial support and resistance areas to set entries and exits.
This Verified Profit System can give you trading signals you can take as they are or add your additional chart analysis to filter the signals further, which is recommended. While traders of all experience levels can use this system, practicing trading on an MT4 demo account can be beneficial until you become consistent and confident enough to go live.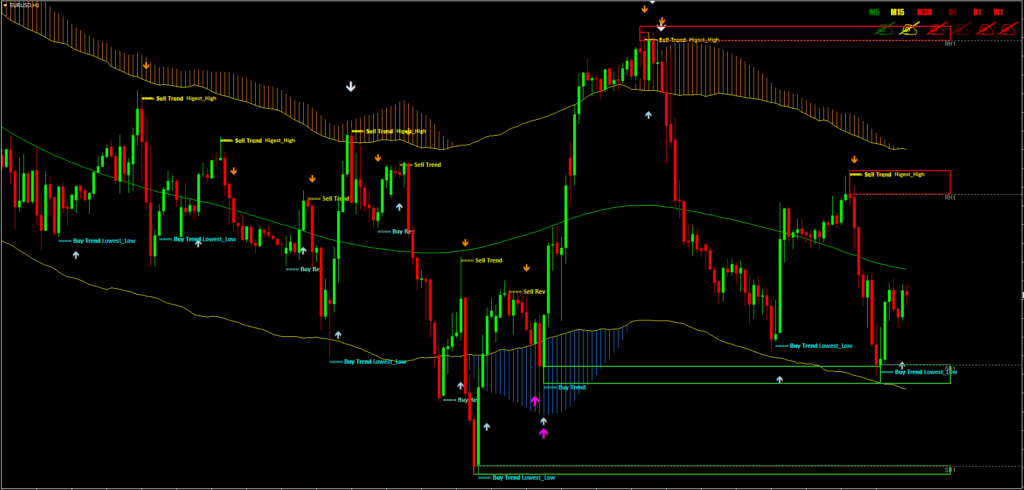 You can set this Indicator to send you a signal alert via E-mail, SMS, Mobile Notifications, or platform pop-ups. This is helpful as it means you do not need to stare at the charts all day, waiting for signals to appear, and you can monitor multiple charts simultaneously.
Verified Profit System can be used on any Forex currency pair and other assets such as stocks, commodities, cryptos, precious metals, oil, gas, etc. You can also use it on any time frame that suits you best, from the 1-minute to the 1-month charts.


Trading Rules for Verified Profit System
Remember to tighten your Stop Losses around High Impact News Releases or avoid trading at least 15 minutes before and after these events when using this Trend Strategy.
As always, to achieve good results, remember about proper money management. To be a profitable trader, you must master discipline, emotions, and psychology. It is crucial to know when and when not to trade. Avoid trading during unfavorable times and market conditions like low volume/volatility, beyond major sessions, exotic currency pairs, wider spread, etc.
The best signals are when the price bounces off the level toward the trend.
Buy Entry
Trend Signal

Light Blue

Buy Arrow.

Blue

bars are below the price.
Support Zone. (

GREEN

Box)
Level reversal Buy. (

BLUE

"Buy" text)
Sell Entry
Trend Signal

Orange

Sell Arrow.

Orange

bars are above the price.
Resistance Zone. (

RED

Box)
Level reversal Sell. (

Yellow

"Sell" text)
Trade Exist
Any positions with this Verified Profit System can be liquidated using a fixed profit target. Alternatively, the profit target should be set using previous support, resistance, or high-low level as a reference point. You may also exit the trade manually if the system conditions reverse.
Place initial stop loss below/above the last swing high/low.
Make profit before the next level of zone indicator or ratio stop loss 1 : 2.5
It is recommended to use a stop loss. Set SL below the entry price using previous support/resistance as a reference point Or on the previous high/low swing. Using fixed stop loss settings without any reference points is not advocated.

Conclusion
In conclusion, the Trend Strategy is a comprehensive strategy that enables traders to navigate the complexities of financial markets efficiently. Its well-rounded set of indicators provides a multifaceted approach to trend analysis, making it suitable for novice and experienced traders. Its unique combination of functionality and user-centric interface ensures a dynamic and practical trading experience, making it a go-to solution for those aiming to maximize their trading endeavors.