THIS QUICK GUIDE WILL HELP YOU EARN SHIT lots OF MONEY TRADING Boom and Crash ONLINE FOREX WITH ZERO DRAW DOWN IF YOU FOLLOW STEP BY STEP.
Ok FIRST REGISTER ON DERIV.COM
AND CREATE A REAL ACCOUNT, THEN NAVIGATE TO MT5, CREATE AN ACCOUNT ETC, USE YOUTUBE IF YOU DON'T KNOW HOW TO OPEN AN MT5 ACCOUNT ON DERIV.COM.
NEXT, OPEN YOUR MT5 AND ADD CRASH 1000 AND BOOM 1000 ONLY, GO TO INDICATORS AND ADD
EXPONENTIAL MOVING AVERAGES: 1 to 7
SHIFT : 0
METHOD: EXPONENTIAL
APPLY TO CLOSE
STYLES 1 PIXEL AND COLOR PUT LIME
EXPONENTIAL MOVING AVERAGES 8 to 27
SHIFT : 0
METHOD: EXPONENTIAL
APPLY TO CLOSE
STYLES 1 PIXEL AND COLOR PUT LIGHT PURPLE
EXPONENTIAL MOVING AVERAGES 28 to 31
SHIFT : 0
METHOD: EXPONENTIAL
APPLY TO CLOSE
STYLES 3 PIXEL AND COLOR PUT DARK PURPLE
ADD ANOTHER INDICATOR BELOW CALLED THE STOCHASTIC OSCILLATOR WITH THES
SETTINGS
STOCHASTIC OSCILLATOR
%K period: 5
%D period 3
Slowing: 3
Price field Low/High
Method Simple
Style
Main 1 pixel color put none
Signal 1 pixel color put none
LEVEL : 90,80 ,68,50,32,20,10
NEXT, PUT EXPONENTIAL MOVING AVERAGES 5,8,13,21 any color with pixel 1
10 AND 20 3 pixels any color
IT WILL LOOK LIKE THIS AFTER FINSHING THE SETUP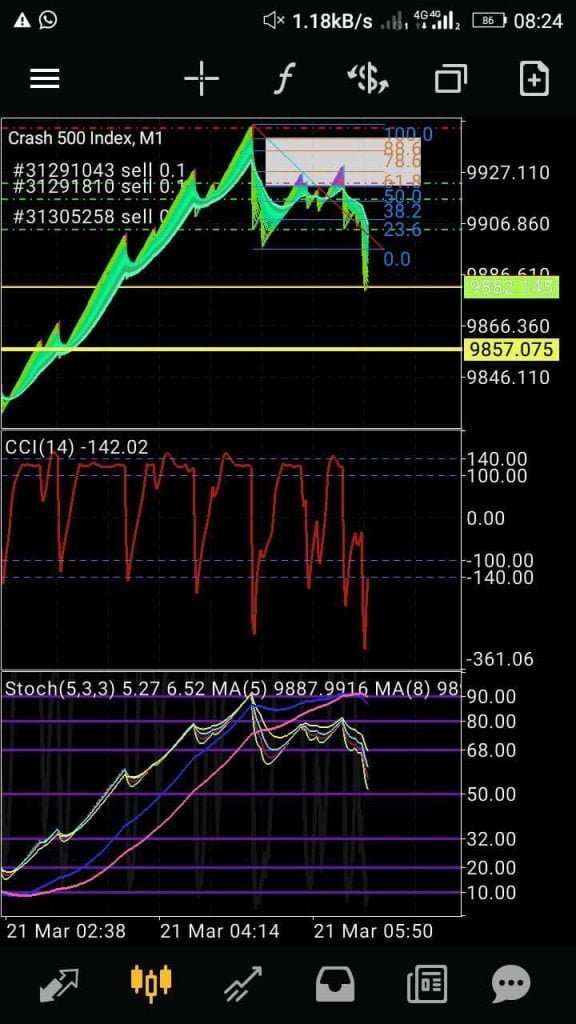 NEXT LET'S GET INTO THE BUSINESS OF MAKING MONEY, NOTE IF YOU'RE USING A MOBILE SCREEN ZOOM OUT MAX!
AFTER SETTING YOUR INDICATORS YOU GO TO 1 MIN OR 5 MIN OR 15 OR monthly or yearly who cares this strategy works on every time frame …… DEPENDING ON HOW MUCH PROFITS YOU WANT TO MAKE.

NEXT…Ok let's take for example you want to download money in 1 min time frame, you have your indicators set and everything like your emotional bullshit
First, you look for what we call A PEAK Lock right, this PEAK Lock is formed when 200/100 cross, yes on the stochastic indicator we just inserted right there l know you see it. the ema on the stochastic will escape the 200/100 indicating a change in market price direction this is called the trend breaker though however, this is not a full confirmation that we should now enter since this might be just a pullback we still have to look for other, we then look for the ID-50, this is the first pullback of the price on the main chart after escaping the EMAS LOOK AS WELL THE EMAs on stochastic will bounce on 90/68 for crash or 10/32 for boom…

TERMS YOU NEED TO UNDERSTAND



THE PEAK LOCK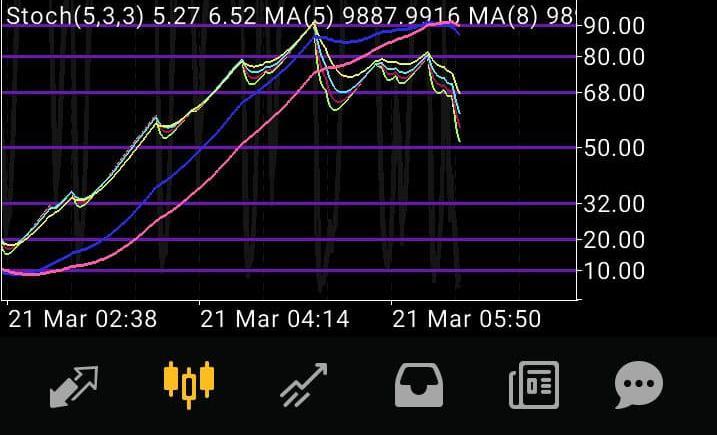 THE 200/100 EMAS ON THE STOCHASTIC CROSSES TOGETHER ON THE OVERSOLD OR OVERBOUGHT AREA / THE EMAs 5.8.13.21 CROSS THE 200/100
THE TREND BREAKER
THIS MEANS WHEN THE PRICE WAS MOVING UPWARD FORMING HIGHER HIGHS AND HIGH LOWS, THEN SUDDENLY A SHIT LOT OF SPIKES OR A FEW STRONG ONES BREAK THE MARKET STRUCTURE BY CLOSING BELOW THE PREVIOUS HIGH…

THE FIBONANCI SNIPER ENTRY
This is what makes the strategy special for catching spikes on boom and crash because you get to catch spikes at sniper entries with zero drawdowns if you add the peak lock +the trend breaker+id50+fib retracement you get 100% sniper entry

THE IMAGE BELOW SHOW HOW WE PLACE ORDER USING THE FIB AND ID50 BEFORE PRICE COMES BACK TO TAKE US INTO PROFITS.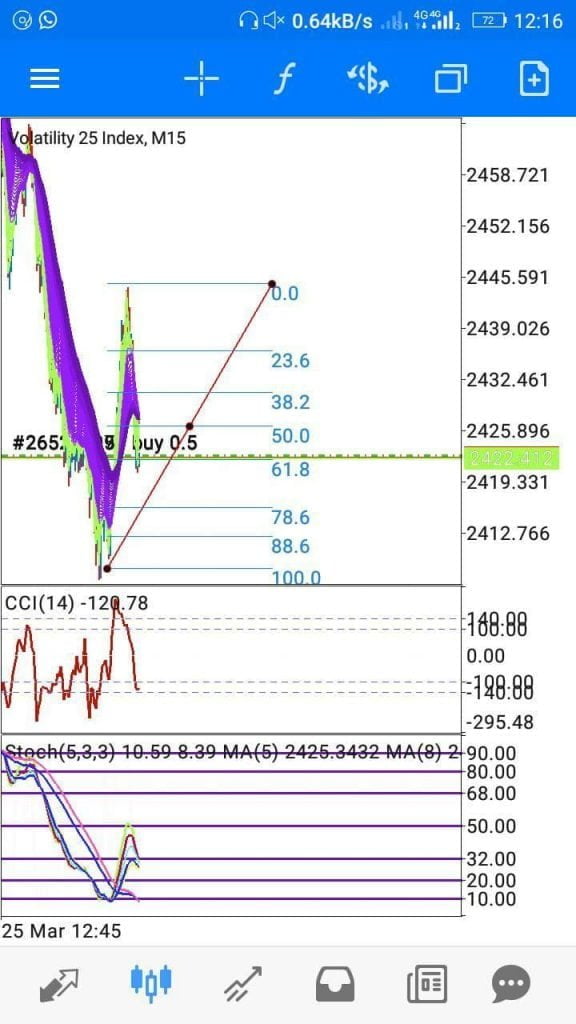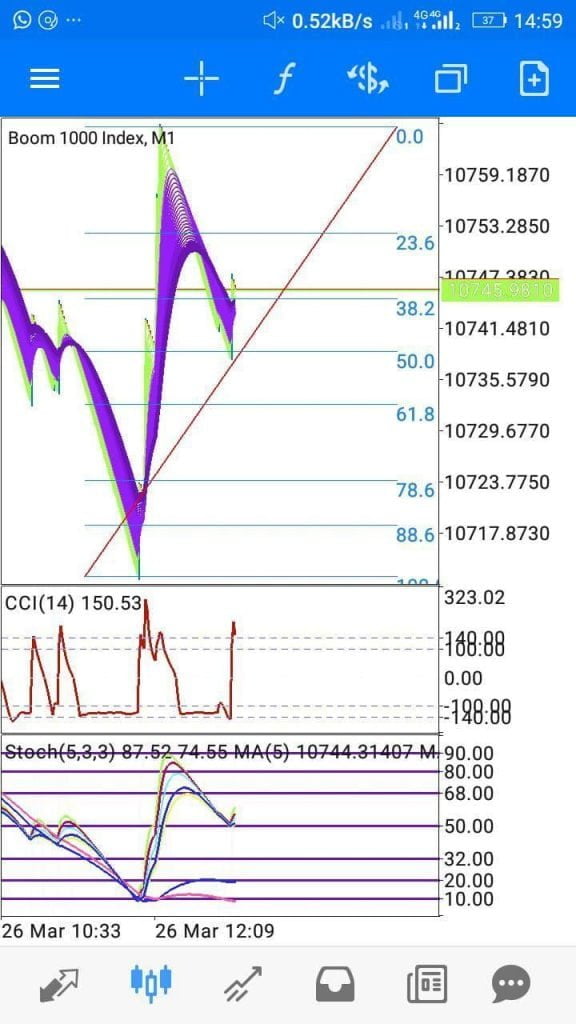 THE NEGATIVE FLOAT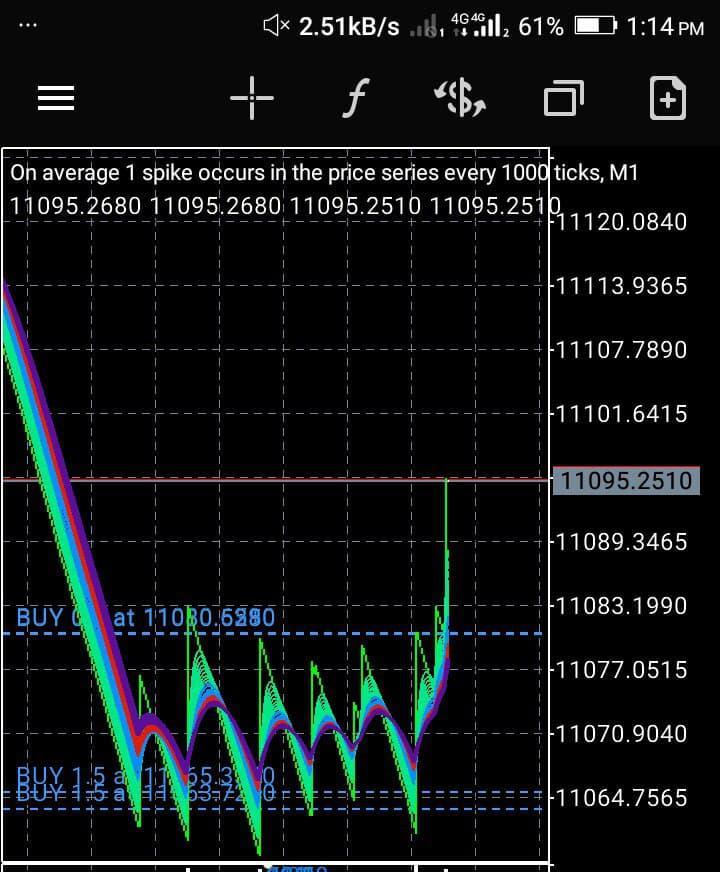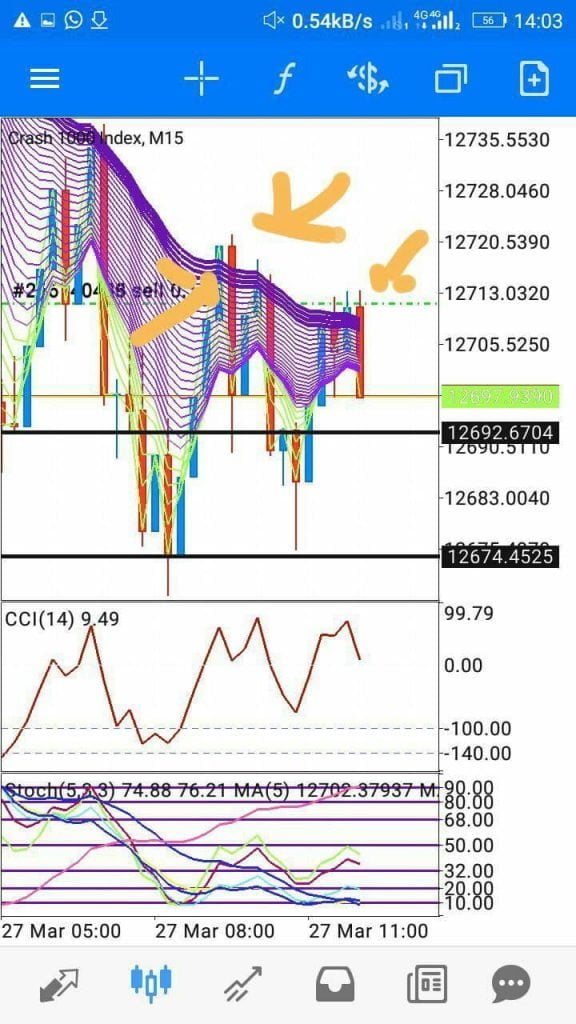 THIS IS THE STRONG RESISTANCE ON THE EMAs, it is the EMAs 27-31 and can help us trade the higher time frame by waiting for the price to pull back into the zone, confirm with other confluence then we get hell lots of sniper entries, note here or re-read it is important.
It as well helps us to determine the strong break in market structure for the ID-50 which is the first pullback after price has broken the market structure.


THE ID-50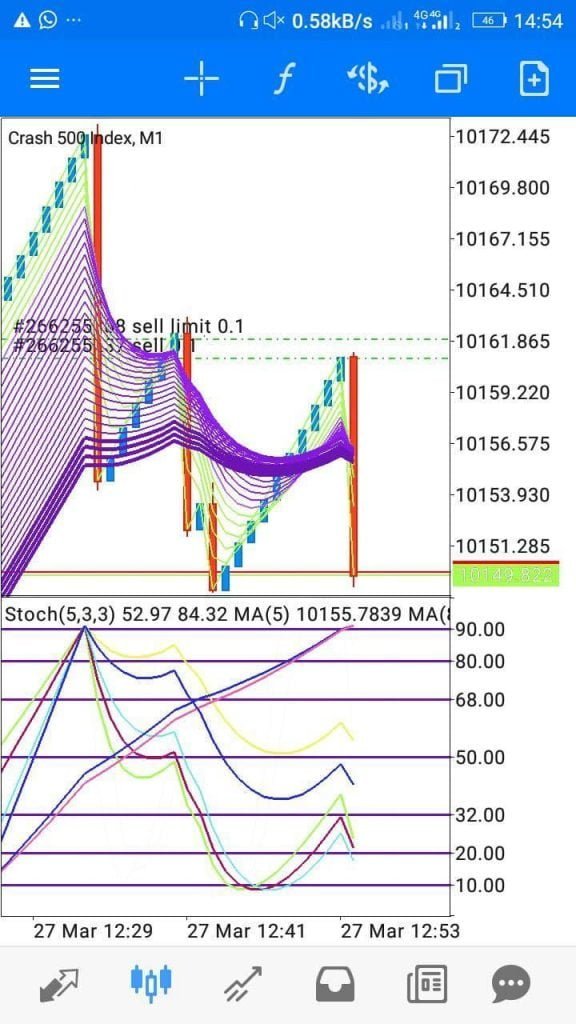 THIS IS THE NORMALLY THE FIRST PULL BACK AFTER PRICE HAS BROKEN THE STRUCTURE (TREND BREAKER), OK SO LISTEN CAREFULLY COZ THIS IS THE MOST IMPORTANT PART, When price breaker the structure buy spiking over the negative float we then take our Fibonacci retracement tools and place buy or sell limits at level 68,79, l repeat when price break the negative float we then put buy limit on boom 1000 or sell limit on crash 1000 on fib level 61.8 or 79.1.
I am not going to teach about risk Management or advise on which lot size you need to use here, Trade wisely and safely.
Read More: Forex Boom And Crash Strategy