Developed a high-impact Forex news trading strategy (also called news volatility straddle) to trade important Forex news with as little risk as possible. You can use It only for influential Forex news releases such as US GDP, non-farm payrolls, or interest rate decisions. Although all mt4 currency pairs react to such news, the USD-based mt4 currency pairs show the best result due to very low spread and high liquidity.
Forex News Trading Strategy Features
Circumvents spread widening and slippage problems.

The fundamental basis for a trade.

Simple setup.

High success rate.

Significant news events are pretty rare.

A forex broker with low spreads and high-quality trade execution is required.
How to trade?
Choose a significant news release that highly impacts Forex trading pairs.
For EUR/USD, We recommend US GDP, US nonfarm payrolls, US interest rate decisions, eurozone interest rate decisions, and US PCE reports.
Open Buy and Sell entry positions one minute before the scheduled news release. It will help you to protect the open trade from slippage and widened spreads.
Set stop-loss(SL) for both positions to 10-20 standard pips depending on the expected news volatility.
Set take-profit(TP) for both positions to 5 × SL. It will provide the necessary risk-to-reward ratio.
The news volatility will probably trigger one trade's stop-loss(SL) and the other's take-profit(TP).
Move the surviving position's stop-loss(SL) to breakeven once the paper profit reaches the actual stop-loss distance.
Close any other positions left one hour after the news.
If your broker uses the "first in, first out" (FIFO) execution model, it is still possible to trade news with this forex strategy. Put pending orders with entry points at the chart levels you would set the stop-loss of the original Buy/Sell positions. When one pending order is triggered, it should cancel the other trade. This strategy modification is required to use in MetaTrader 5 platform. Unfortunately, it suffers from additional exposure to wide spreads and slippage.

Strategy Example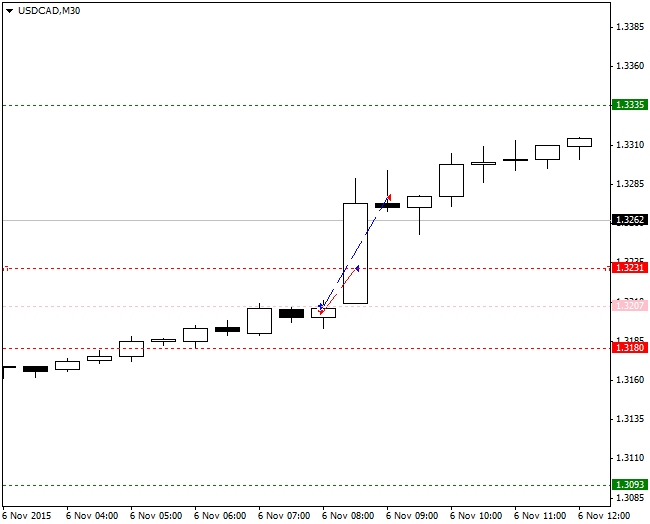 The example depicts a trade on USD/CAD @ M30 mt4 chart during a joint announcement of the US and Canadian unemployment figures for October at 13:30 UTC on November 6, 2015:
The entries are shown with blue color and red arrows pointing right.
The blue color one is Buy; the red one is Sell.
The original stop-loss(SL) levels are the red lines above and below the entries.
The pink color line is the Buy trade's stop-loss(SL) after it was moved to breakeven.
The take-profit levels are the green color lines above and below the entries.
The Sell was closed by stop-loss(SL) during the first second after release. The exit is marked with the red color arrow pointing left.
The Buy entry was closed by time-out an hour after the news. It failed to reach the target level(TP) but still earned enough good profit to cover the loss in Sell and produce a significant reward. The exit is marked with the blue color arrow pointing left.


Download a Collection of Indicators, Courses, and EA for FREE
Warning!
Use this strategy at your own risk. fxcracked.com cannot be responsible for any losses associated with using any strategy presented on the site. Using this strategy on the live account is not recommended without testing it on the demo account first.

Discussion
Do you have any more suggestions regarding this strategy? You can always discuss Forex News Trading Strategy with fellow Forex traders on the Trading Systems and Strategies forum.