This 1H Heiken-Ashi Forex strategy will make your trading becomes more relaxing.
It's Easy to understand (you can look at the indicator at a glance and will know if its time to take a trade, no messy lines)
Using on 1H timeframe means you don't have to look at the chart every second; you can check every hour or a couple of hours
what's this strategy? How do we enter a good trade?

Here's how:
Open a new chart
Put Heiken-Ashi to the chart
Add MA (Simple,Period: 14)
Add OsMA with default settings (set level to 0)
Add Momentum (set level to 100,Period: 10)
Add RSI to the chart(Period: 5, set level to 50)
*or you can download the template Down below
*change the candle to bar, so you can see the actual open and close price is without having open two charts
LONG Market Trade:
Heiken Ashi is close above MA 14
OsMA is above 0
Momentum is above 100
RSI is above 50
SHORT Market Trade:
Heiken Ashi is close below MA 14
OsMA is below 0
Momentum is below 100
RSI is below 50
*Momentum and RSI indicator is optional confirmation, you can take trade even if these two indicators didn't go above/below their levels, but it will be a risky trade, I take a trade when one of them is below /above the levels.

Where to set TP and SL?
When setting SL, we usually set it to the nearest swing high/low and set TP 2 time the SL, so my risk-reward ratio is 1:2
Close your trade if OsMA going in a different direction (e.g., you take LONG trade, OsMA is above 0, after a couple of hours OsMA is going below 0 that's your chart signal to close a trade)
Of course, you can set TP and SL by your style
Here's how I usually take trade:
Need three confirmation signals from the indicator
If all indicator is confirmed, then I take two trade order at the closing candle
Set my SL to nearest swing, and I'm using 2 TP levels, 1st is 1:1 from SL and 2nd is 1:2 from SL (e.g., I take the trade at 1.2000, my SL is 1.1000, my 1st TP is 1.3000, 2nd TP is 1.4000)
If my 1st TP is hit, then I will move SL to BE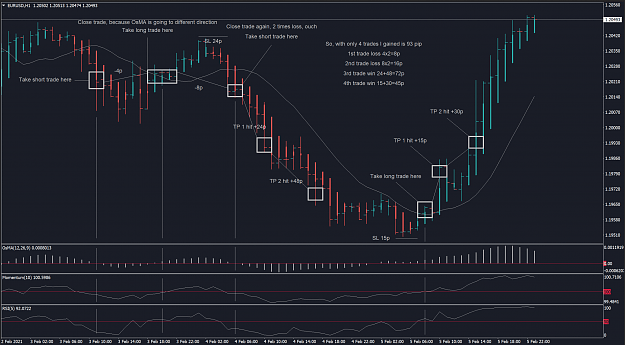 Read More: Profitable Forex Hedging Strategy