Support and Resistance Forex trading strategy is a widely used forex trading system based on horizontal support and resistance levels. The candlesticks' highs and lows form these levels. A breakthrough of these levels after a period of consolidation signals a trend. This strategy doesn't require any mt4 chart indicators except for the ability to draw lines (at least imaginary).
Features
Well-defined low stop-loss(SL).

Relatively high success rate.

Unclear target levels.

How to Trade?
The support level is formed by the lows of two or more candlestick bars that include a relatively straight horizontal line with no lower lows between them.
The resistance level is formed by the highs of two or more candlestick bars that form a relatively straight horizontal line with no higher highs between them.
Consolidation is a period without any market trend, forming near support or resistance level, with relatively small candlestick bodies.
A close below the chart support level signals a short sell position.
A close above the chart resistance level signals a long position.
Stop-loss(SL) is set to the low of the previous candlestick (for the long positions) or the high of the previous chart candlestick (for the short positions).
Take-profit(TP) can be set relatively to the stop-loss(SL) or as a trailing stop.
Example

Support set-up: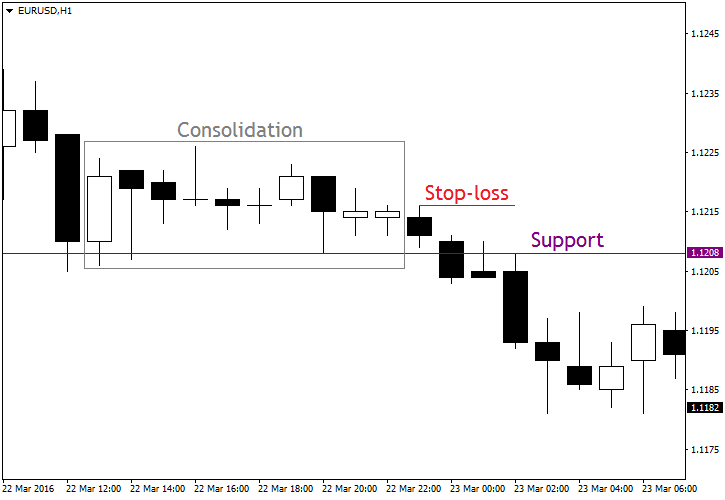 Resistance set-up: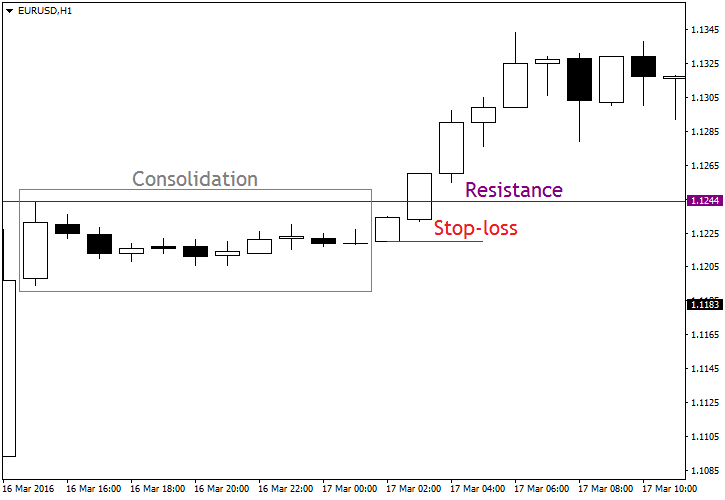 A period of chart consolidation is clearly seen on both example charts. In both cases, the chart support/resistance level is formed by two candles for a short period. Stop-loss is placed close to the entry-level. Take-profit couldn't be clearly set at the position entry moment, but a risk/reward ratio(R:R) of not less than 1:2 could be used efficiently. If you have trouble detecting support and resistance levels on the chart, you can use our free forex MT4/MT5 indicators: Support and Resistance or TzPivots.


Download a Collection of Indicators, Courses, and EA for FREE
Warning!
Use this strategy at your own risk. fxcracked.com can't be responsible for any losses associated with using any forex strategy presented on the site. It's not much recommended to use this forex strategy on the real account without testing it on the demo first.
Read More QuantumFX Forex Indicator System FREE Download
Discussion:
Do you have any more suggestions or questions regarding this strategy? You can always discuss Support and Resistance forex Strategy with your fellow Forex traders on the Trading Systems and forex Strategies forum.