The support turned resistance forex strategy is a price action forex trading system based on trading previous support levels that now act as resistance levels.
Confusing right?
Let us explain.
There will be times when the chart price will break a support level and head down. After a while, the price will head back and hit the broken support level, and guess what happens?
The broken support level now acts as a resistance level and pushes back price down.
Here is a chart of what we are talking about: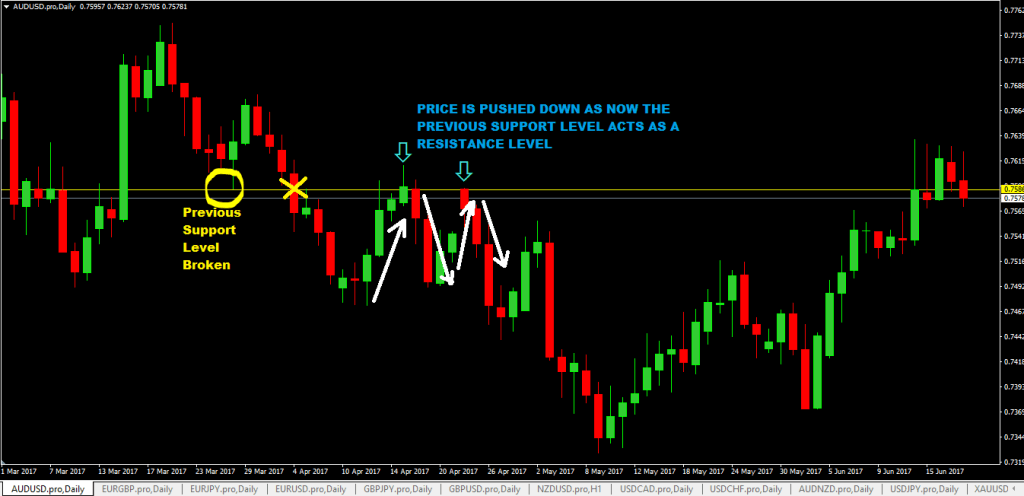 Currency Pairs To Trade
You can use this support turned resistance simple forex trading strategy to trade any currency pair, from the major currency pairs like EURUSD to AUDNZD, EURGBP, etc.
Which Timeframes To Trade
Any timeframe is suitable for this simple support turned resistance forex trading strategy, but I suggest you use a 15-minute timeframe and above.
Any Other Forex Indicators Required Here?
You do not need any other forex trading indicators here. You need to know the different bearish reversal candlestick patterns that give you your sell entry signal.
How To Trade Support Turned Resistance Forex Strategy
Be aware of apparent support levels on your chart, and if the price breaks them and heads down and starts going back up, one of the first questions you should be asking is this: where is the price most likely to reverse from?
Is there an excellent broken support level nearby where the price can reverse? If that is the reason, you need to look out to the price action as the price hits the good broken support level and watch to see if bearish reversal chart candlesticks form and use that as your sell entry signal.
Here's how to trade:
place a pending sell stop order two pips below the low of the bearish chart reversal candlestick that forms with the previous support
put your stop loss 5-10 pips above the high of that bearish reversal chart candlestick
For take profit(TP), you can use the risk: reward(R: R) ratio of 1:3 to calculate it or if not, use previous chart swing lows as your take profit level.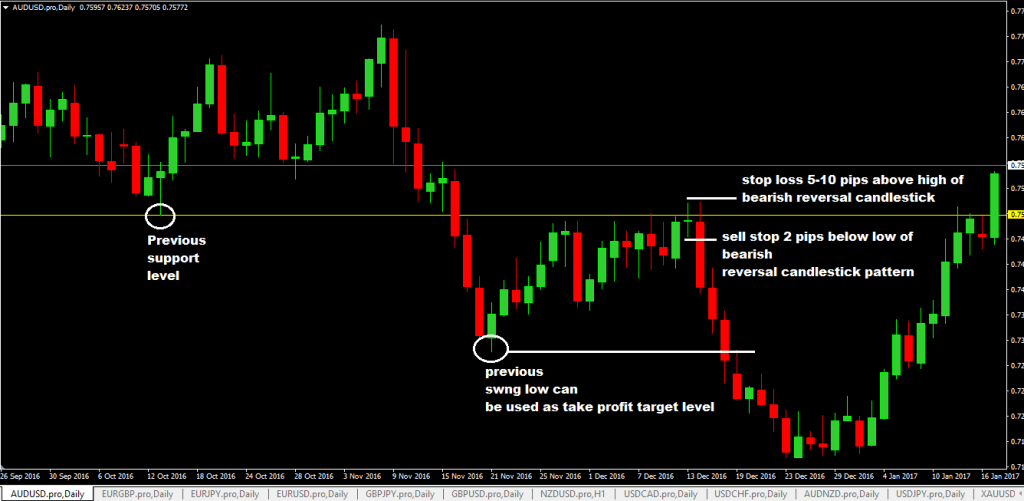 Advantages of The Support Turned Resistance Forex Strategy
excellent risk: reward ratio(R: R)
you will see these chart patterns form in all timeframes frequently, giving you a lot more opportunities to trade
straightforward price action trading system with simple, easy trading rules
Disadvantages Of The Support Turned Resistance Forex Trading Strategy
Price spikes can take out your stop-loss only to see the price falling after taking out your stop loss.
No line is drawn in concrete, and the price will go where it wants to go depending on market supply and demand, so expect support turned resistance levels to be violated.
Read More: 1 HOUR FOREX REVERSAL STRATEGY