The third shortest candlestick forex strategy is a forex price action trading strategy that is based on analyzing the lengths of 3 chart candlesticks, and the last chart candlestick in a sequence that has the shortest length is the trigger chart candlestick where you place a buy stop or pending sell stop order under its high or low respectively.
The reason behind the trading strategy is this:
When chart candlesticks have momentum, they tend to have a full body and longer.
But when there is less momentum in market price, chart candlestick bodies and lengths get shorter, which happens when the market price is consolidating. In this consolidating phase, it's like it is resting and gaining some energy for its next move and the next move; market price movement is usually explosive.
So what happens during the period when the chart candlesticks' bodies and lengths start to get shorter?
Well, we can say that the chart price is consolidating. That tends to happen when either the forex buyers and sellers equal out or when there's not much trading activity going on as forex traders are just sitting on the sideline waiting to see how the price will go.
The chart below is a forex GBPJPY Daily chart and shows you an example of how to pick out the third shortest chart candlestick: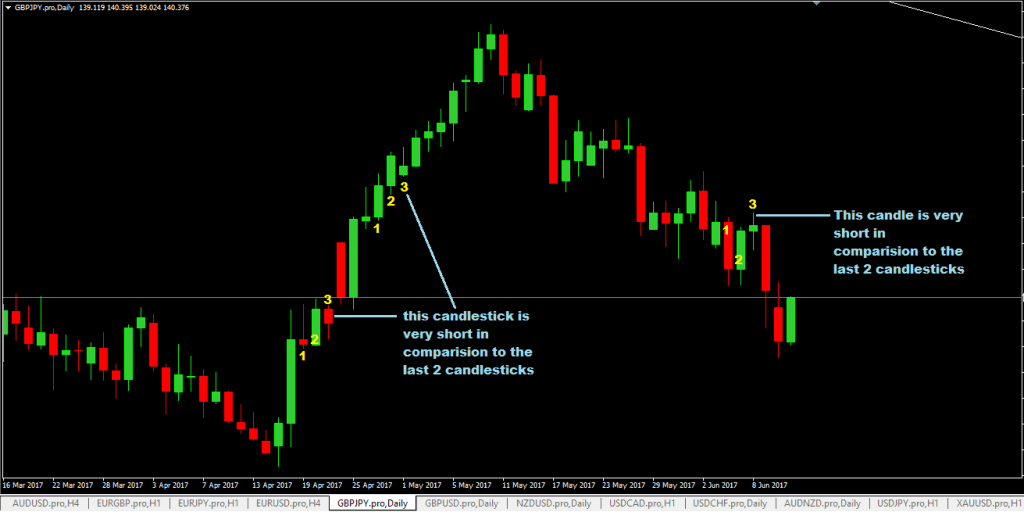 Currency Pairs To Trade?
You can trade any mt4 currency pair with the third shortest candlestick forex trading strategy.
Timeframes Required?
We suggest you use only the mt4 daily or the 4hr timeframes when using this forex trading strategy.
Any Forex Indicators Required?
No other forex indicators are required for this trading strategy.
Rules of The Third Shortest Candlestick Forex Strategy
Pick a timeframe, like the mt4 daily or the 4hr, and wait for the current chart candlestick to close.
As soon as that current chart candlestick closes, compare its length with that of the two previous chart candlesticks and see if its length is very unusually short.
If the length is much shorter than the other two, place a pending buy stop order two pips above its high and a pending sell stop order two pips below its low.
Also, put your stop loss(SL) on each side of the high/low of the chart candlestick at least 2-6 pips or increase it a little more if the mt4 currency pair has a huge spread.
As soon as one of the chart pending orders is activated, you must cancel the other pending order that is not activated.
For-profit targets, you can use previous swing high/low swing points are your targets for your profit or aim for a risk-reward of 1:3, or you can use a trailing stop to see if you can simply ride out the move until you get stopped out(SL) eventually.


Here's A Entry Setup Example Of the Third Shortest Candlestick Forex Strategy
The mt4 chart below shows you how to take trade setups based on this trading system. Whenever you find a much shorter candlestick than the previous two candlesticks, all you do is place opposite pending orders on both sides of the chart high and low of the candlestick.

Another Way to Trade This Strategy Is This
The simple rules given above are based on placing mt4 pending orders on both sides of the chart high and low of the third shortest chart candlestick REGARDLESS of the main trend in that timeframe.
What if you only want to place an mt4 pending order in the primary trend direction?
Well, you can!
So let's say that on the forex GBPJPY trade above, we can see that the market trend is down.
So what does that mean?
That means we only need to place a sell stop order because the trend is down, and there's a great chance that the chart price will break the low of the third shortest chart candlestick and continue to head down.
Similarly, you only need to place a buy stop order if the trend is up.
This is another way to trade this strategy.


Advantages of The Third Shortest Candlestick Forex Strategy
It is a straightforward forex trading strategy to understand and implement.
It can be a set-and-get trading system for those who have day jobs and can regularly monitor their trading screens.
Reasonable risk to reward ratio, especially if the third shortest candlestick is very short and you can aim for more profit than the 1:3 risk to reward.
When a candlestick is very short, the price consolidates within a very tight range, which we will see if we switch down to a much smaller timeframe. This also means that it is like a coiled spring that is pushed down and isn't released yet. Explosive price moves tend to happen after a breakout of the low or the high, and this trading strategy allows you to capture that explosive price move.
Disadvantages of The Third Shortest Candlestick Forex Trading Strategy
Sometimes, price spikes do happen, triggering a pending order as if to go in the direction of the order only to reverse and go the other way. Such is the nature of forex trading, so be prepared for it because it happens.