The simple daily candlestick breakout forex trading strategy is based on trading the candle breakouts of daily chart candlesticks. This forex trading strategy needs testing to verify its validity/usefulness.
But the idea behind it is straightforward, and it is this: on the daily chart if you see a bullish candlestick in an uptrend, the chances are the next candlestick that forms will also be bullish.
Similarly, if you see a bearish candlestick in a downtrend, the chances are the next daily candlestick to form after it is also a bearish candlestick.
So based on this simple idea, we can create some trading rules on how to trade the daily chart candlesticks.
Trading Parameters
Timeframes: only daily

Currency Pairs: Any good trending currency pairs

Forex Indicator: 14-day exponential moving average

Buy Trading Rules
The prices on the daily chart have to be in an uptrend: prices will be above 14-ema.
When a chart bullish candlestick forms, place a buy stop pending order 1-2 pips above the high.
Place your stop loss at least two pips below the low of that chart candlestick.
For take profit, aim for good risk: reward of 1:3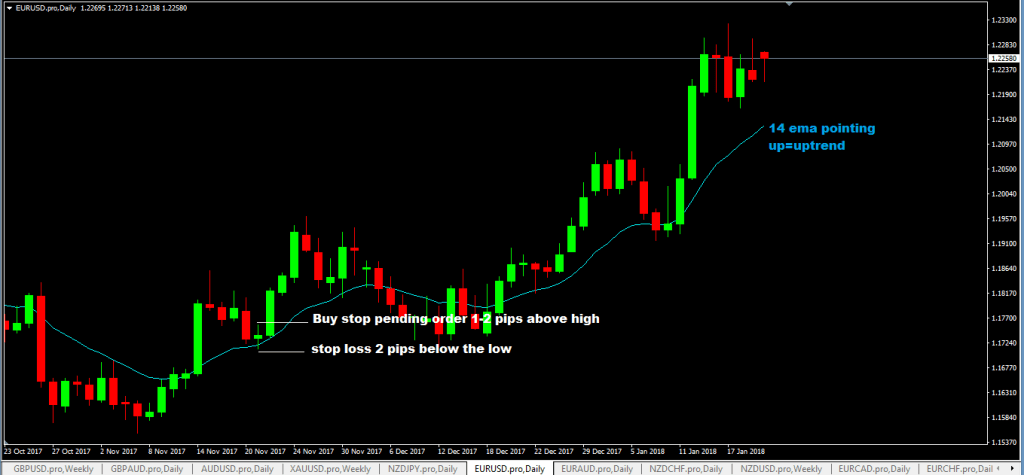 Sell Trading Rules
The live market must be in a downtrend on the mt4 daily charts: prices will be below 14 ema.
When a bearish chart candlestick forms, place a sell stop pending order 1-2 pips below the low of the bearish candlestick
Place stop-loss two pips above the high of that bearish candlestick
Aim for three times what you risked to take profit, i.e., 1:3 risk: reward ratio.
Read More: Candlestick Trader Indicator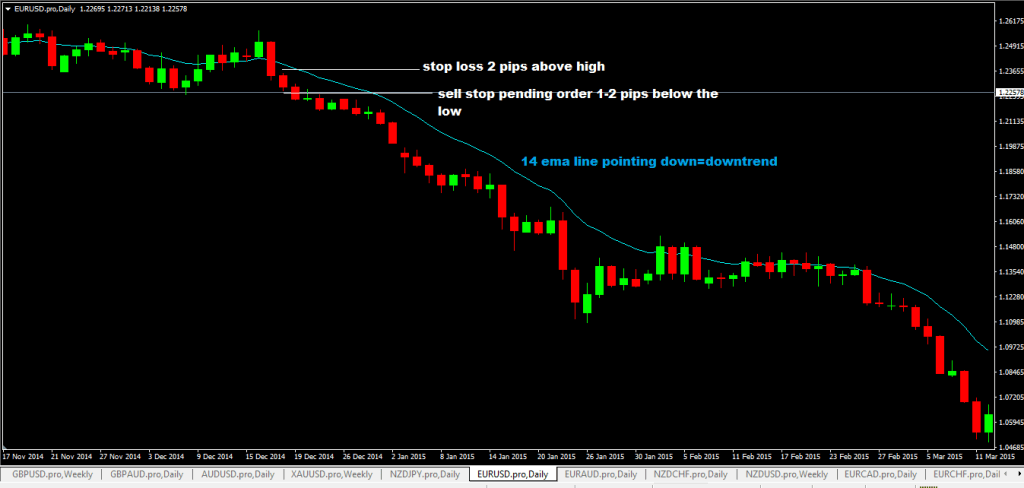 Advantages of Daily Candlestick Breakout Forex Trading Strategy
If you focus on forex trading one currency pair only, that means you only have one trade per day, which essentially reduces more trading.
you are trading with the moving trend (not against )
This can be a setup and forget type of forex trading system, and you don't need to monitor your trade regularly as it is based on the daily chart.
Straightforward trading rules.
Disadvantages of The Daily Candlestick Forex Breakout Trading Strategy
The length of the daily chart candlestick determines the length of the stop loss—the greater the size of the daily candlestick, the greater the stop loss(SL) distance. One suggestion is to not to trade extremely long daily chart candlesticks.
Avoid trading when the price is near primary swing points/levels or support and resistance levels.
Read More: 20 Pips A Day Forex Trading Strategy