Day Hunter Pro EA has a live track record of many years of stable trading with a low drawdown, which indicates its reliability. It is a sophisticated scalping system that utilizes advanced entry and exit algorithms with intelligent filtering techniques to identify the safest entry points during calm market periods. This system focuses on long-term stable growth, making it a professional tool developed over the years and continually updated to incorporate the latest innovations in trading.
Unlike other systems claiming to be the "Holy Grail" of trading, Day Hunter Pro EA employs a strict rule-based approach to trading, ensuring that risks are controlled while maximizing returns. This means no risky martingale or grid strategies are used in the system.
Features of Day Hunter Robot
One Chart Setup for Multiple Currency Pairs
With the Day Hunter Pro EA, traders can easily manage multiple currency pairs through a single chart setup. This feature simplifies trading and saves time, allowing you to focus on other aspects of your trading strategy.
Risk Management
The Day Hunter Pro EA employs strict risk management protocols, avoiding risky strategies like the martingale or grid systems. Instead, it enters trades with pending orders and uses a stop loss for each trade to protect your capital.
Advanced News Filter
The EA also boasts an advanced news filter, which automatically monitors and avoids trading during high-impact news events. This ensures the EA operates in a stable environment and minimizes the risk of sudden market swings affecting your trades.
Auto GMT Detection and Self-Diagnostic System
To streamline operations, the Day Hunter Pro EA incorporates an auto GMT detection feature, automatically adjusting your trading to your broker's time zone. Additionally, the self-diagnostic system detects any potential issues with your trading setup and alerts you to make the necessary adjustments.
Negative Swap Filter
The negative swap filter feature in the Day Hunter Pro EA helps protect your account from the negative impact of swaps. By identifying and avoiding trades with unfavorable swap rates, this filter ensures that your trades are always placed with optimal conditions.
Please test in a demo account first for at least a week. Also, please familiarize yourself and understand how this Day Hunter Pro Robot works, then only use it in a real account.

Recommendations for Day Hunter Pro EA
Minimum account balance of 100$ (It can even work with 25$).
Work Best on GBPUSD, EURUSD, EURCHF, USDCAD, and USDCHF (Work on any currency pair)
Work Only on M5.
This Hunter Pro EA should work on VPS continuously to reach stable results. So we recommend running this MT4 EA Download on a reliable VPS (Reliable and Trusted FOREX VPS – FXVM)
Low Spread, Slippage, and quick execution account is Recommended (Find the Perfect Broker For You Here)


Download a Collection of Indicators, Courses, and EA for FREE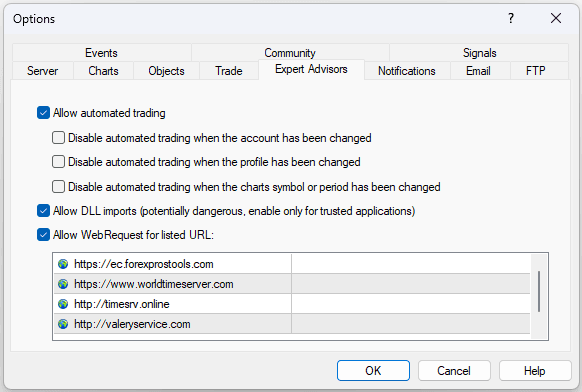 Open Tools –> Options –> Expert Advisors. Check the option "Allow WebRequests for listed URL" Add the following: "https://ec.forexprostools.com", "https://www.worldtimeserver.com", "https://www.investing.com", "http://valeryservice.com, http://valerytools.com" and press "OK." The EA takes news from the specified websites.
Input Parameters

Risk Settings

Allow Opening a new Trade – on/off opening new trades.
Lot-sizing Method – select the lot sizing method according to the risk you want to take: Fixed Lots will use fixed lot size from the "Fixed lot" parameter, Dynamic Lots will use the Dynamic Lot parameter, Max Risk per Trade will calculate lots based on % risk per trade, three predefined will calculate risk automatically for you
Fixed Lot – fixed trading lot
Dynamic Lo t- balance/equity to be used per 0.01 lot
Max Lot – Max allowed a trading lot
Use Even LotSize – trading only with even lots to reduce commissions.
Max Spread, in pips – max allowed spread for position closing
Max Slippage for a non-ECN acc, in pips – the maximum allowed slippage
Max Symbols at a time – max allowed the number of symbols that can be opened simultaneously by the Hunter Pro EA.
Max Net Number of Currencies – limit the number of open trades with the same currencies (not symbols/currency pairs) in the same direction.
Allow to Buy/Sell – on/off Buy/Sell trades.
Maximum Drawdown Percent – if the current floating drawdown exceeds the specified % the Hunter Pro Robot will close open positions
Max Daily Drawdown Limit % FTMO Rules in Money [0-disabled] – maximum daily drawdown limit in MONEY, calculated according to the FTMO rules. Non-trading operations (like withdrawals) during the day are not taken into account.
Max Daily Drawdown Reset Hour FTMO Rules (Broker time) – hour to reset the max. Drawdown with the prop firm.
Max Daily Drawdown Limit % FTMO Rules – maximum daily drawdown limit, calculated according to the FTMO rules. Non-trading operations (like withdrawals) during the day are not taken into account.

Time

Minutes To Start/Stop Placing Orders – allows you to fine-tune the trading interval. Minutes To Start Placing Orders must be multiples of 5 (0, 5, 10, 15…50, 55)
Rollover Start Time 23:XX – rollover start minutes.
Rollover End Time 00:XX – rollover end minutes.
Remove TakeProfit During Rollover – removes TP for all orders at the specified rollover time. This option helps to avoid closing trades via TP during bad trading conditions since slippage can turn a profitable trade into a losing one.
Increase StopLoss During Rollover – increases SL for all orders at the specified rollover time. This option helps to avoid activating SL due to spread widening during bad trading conditions (which may lead to a big loss).
StopLoss, in % ATR – volatility-based stop loss expressed as a percentage of the Average True Range indicator.
Check for Instances of the EA – checks that only one instance of the EA is running at a time. If Hunter Pro EA detects other instances with the same UID, trading will be disabled.
Trade on Monday/Tuesday/Wednesday/Thursday/Friday – enable/disable trading on Monday/ Tuesday/ Wednesday/ Thursday/ Friday
Disable Trading on Holidays – enable/disable trading on bank holidays according to the real-time Economic Calendar (https://www.investing.com). This filter is currency-specific. For example, with it EA won't take trades on USD pairs during bank holidays in the USA. It also works in Strategy Tester.

Strategy

Symbols separated by comma – list of pairs to trade. A suffix needs to be included if your broker uses one!
Hour to Start/Stop Placing Orders- when to start/stop placing pending orders. Set Smart Time Filter to false if you want to optimize these parameters.
Smart Time Filter- on/off smart time filter
Hour to Stop Trading (on Friday)- hour to stop trading (on Friday). All open positions will be closed at this hour.
New Year Holiday Filter – on/off Christmas/New Year filter
StopLoss, in pips – stop loss value in standard 4-digit pips
Hide StopLoss – on/off SL hiding
Rollover Time Filter – on/off the rollover filter
Swap Filter – cancels trading on Wednesday evening in the direction of the negative swap.
Max Negative Swap, in pips – max negative swap
News Filter Enabled – on/off News Filter

News

Medium Impact News – enable/disable news events with medium impact (2 stars news).
Low Impact News – enable/disable news events with low impact (1 star news).
Speaks – if false, then the Day Hunter Pro Robot will not take into account news events marked as Speeches/Speaks.
News List Refresh Rate – news events list update frequency (selection from the drop-down list).
Symbol Suffix – here, you can specify a symbol suffix if your broker uses one.
Placing Orders During Rollover Time – enable/disable placing pending orders during rollover time.
Friday Half Lots – halving trading lots on Friday evening.
Handle Max Drawdown Events on Every Tick – enable/disable drawdown event handling on every tick (instead of once a minute, which is used by default, it may consume more CPU resources).
Min Profit To Close Trade Before Midnight, in pips [0-disabled] – automatically closes profitable trades before midnight if the specified profit is reached.
Hide TakeProfit – on/off TakeProfit hiding.
Max Open Lots – here, you can put a value limiting the total lots that the EA can open on all currency pairs.
Minutes to Stop Trading – minutes to stop trading.
Block Trading for the Entire Day – prohibits opening new trades throughout the day if HV hits the specified level just once at any moment during the day.
Show Stats – show a panel with some statistics.

Others

Trade Comment – comment
UID (0…9) – unique EA instance number. Usually, no need to change it
ShowPanel – on/off Info-panel
GMT/DST Test – GMT offset in winter and DST in Tester. This parameter has no effect on live trading.

Order Split

Adjust Order Price – adjust the open price of pending orders

Updated 2023/07/26
Conclusion
The Day Hunter Pro EA is an exceptional tool for traders seeking a reliable, rule-based approach to forex trading. Its advanced features, including smart algorithms, sophisticated filters, and risk management protocols, enable long-term stable growth and protect your capital. With its live track record and user-friendly design, the Day Hunter Pro Robot is valuable to any trader's arsenal. Experience the power of this innovative scalping system and see the potential it holds for your trading success.