Force Able EA uses a unique technique with popular indicator's BB (Bollinger Bands), ADX (Average Directional Movement Index), MA (Moving Average).
These techniques to repeatedly seek and find the simplest possible trading opportunities for you. It will then place trades on these opportunities and manage them dynamically to maximize profit levels.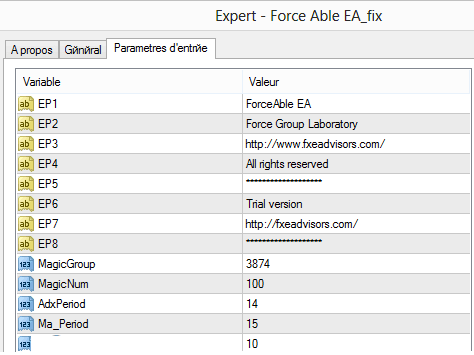 Several sophisticated security functions are used to ensure that your trades are kept safe and 100% secure.
Every trade is going to be entered through direct orders to nullify slippage and can be secured by SL and TP. It means your risk exposure is going to be very low while the profit potential is going to be high. The strategy of this EA is very accurate and safe.
Order will open only then all 3 indicators show's movement to Long or Short trade.
Force Able EA is designed for GBP/USD currency pair only, and the best results show at the M30 time frame.
Check out some other force Ea products too : Visit