Reversion Trading EA is a mean-reversion trading system crafted for the fast-paced environment of the American trading session. Unlike many scalping systems available in the market, the Mean Reversion Trading EA is explicitly tailored for cross pairs known for their strong mean-reverting tendencies. This ensures high-profit targets, optimizing the balance between risk and reward.
Its operational hours are from 19:00 to 23:00, abstaining from trades during the rollover periods of 0:00-1:00. As for trade durations, it falls within the typical scalping category, with trades lasting a few hours at most.
This EA employs algorithms to determine entry and exit points in the market. Unlike some systems, it does not incorporate martingale or grid tactics. Each trade is executed via market orders, with a predefined stop loss, safeguarding investments against unforeseen market volatilities.
Mean Reversion in Forex Trading
Mean reversion is a financial theory suggesting that asset prices and historical returns eventually revert back to the entire dataset's long-run mean or average level. In simpler terms, if a stock or currency pair's price escalates significantly, it will eventually come down, and vice versa. This concept stems from the belief that in the short term, markets might overreact to news, events, or sentiment, but they will return to their intrinsic value over the long term.
In the context of forex trading, the theory translates into the belief that major currency pairs are likely to move around certain equilibrium levels or averages over time. When a pair deviates too far from its average, it's expected to revert back, offering traders potential profit opportunities.
Features of Mean Reversion Robot
The following are the notable features of the Mean Reversion Robot:
Single Chart Setup: The system allows trading multi-currency from a singular chart setup.
Trading Times: It refrains from initiating trades during periods of potentially low liquidity, notably the bank rollover timings of 0:00-1:00.
Filters and Detection Mechanisms:

Advanced News Filter: This is designed to keep track of market news.
Stock Market Crash Filter: Intended to recognize significant market downturns.
Auto GMT Detection: Automates the adjustment based on the trader's time zone.

Negative Swap Filter: Aims to avoid trades with potential negative interest charges.
Please test in a demo account first for at least a week. Also, please familiarize yourself and understand how this Mean Reversion Robot works, then only use it in a real account.

Recommendations for Reversion Trading EA
Minimum account balance of 100$ (It can even work with 50$).
This EA is one chart setup, so it's only needed to attach on one pair. It will trade on all pairs described on the input parameter.
EURUSD is recommended, and If your broker uses a suffix (e.g. EURUSD.a), you should update names in the Symbol parameter.
Work Best on EURNZD, EURAUD, AUDNZD, and NZDCAD (Work on any currency pair)
Work Only on M5.
MT4 cannot perform multi-currency backtests, So when you backtest this EA, you only get the result of the only pair you tested.
This Reversion Trading EA should work on VPS continuously to reach stable results. So we recommend running this MT4 EA Download on a reliable VPS (Reliable and Trusted FOREX VPS – FXVM)
Low Spread, Slippage, and quick execution account is Recommended, especially during rollover time (Find the Perfect Broker For You Here)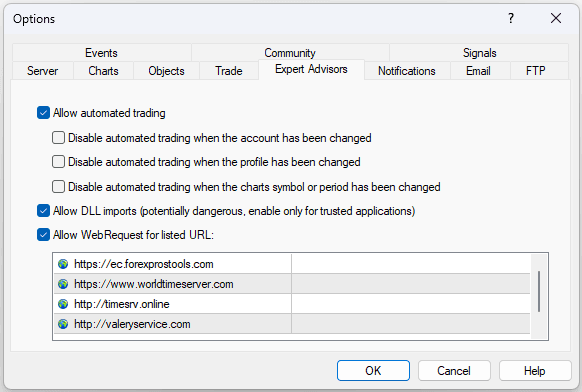 Open Tools –> Options –> Expert Advisors. Check the option "Allow WebRequests for listed URL" Add the following: "https://ec.forexprostools.com", "https://www.worldtimeserver.com", "https://www.investing.com", "http://valeryservice.com" and press "OK." The EA takes news from the specified websites.
Input Parameters

Allow Opening a new Trade: Determines whether the Mean Reversion Robot can open new trades. Options are "on" or "off."
Lot-sizing Method: Choose your preferred lot sizing based on risk. Options include "Fixed Lots" (using a predetermined lot size from the "Fixed lot" parameter), "Dynamic Lots" (using the Dynamic Lot parameter), "Max Risk per Trade" (calculating lots based on a percentage risk per trade), and three predefined presets for automated risk calculation.
Fixed Lot: Sets a consistent trading lot size.
Dynamic Lot: Determines the balance/equity portion for every 0.01 lot.
Maximum Lot: Sets the upper limit for the trading lot size.
Maximum Spread, in pips: Specifies the maximum acceptable spread for closing a position.
Maximum Slippage for a non-ECN acc, in pips: Stipulates the highest allowable slippage.
Maximum Symbols at a time: Limits the number of symbols or pairs that can be open simultaneously.
Allow to Buy/Sell: Allows or restricts the EA from initiating Buy/Sell trades.
Maximum Drawdown Percent: The Reversion Trading EA will terminate open positions if the floating drawdown surpasses the indicated percentage.

Symbols separated by comma: Designates the currency pairs to trade. Include the suffix if required by your broker.
Hour to Start/Stop Opening Orders: Dictates when the EA can begin or cease opening new orders. For optimization, disable the Smart Time Filter.
Smart Time Filter: Enables or disables the smart time filter.
Hour to Stop Trading (on Friday): Designates the cut-off hour for Friday trading. All ongoing trades will conclude at this time.
New Year Holiday Filter: Activates or deactivates the filter during the Christmas/New Year.
StopLoss, in pips: Sets the stop loss value in standard 4-digit pips.
Hide StopLoss: Allows users to display or conceal the Stop Loss value.
Swap Filter: Prevents trading on Wednesday evenings in the direction with a negative swap.
Max Negative Swap, in pips: Sets the maximum negative swap value.
News Filter Enabled: Turns the News Filter on or off.

Trade Comment: Input a comment for the trade.
UID (0…9): An identifier for unique Mean Reversion Robot instances. Typically, there's no need to modify this.
ShowPanel: Displays or hides the information panel.
GMT/DST Test: For testing purposes, this sets the GMT offset in winter and DST. This parameter doesn't influence live trades.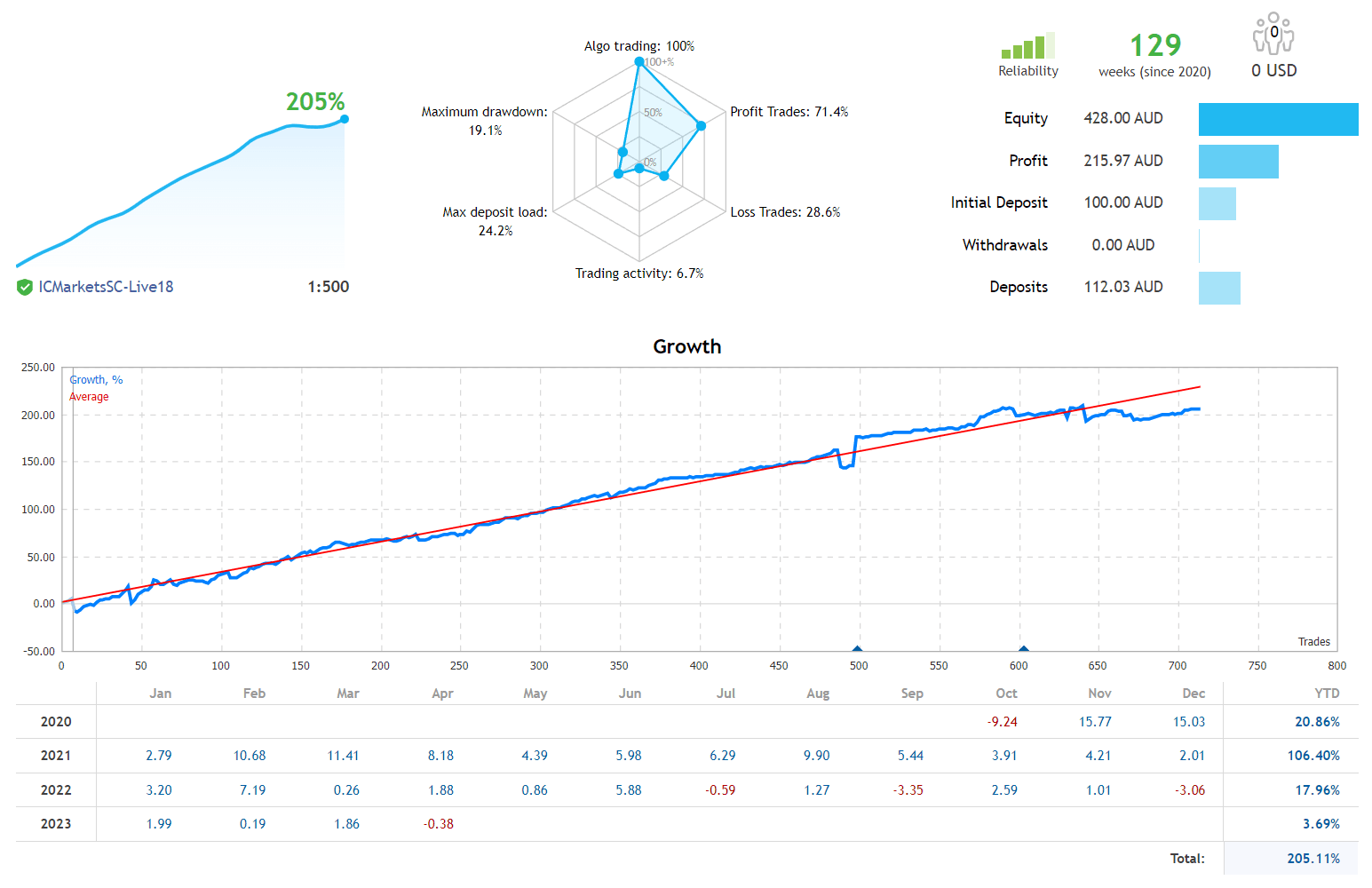 Conclusion
The Mean Reversion Trading EA provides an alternative approach to the scalping method in forex trading, focusing on specific operational hours and using various features to determine its trading strategies. As with any trading system, potential users must thoroughly understand its functionalities and features before integration.