This XAUUSD Trading Robot is a fully automated XAUUSD Scalper Robot specially optimized to trade on XAUUSD(Gold)pair. Historically known as a safe-haven asset, gold is one of the most liquid and frequently traded instruments globally. Its appeal stems from its ability to retain value over time and its relative stability compared to other assets. The constant ebbs and flows of the gold market offer myriad trading opportunities. And that's where the XAUUSD Trading Robot shines.
Trend Trading: A time-tested method, trend trading involves riding the momentum of a prevailing trend. The XAUUSD Trading Robot adopts this strategy, ensuring it only follows the trend. This significantly reduces Drawdown.
News Filter: The financial markets can swing dramatically in response to major news events. This EA has a news filter that halts trading before high-impact news. This prevents the bot from entering potentially risky trades during uncertain times.
Smart Time Filter: Market anomalies, such as unexpected price spikes, falls, or gaps, can wreak havoc on an automated trading strategy. The Robot's smart time filter is designed to steer clear of such unpredictable market movements, providing an added layer of protection.
Scalping Mode: Scalping is a strategy that targets small price changes. The XAUUSD Trading Robot incorporates a scalping mode, which can be activated to stop the EA in specific scenarios, ensuring a more flexible trading approach.
The Martingale Method: The Robot does utilize the martingale trading method, which is considered risky. Martingale involves doubling the trade size after a losing trade. While this can yield significant profits when a reversal occurs, it can also lead to substantial losses if the market continues to move against the trader. Users must be aware of this aspect of the Robot and ensure they're comfortable with the associated risks.
Please test in a demo account first for at least a week. Also, please familiarize yourself and understand how this XAUUSD Trading EA works, then only use it in a real account.

Recommendations for XAUUSD Trading Robot
Minimum account balance of 2000$ or equivalent cent account.
EA is specially made to work on XAUUSD. (Work on any currency pair)
It works best on M15. (Work on any TimeFrame)
News Filter cannot be backtested, making back-testing results inaccurate. News Filter removes bad trades to limit Drawdown.
This XAUUSD Trading Robot should work on VPS continuously to reach stable results. So we recommend running this MT4 EA Download on a reliable VPS (Reliable and Trusted FOREX VPS – FXVM)
The EA is NOT sensitive to spread and slippage. But We advise using a good ECN broker (Find the Perfect Broker For You Here)


Download a Collection of Indicators, Courses, and EA for FREE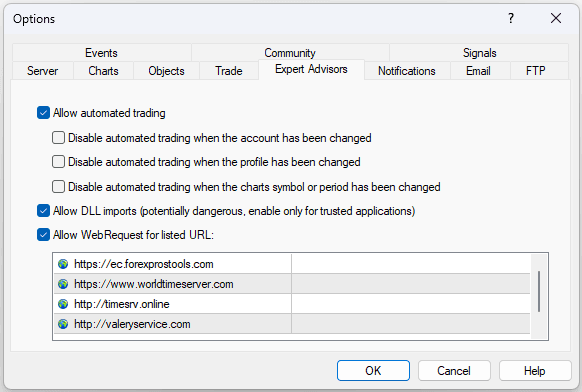 Open Tools –> Options –> Expert Advisors. Check the option "Allow WebRequests for listed URL" Add the following: "https://nfs.faireconomy.media" and press "OK." The EA takes news from the specified websites.


Conclusion
The XAUUSD Trading Robot offers a specialized approach to trading the Gold market. With its tailored features, it seeks to capitalize on the unique opportunities in the gold trading landscape. However, as with all trading tools, especially those employing riskier strategies like martingale, potential users should thoroughly research and understand the intricacies before diving in.