Advanced Automated Forex Robot is an adaptive MT4 Robot FREE to Download. The foundation of this EA is an adaptive algorithm that constantly tweaks and optimizes itself. As the market evolves, so does the algorithm, ensuring the strategy always remains relevant and effective.
Rather than solely relying on price chart data, this EA also incorporates various other vital indicators. It takes into account incoming news, which can significantly sway the market. Additionally, it adjusts its strategy based on current spreads, time, and even the specific day of the week. Such a multifaceted approach ensures a well-rounded and informed trading decision.
While some may argue that the grid method is aggressive and risky, it can amplify profits when used judiciously. This Automated Forex Robot employs the grid method, but only in controlled doses. But still, it is not perfect and can cause drawdown. It opens about 2-5 trades daily, minimizing risks while maximizing opportunities.
The MT4 Robot comes with a predefined set files, which are optimal for most traders. However, for those who prefer a touch of personalization, the EA offers the flexibility to trade with automated and fixed lots with a lot more customizations. Whether you want to use the recommended settings or have your preferences, this tool caters to both.
Please test in a demo account first for at least a week. Also, please familiarize yourself with and understand how the MT4 EA works, then only use it in a real account.

Recommendations for this MT4 Robot
Minimum account balance of 200$.
Work best on EURUSD, GBPUSD, and USDJPY. (Work on any pair)
Work best on H1 TimeFrames. (Work on any TimeFrame)
This MT4 Robot should be online 24 hours for the best performance. Recommend using a VPS (Reliable and Trusted FOREX VPS – FXVM)
For the best result, a Low Spread ECN account is Recommended (Find the Perfect Broker For You Here)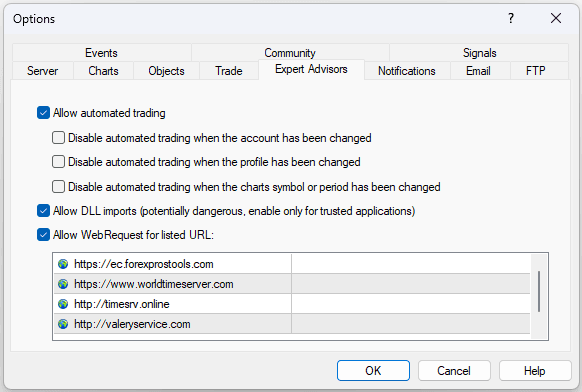 Open Tools –> Options –> Expert Advisors. Check the option "Allow WebRequests for listed URL" Add the following: "https://ec.forexprostools.com" and "https://sslecal2.forexprostools.com" and press "OK." The EA takes news from the specified websites.
Input Parameters

FixedLot – a fixed lot;
AutoLot – use an automated lot;
MaxLot – a maximum lot;
MinLot – minimum lot;

SetLong – allow long trades;
SetShort – allow short trades;
TakeProfit – main take profit, pips;
TradingRisk – trading risk, %;
RNDLevel – round level deviation, pips;
TSLRatio – system lot ratio;
MaxSpread – maximum allowable spread, pips;

UseNewsFilter – use news filter;
NewsCalendar – news calendar URL;
DetectLowNews – detect news of low importance;
PauseBeforeLow – pause before releasing of news of low importance;
PauseAfterLow – pause after release of news of low importance;
LowNewsColor – line color of news of low importance;
DetectMiddleNews – detect news of middle importance;
PauseBeforeMiddle – pause before news of middle importance;
PauseAfterMiddle – pause after news of middle importance;
MiddleNewsColor – line color of news of middle importance;
DetectHighNews – detect news with high importance;
PauseBeforeHigh – pause before news of high importance;
PauseAfterHigh – pause after news of high importance;
HighNewsColor – line color of news of high importance;
DetectNFP – detect Non-Farm Payroll news;
PauseBeforeNFP – pause before NFP news;
PauseAfterNFP – pause after NFP news;
NFPNewsColor – line color of NFP news;
ServerGMT – broker server GMT value;

MondayStartHour – trading start time on Monday, hour;
MondayStartMinute – trading start time on Monday, min;
StartHour – main trading start time, hour;
StartMinute – main trading start time, min;
StopHour – main trading stop time, hour;
StopMinute – main trading stop time, min;
FridayStopHour – trading stop time on Friday, hour;
FridayStopMinute – trading stop time on Friday, min;

TradeMonday – allow trading on Monday;
…
TradeFriday – allow trading on Friday;

MaxOrderCount – max trades in series;
MaxDDControl – DD control module;
ShowInfoPanel – show information panel;
TradeComment –comment for orders;
Magic – unique order number;

Conclusion of this Automated Forex Robot
The advanced automated robot is a practical tool for traders. Its adaptive algorithm ensures it responds effectively to changing market conditions, while its comprehensive analysis provides a more holistic trading view. The EA's careful use of the grid method strikes a balance between risk and reward. Plus, its flexible settings cater to both seasoned traders and beginners. In short, this MT4 Robot is a straightforward, efficient tool designed to improve trading outcomes.