XXX777 Avtomat EA is a fully automated FX EA FREE to Download. It mainly works on EURUSD, USDCAD, USDCHF, and USDJPY. It identifies potential breakout levels in specific price patterns and trades along with the breakouts.
Avtomat FX is an intraday scalper that trades not very often, on average about 20 trades per month, and the average profit is about 10-30 points per trade. The robot can average the position, but the number of orders is not large. The robot tries to close them as early as possible without waiting for a deep drawdown, controlling each order.
XXX777 EA robot gives you a great number of customization options. So, You can find more suitable settings yourself by optimizing this expert Advisor for each individual pair and timeframe.
Please test in a demo account first for at least a week. Also, Make yourself familiar with and understand how this Avtomat FX Robot works, then only use it in a real account.

Recommendations for XXX777 Avtomat EA
Minimum Account balance of 100$ or 500$ account to be safe.
Work Best on EURUSD, USDCAD, USDCHF, and USDJPY. (Work on any currency pair)
Work best on M5 (Work on any time frame)
Use the given set file or your own settings since, Default settings don't work well.
Avtomat FX EA should work on VPS without interruption to reach stable results. So we recommend running this FX EA Robot on a reliable VPS (Reliable and Trusted FOREX VPS – FXVM)
Low Spread account is also Recommended (Find the Perfect Broker For You Here)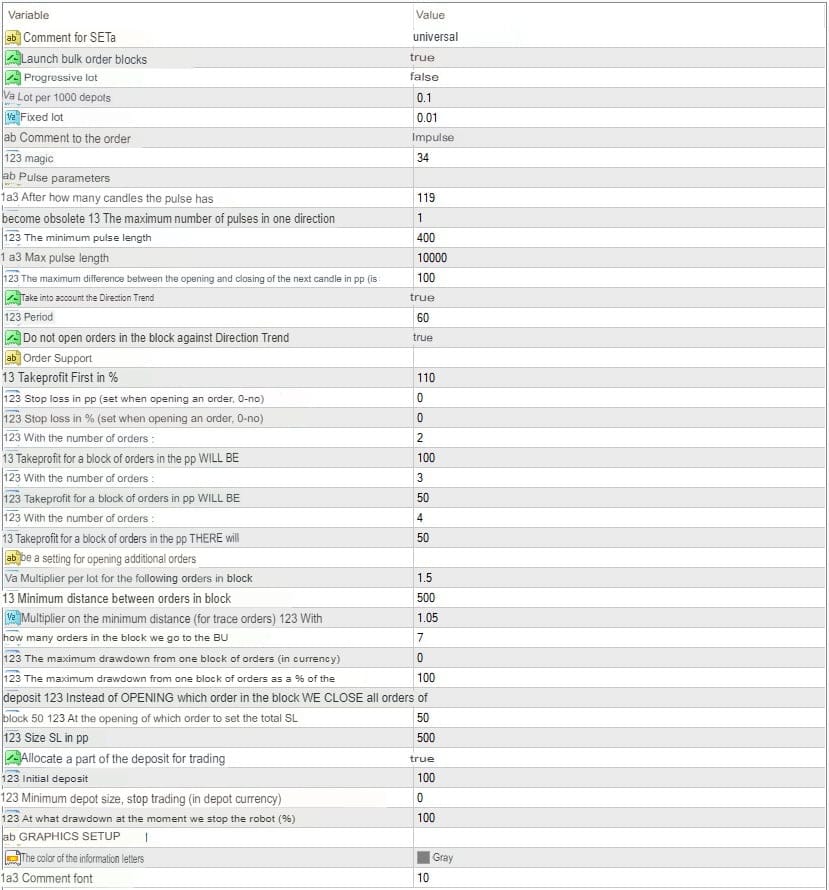 Comment for SET
Run new blocks of orders.
Progressive Lot
Lot per 1000 deposit
Lot fixed
Comment on the order
Magic
Pulse parameters
After how many candles the impulse is outdated
Maximum number of impulses in one direction
Minimum pulse length
Maximum pulse length
The maximum difference between the opening and closing of the next candle in pp (us
Consider Direction Trend
period
Do not open orders in a block against Direction Trend
Order tracking
Take Profit First in %
Stoploss in pp (set when opening an order, 0-no)
Stoploss in % (set when opening an order, 0-no)
With the number of orders
Take profit per block of orders in pp WILL BE
With the number of orders
Take profit per block of orders in pp WILL BE
With the number of orders
Take profit per block of orders in pp WILL BE
Setting up the opening of additional orders
Multiplier per lot for the next orders in the block
The minimum distance between orders in a block
The multiplier for the minimum distance (for the following orders)
With how many orders in a block, we go to breakeven
Maximum drawdown from one block of orders (in currency)
Maximum drawdown from one block of orders in % of the deposit
Instead of OPENing which order in a block, CLOSING all block orders
At the opening of which order to set a standard SL
SL size in pp
Allocate part of the deposit for trading
Initial deposit
Minimum deposit amount to stop trading (in deposit currency)
At what drawdown, at the moment we stop the robot (%)
GRAPHICS SETUP
information letter color
Comment font
FX EA FREE Download

More AvtomatFX Robots HERE