Extreme Binary Sniper MT5 is an MT5 Trading System that gives easy-to-use buy/sell signals. It is a price-action trading system for both binary and forex markets. The system uses the Extreme Binary Sniper indicator, located below the chart, to provide direction bias. An arrow in the main chart determines entry timing, which must agree with the window indicator.
The system is suitable for 1-minute or higher time frames for binary trading and 15 minutes or higher for forex trading. Expiry time for binary options high/low is 3-5 candles, while volatility pairs are recommended for currency pairs. Profitability is high.
This MT5 Trading System is entirely manual. The indicators produce the signals, but any decisions to enter the market and set protection or profitable exit stops will depend on the trader. Therefore, the trader must be familiar with the principles of risk and reward.
This Binary Sniper MT5 Trading System can give you trading signals you can take as they are or add your additional chart analysis to filter the signals further, which is recommended. While traders of all experience levels can use this system, practicing trading on an MT4 demo account can be beneficial until you become consistent and confident enough to go live.
Indicators Used in this MT5 Trading System
The system uses a range of Metatrader 5 indicators, including Boa Zig Zag arrow Duplex, Candle timer, Extreme Binary Sniper, FBW 3D BC, Support and Demand, and TMA Central Bands (used only as dynamic support and resistance). Keep in mind that the Extreme Binary Sniper indicator repaints, so it's important to use it in combination with other indicators and analysis to confirm trading decisions.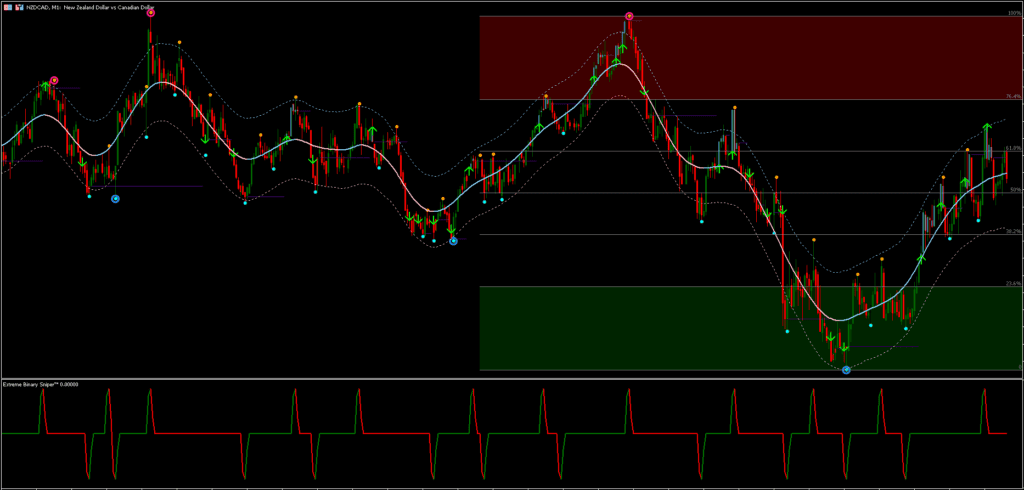 You can set this Binary Options System to send you a signal alert via Mobile Notification, platform pop-ups, and Email. This is helpful as it means you do not need to stare at the charts all day, waiting for signals to appear, and you can monitor multiple charts simultaneously.
MT5 Trading System can be used on any Forex currency pair and other assets such as stocks, commodities, cryptos, precious metals, oil, gas, etc. You can also use it on any time frame that suits you best, from the 1-minutes through to the 1-Hour charts.


Extreme Binary Sniper Trading rules
Follow money management & Don't enter to trade within the Medium or high-impact news period.
As always, to achieve good results, remember about proper money management. To be a profitable trader, you must master discipline, emotions, and psychology. It is crucial to know when and when not to trade. Avoid trading during unfavorable times and market conditions like low volume/volatility, beyond major sessions, exotic currency pairs, wider spread, etc.
This trading system appeared to be more profitable on forex than binary options.
Trade only toward the support and resistance level, which agrees with the indicator below the Extreme Binary Sniper main chart.
Do not go into buying/selling in the support and resistance zone.
Buy signal or Call
Buy arrow (FBW 3D BC Indicator).
Extreme Binary Sniper Green color line.
TMA central Bands Aqua color.
The price goes up from the support level.
Sell signal or Put
Sell arrow (FBW 3D BC Indicator).
Extreme Binary Sniper

Red

color line.
TMA central Bands Pink color.
The price goes down from the resistance level.
Exit position
Any positions with Extreme Binary Sniper System can be liquidated using a fixed profit target. Alternatively, the profit target should be set using previous support/resistance or high/low as a reference point. You may also exit the trade manually if the Non-Repainting Indicator system conditions reverse.
It is recommended to use a stop loss. Set SL below the entry price using previous support/resistance as a reference point Or on the last high/low swing. Using fixed stop loss settings without any reference points is not advocated.