Forex Triple B Pro is an MT4 Trading System that gives easy-to-use buy/sell signals. its fully based on Bollinger Bands. This system is simple and easy to use and understand, if used properly, it can increase your trading success rate and maximum profit. The Bollinger Bands "cloud" will appear in pre-analyzed trending market conditions and will provide you with a "ready-to-trade" opportunities.
Triple B Pro System has been impeccably programmed. It comes with an ON-SCREEN Dashboard comprised of various panels that tell you various information that is very helpful for trading. Let's take a look at some of these different panels.
Forex Triple B Features
Trade Management Panel
Multi-Currency/TimeFrame SCANNER
Last Alerts
Economic news panel

This automated trend analyzing tool gives you fully "pre-analyzed" conditions for easy use and read of clear trending conditions. It classify 3 different trend sensitivities.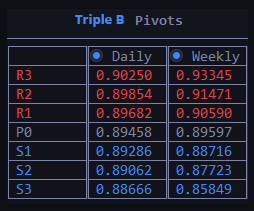 Pivot levels help traders to spot the best trading levels during the day or the week based on pure mathematical calculation, based on the price action.

This feature allows you to know what pairs are the "hottest" ones in the current market conditions and help you spot better trading opportunities. This heat map gives you the full flexibility of choosing the instruments you are interested in and it allows you to see the data for the last trading day or the last 7 days.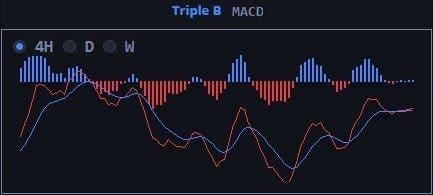 You don't need to switch time frames for multi-time frame analysis, This built-in MACD allows you to see different time frames on the same chart you trade with!


Triple B Pro indicator system can give you trading signals you can take as they are or add your additional chart analysis to filter the signals further, which is recommended. While traders of all experience levels can use this system, it can be beneficial to practice trading on an MT4 demo account until you become consistent and confident enough to go live.
You can set the Forex Triple B Indicator to send you a signal alert via email, SMS, or platform pop-ups. This is helpful as it means you do not need to stare at the charts all day waiting for signals to appear, and you can monitor multiple charts all at once.


Download a Collection of Indicators, Courses, and EA for FREE
This Triple B System can be used on any Forex currency pair and other assets such as stocks, commodities, cryptos, precious metals, oil, gas, etc. You can also use it on any time frame that suits you best, from the 1 minute to the 1-month charts.
If the ON-SCREEN Panel doesn't show up after loading the Template. Remove all indicators and load them back one by one. After that, load Triple B Trading Center EA. Now you can save it as a new template and use it normally.