FXT50 Forex Indicator is a Complete Forex Systems MT4 with a trading assistant EA for MT4 that gives NON-Repaint buy/sell signals. It's designed to provide an easy-to-use trading platform for beginner and experienced traders. This software is designed to help users make informed decisions when trading in the forex market. It comes with ON-SCREEN dashboards that show you various helpful information.
In the ever-changing world of foreign exchange markets, traders constantly seek tools to give them an edge. FXT50, a comprehensive forex system, is designed to help traders make informed decisions and maximize their profits. In this article, we'll delve into the key features of the FXT50 system and explore how it can improve your trading experience.
This Forex MT4 Trading Indicator is entirely manual. The indicators produce the signals, but any decisions to enter the market and set protection or profitable exit stops will depend on the trader. Therefore, the trader must be familiar with the principles of risk and reward and use initial support and resistance areas to set entries and exits.
FXT50 MT4 Indicator can give you trading signals you can take as they are or add your additional chart analysis to filter the signals further, which is recommended. While traders of all experience levels can use this system, practicing trading on an MT4 demo account can be beneficial until you become consistent and confident enough to go live.
Features of this Forex Systems MT4
The system contains 4 main indicators:
Entry Indicator (BUY / SELL Signals).
Dashboard Info (primary data like pair, spread, range, swap, etc.)
Momentum Analysis Dashboard.
Trading Assistant.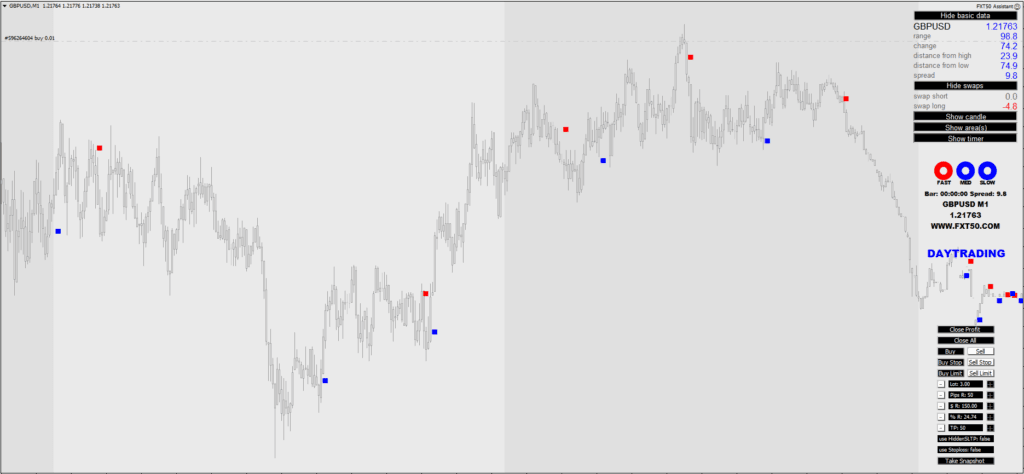 3TFs Momentum Filter: Taking Safer Trades
One of the standout features of the FXT50 software is its 3TFs Momentum Filter. This unique filter allows traders to take safer trades by ensuring that their decisions align with other timeframes. By analyzing multiple timeframes simultaneously, the 3TFs Momentum Filter identifies trends and reduces the risk of entering trades that go against the market's overall direction. This feature helps traders avoid potentially costly mistakes and maintain steady account growth.
Trading Assistant: Streamlined Open/Closing and Trade Tracking
The FXT50 bundle includes a user-friendly Trading Assistant designed to simplify the process of opening and closing trades. This handy tool enables traders to execute their trades quickly and efficiently, allowing them to capitalize on profitable opportunities in the fast-paced forex market. Additionally, the Trading Assistant helps traders keep track of their active trades, making it easier to manage their portfolios and monitor their progress.
Easy-to-Use with Advanced Filtering
FXT50 is a versatile forex system catering to novice and experienced traders. Its intuitive interface makes it easy to navigate, while its advanced filtering options ensure that your trading remains at the highest level. These filters allow traders to fine-tune their strategies and gain insights into market trends, ultimately leading to more informed decisions and better returns on investment.

FXT50 MT4 Trading Assistant Dashboard
The software contains a trading assistant that can help you with trading. You can open and dose your trades with one click using BUY/SELL/CLOSE buttons.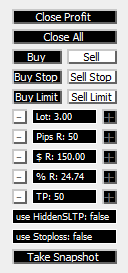 Lot – determines the lot size when opening a new trade.
Pips R – means stop loss size (in pips). As some traders do not use SL, it's disabled by default (you need only to get into expert settings and change 'Use Stop Loss to True' to make it work).
S R – means the risk on trade (money-wise)
% R – means the risk on the trade based on the account size
TP – determines the take profit in pips.


This FXT50 MT4 System is straightforward. Even a complete beginner can start trading and making profits with this system. You can set it to send you a signal alert via Mobile Notification, platform pop-ups, and Email. This is helpful as it means you do not need to stare at the charts all day, waiting for signals to appear, and you can monitor multiple charts simultaneously.
FXT50 Forex System can be used on any currency pair and other assets such as stocks, commodities, cryptos, precious metals, oil, gas, etc. You can also use it on any time frame that suits you best, from the 1-minute to the 1-month charts.
It is straightforward to use even by complete forex beginners. You don't have to be a professional to use it. Just load one of 3 different Templates to your chart.
FXT50-DAYTRADING – Provides balanced and stable signals. Perfect for most traders. Use it for typical day trading or swing trading.
FXT50-SCALPING – Provides fastest signals with increased risk and also increased profit potential. Use it for scalping or fast day trading)
FXT50-SWINGTRADING – Provides slower but more filtered signals. This mode is recommended for swing/position traders or simply for traders who do not have much time to check the charts.
Trading rules for FXT50 Forex Indicator
Follow money management & Don't enter to trade within the high-impact news period. Exit from your trades half & an hour from the high-impact forex news.
As always, to achieve good results, remember about proper money management. To be a profitable trader, you must master discipline, emotions, and psychology. It is crucial to know when and when not to trade. Avoid trading during unfavorable times and market conditions like low volume/volatility conditions, beyond major sessions, exotic currency pairs, wider spread, etc.
Entry
System signals are pretty straightforward. We match the dot signal with the momentum/trend filter (Red/Blue).
The dot signal and three rings must be the same color.

If all 4 Blue, it's a Buy signal
If all 4 Red, it's a Sell signal

Trade Exist
Any positions with this Forex Trading Indicator can be liquidated using a fixed profit target. Alternatively, the profit target should be set using previous support, resistance, or high-low level as a reference point. You may also exit the trade manually if the system conditions reverse (the opposite signal appears).
It is recommended to use a stop loss. Set SL below the entry price using previous support/resistance as a reference point Or on the previous high/low swing. Using fixed stop loss settings without any reference points is not advocated.