INTELLIGENT Trend Indicator is a NON-Repaint MT4 Trend Indicator that uses a Trend Following Strategy. This system is based on four different indicators. The system is quick to learn and extremely easy to implement, even if you are entirely new to trading.
The Intelligent Trend Indicator is an advanced trading system add-on for the MT4 platform. It is designed to work on any Forex or CFD broker, and it analyzes market data in real-time to provide clear and precise signals to help traders stay ahead of the game. The system is easy to install and use and can be customized to suit your trading style and preferences. With the Intelligent Trend Indicator, traders can remove worries about when, how, and why to open a position.
In addition to providing precise trading signals, the Intelligent Trend Indicator also comes with various other features and benefits. For example, it can be used in any time frame, from one minute to one month, and it comes with a range of built-in filters and alerts.
Overall, the Intelligent Trend Indicator is a robust and reliable trading system that can help novice and experienced traders achieve their goals. Whether you want to make a little extra income on the side or build a successful trading career, the Intelligent Trend Indicator is worth checking out.
This Forex Trading Strategy is entirely manual. The indicators produce the signals, but any decisions to enter the market and to set protection stops or profitable exit stops will depend on the trader. Therefore, the trader must be familiar with the principles of risk and reward and use initial support and resistance areas to set entries and exits.
MT4 Trend Indicator can give you trading signals you can take as they are or add your additional chart analysis to filter them further, which is recommended. While traders of all experience levels can use this system, it can be beneficial to practice trading on an MT4 demo account until you become consistent and confident enough to go live.
Features of the INTELLIGENT Indicator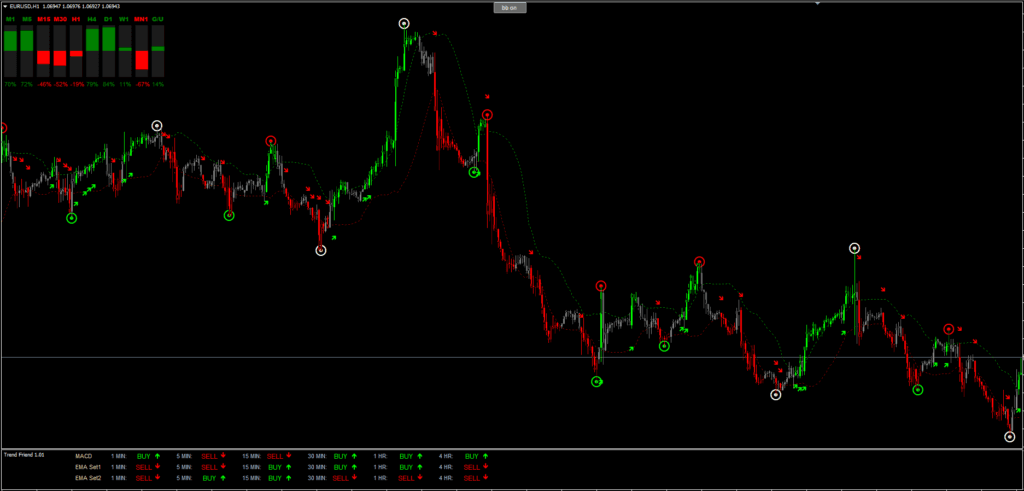 INTELLIGENT CANDLE PRESSURE
The Candle Pressure technology will show you live market pressure on the last candle in multiple timeframes. If the current bar is upbeat, it will be green; if it is a negative bar, it will be red, and the larger the bar, the higher the value of the meter. We use it to see the current momentum of the bar when entering.
INTELLIGENT TREND DASHBOARD
The trend is our friend. While using our trend dashboard, you will see trend directions in multiple timeframes. Before we look for the entry point, the dashboard should be 90% in one trend direction.
100% NO REPAINT
Repainting (lagging) means that the indicator changes the display on the chart as new price data (candles/bars) comes in. Always wait for the candle close before entering the trade.


Download a Collection of Indicators, Courses, and EA for FREE
This INTELLIGENT MT4 Indicator System is straightforward. Even a complete beginner can start trading and making profits with this system. You can set it to send you a signal alert via Mobile Notification, platform pop-ups, and Email. This is helpful as it means you do not need to stare at the charts all day, waiting for signals to appear, and you can monitor multiple charts simultaneously.
This INTELLIGENT Trend System can be used on any Forex currency pair and other assets such as stocks, commodities, cryptos, precious metals, oil, gas, etc. You can also use it on any time frame that suits you best, from the 1-minute to the 1-month charts. Work best on M5 TimeFrames. The developer recommends day trading on the M5 timeframe with XAUUSD.
Trading rules for this MT4 Trend Indicator
Remember to tighten your Stop Losses around High Impact News Releases or avoid trading at least 15 minutes before and after these events using the Trend Following Strategy.
As always, to achieve good results, remember about proper money management. To be a profitable trader, you must master discipline, emotions, and psychology. It is crucial to know when and when not to trade. Avoid trading during unfavorable times and market conditions like low volume/volatility, beyond major sessions, exotic currency pairs, wider spread, etc.
Buy Entry
Intelligent Dashboard Trend shows 90% of trends are in the

Buy

direction.
Intelligent Candle Pressure shows High pressure.
Gray Candles become Green.

Green

Buy Arrow (Before entry, wait for the candle close.)
Sell Entry
Intelligent Dashboard Trend shows 90% of trends are in the

Sell

direction.
Intelligent Candle Pressure shows

Low

pressure.
Gray Candles become

Red

.

Red

Buy Arrow (Before entry, wait for the candle close.)
Trade Exist
Any positions with this Forex Trading Indicator can be liquidated using a fixed profit target. Alternatively, the profit target should be set using previous support, resistance, or high-low level as a reference point. You may also exit the trade manually if the conditions of the system reverse (the opposite signal appears).
Stop-loss (above/below) (green/red) dotted line.
Take profit 1-3 times your SL. (Average risk-reward from 1:1 to 1:3)
It is recommended to use a stop loss. Set SL below the entry price using previous support/resistance as a reference point Or on the previous high/low swing. Using fixed stop loss settings without any reference points is not advocated.