Janus Scalping Strategy is a NON-Repaint Strategy For MT4 that gives easy-to-use buy/sell signals. It is a Forex Scalping strategy based on the strength of currency pairs and the trend intraday. This system comprises XPS V. 8 Trend bars, Indicator 1, ATR Projection, Financial banks, Support Resistance Level, Currency Heat Map, and Currency Heat Map Indicators.
The currency heat map is the most crucial indicator as you need to find the best asset with this tool. Using the colored box, you can correlate different assets and trade the pairs formed by the weakest and strong currency. It improves your chances of winning the trades significantly.
It catches fast and profitable price movements and gives accessible BUY/ SELL signals. The system carefully verifies every trading signal to produce only the highest probability trades.
Janus Indicator system can give you trading signals you can take as they are or add your additional chart analysis to filter the signals further, which is recommended. While traders of all experience levels can use this system, it can be beneficial to practice trading on an MT4 demo account until you become consistent and confident enough to go live.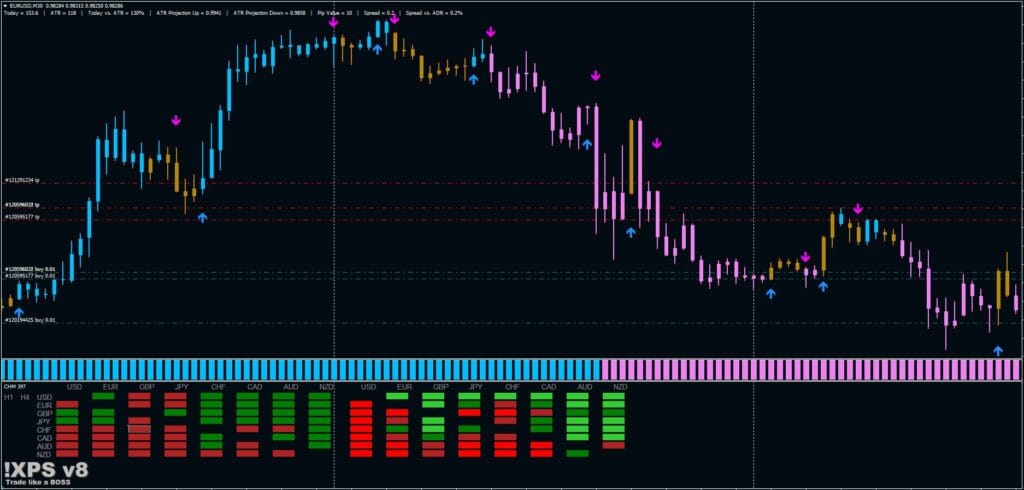 You can set this Janus Scalping to send you a signal alert via Email, Mobile Notification, or platform pop-ups. This is helpful as it means you do not need to stare at the charts all day, waiting for signals to appear, and you can monitor multiple charts simultaneously.
Forex Scalping strategy can be used on any Forex currency pair and other assets such as stocks, commodities, cryptos, precious metals, oil, gas, etc. You can also use it on any time frame that suits you best, from the 1-minute to the 4-month charts.


Trading rules of this Strategy For MT4
The Janus Forex strategy is straightforward to use. Search by Currency Heat Map the best currency pairs on which to trade. If the EUR has more green rectangles and the USD has more red rectangles, EUR is stronger, and the U.S dollar is weaker. So that indicates a EURUSD bullish trend. Then only take EURUSD Buy trades.
The ideal time frame to use this scalping method is M15 and M30. But avoid taking trades in the choppy market as it can hunt down the stops.
Buy
Arrow Dodger Blue.
XPS V8 trendbar Dodger blue.
XPS V 8 Oscillator bar Dodger blue.
Sell
Arrow Dodger Purple .
XPS V8 trendbar Purple .
XPS V 8 Oscillator bar Purple .
Exit position
You can take profit from your order at the opposite signal or use the risk-to-reward ratios.
On the last swing, high for Sell trades.
On the last swing, low for Buy trades.
Close to important support/resistance area.
Or exit on the opposite arrow signal.
Download Forex Scalping Strategy FREE HERE