Naked Forex Tweezer Pro is a trading system usually being sold for 299$. the standard Tweezer is a two-bar pattern. This enhanced version is a multi-bar pattern. It filters the patterns for you so that you only get the best and most effective patterns and ignore the noise.
The indicator does what it was designed for: displaying Tweezer patterns. Don't expect to follow the up and down arrows and make money. Trading is not that simple. The Tweezer pattern is a starting point. The arrow is not a confirmed BUY and SELL signal in itself. The Tweezer indicator alerts you that the market might be at a turning point now. Then you must use other elements of your strategy (trend, momentum, support/resistance, volatility, daily bias, and other indicators) to confirm the signal and place a trade.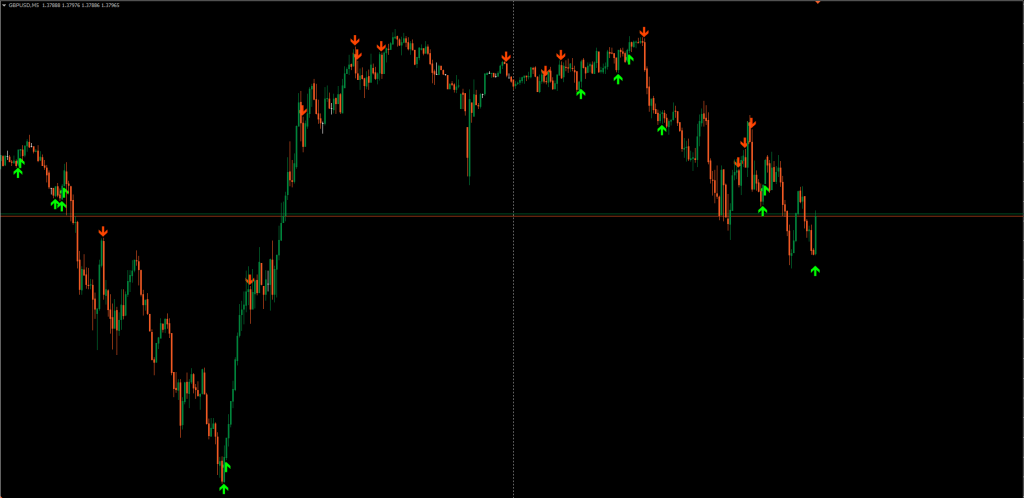 Naked Forex Tweezer Pro system can give you trading signals you can take as they are or add your additional chart analysis to filter the signals further, which is recommended. While traders of all experience levels can use this system, it can be beneficial to practice trading on an MT4 demo account until you become consistent and confident enough to go live.
Features
You can set the Naked Forex Tweezer Pro Indicator to send you a signal alert via email, Mobile Notification, or platform pop-ups. This is helpful as it means you do not need to stare at the charts all day waiting for signals to appear, and you can monitor multiple charts all at once.


Download a Collection of Indicators, Courses, and EA for FREE
Naked Forex Tweezer Pro Indicator System can be used on any Forex currency pair and other assets such as stocks, commodities, cryptos, precious metals, oil, gas, etc. You can also use it on any time frame that suits you best, from the 1 minute through to the 1-month charts.
The Tweezer Pro version lets users define their own pattern definition. It's meant for expert traders who want to use their own optimized settings.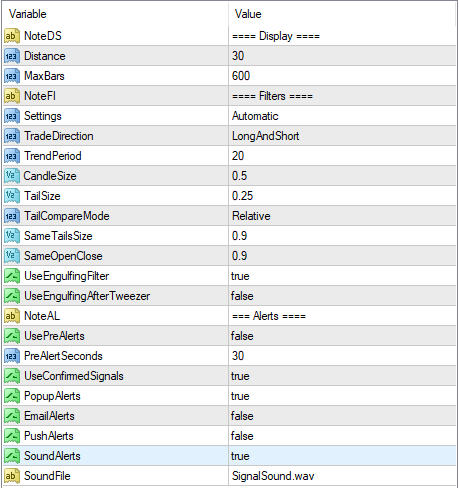 Distance: distance in pixel relative to top or bottom of candle to display the arrow symbol
MaxBars: maximum number of bars back to calculate searching for signals
Settings (automatic/manual): you can either use the defaults settings optimized by Justin Mueller (automatic) or use your own settings (manual).
TradeDirection (Long/Short/LongAndShort): you can filter signals and only show BUY signals (Long) or SELL signals (short). Default settings is LongAndShort (no filter).
TrendPeriod (20 as default): number of candles the indicator should look back to determine current trend direction.
CandleSize (0.5 as default): minimum size for candles to consider pattern as valid (0.0:no filter, 0.5:middle size candles, 1.0:big candles only).
TailSize (0.0 as default): minimum size for the tails to consider pattern as valid (0.0:no filter, 0.2:middle size tails, 0.4:big tails only).
TailCompareMode (Relative/Absolute): use size of candles (Relative) or size of tails themselves (Absolute) as a reference to compare tails sizes differences and valid the pattern.
SameTailsSize (0.9 as default): check accuracy of same candle wicks size to validate pattern (0.0:ignore wick size criterion, 0.8:strict same size, 0.9:very strict same size).
SameOpenClose (0.9 as default): check accuracy of same open and close for the candles (0.0:ignore criterion, 0.8:strict same open/close, 0.9:very strict same open/close).
UseEngulfingFilter (true/false): if set to true then ignore patterns that do not include engulfing pattern.
UseEngulfingAfterTweezer (true/false): if set to true then will also consider engulfing pattern with the next candle after the Tweezer formation.
UsePreAlerts (true/false): to enable pre-alerts. It is required to set this value to true if you want to receive pre-alerts.
PreAlertsSeconds (30): time in seconds before the close of the candle when pre-alerts will be activated (pre-alerts can disappear).
UseConfirmedSignals (true/false): generate alerts for confirmed signals (at the close of the bar). It is required to set this value to true if you want to receive confirmed signals alerts.
PopupAlerts (true/false): to enable alerts of type Popup window
EmailAlerts (true/false): to enable alerts of type Email
PushAlers (true/false): to enable alerts of type Push Notification
SoundAlerts (true/false): to enable alerts of type Sound
SoundFile: file to be used for sound alerts

This Indicator best used with a Supply and Demand Indicator