Profit 99 Reversal Trading Indicator is a NON-Repaint indicator system that gives easy-to-use buy/sell signals. It usually being sold for 97$ a Life Time. It comes with an ON-SCREEN Symbol and time frame changer.
Profit 99 Reversal Trading is a trend reversal trading system that can be used at all time frames but also as day trading. The system is based on the Profit 99 indicator which looks for the extreme areas of the market as a reversal. We have therefore framed this indicator within a scheme that facilitates the search for only the best signals. The way to filter the signals is composed of the TMAs and the support and resistance zones.
The Reversal Trading Strategy uses signals from multiple technical indicators to enter the market, such as trend trading, countertrend trading, and others. This increases the chances of sustained growth and reduces exposure to a single pair or individual operations.
It catches very fast and profitable price movements and gives you easy BUY/ SELL signals. The system very carefully verifies every trading signal to produce only the highest probability trades.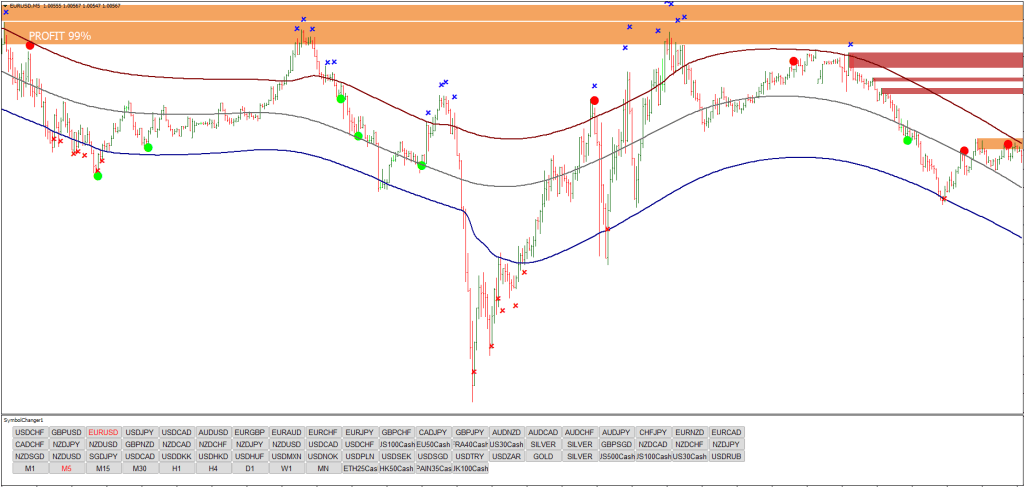 Profit 99 system can give you trading signals you can take as they are or add your additional chart analysis to filter the signals further, which is recommended. While traders of all experience levels can use this system, it can be beneficial to practice trading on an MT4 demo account until you become consistent and confident enough to go live.
Follow money management & Don't enter to trade within the high-impact news period. Exit from your trades before half & an hour from the high-impact forex news.


You can set the Profit 99 Indicator System to send you a signal alert via Email, Mobile Notification, or platform pop-ups. This is helpful as it means you do not need to stare at the charts all day waiting for signals to appear, and you can monitor multiple charts all at once.
Reversal Trading Indicator system can be used on any Forex currency pair and other assets such as stocks, commodities, cryptos, precious metals, oil, gas, etc. You can also use it on any time frame that suits you best, from the 5-minute through to the 1-month charts.
How to Use this Reversal Trading Indicator
Buy
The price touches or exits the lower TMA band.
The price rests on a support zone (recommended).
Profit 99 indicator

Green

Buy dot.
Sell
The price touches or exits the upper TMA band.
The price rests on a resistance zone (recommended).
Profit 99 indicator

Red

Sell dot.
Exit position
Place initial stop loss below the previous swing high/low or below/above the support/resistance zone.
Make a profit at the middle band or opposite TMA band.
Note: To apply the strategy you have to open many charts and look for the best opportunities.