Secret Forex TIO MT4 Indicator is a NON-Repaint(arrows only) indicator system that gives easy-to-use buy/sell signals. It usually being sold for 649$ a Life Time. It comes with an ON-SCREEN dashboard that tells you Buy/Sell, trend, spread, and other useful various information.
Secret Forex TIO Indicator combines the best stable indicators and a custom price action filter into one indicator. All trend indicators work differently. So, when the signals from them match, then this is the strongest signal. This indicator combines them all and it is displayed in the panel on the right. This is not a Grail. It can be used with Patterns or your own trading system to provide extra confirmation of trade inputs or exits.
The secret TIO Indicator system can give you trading signals you can take as they are or add your additional chart analysis to filter the signals further, which is recommended. While traders of all experience levels can use this system, it can be beneficial to practice trading on an MT4 demo account until you become consistent and confident enough to go live.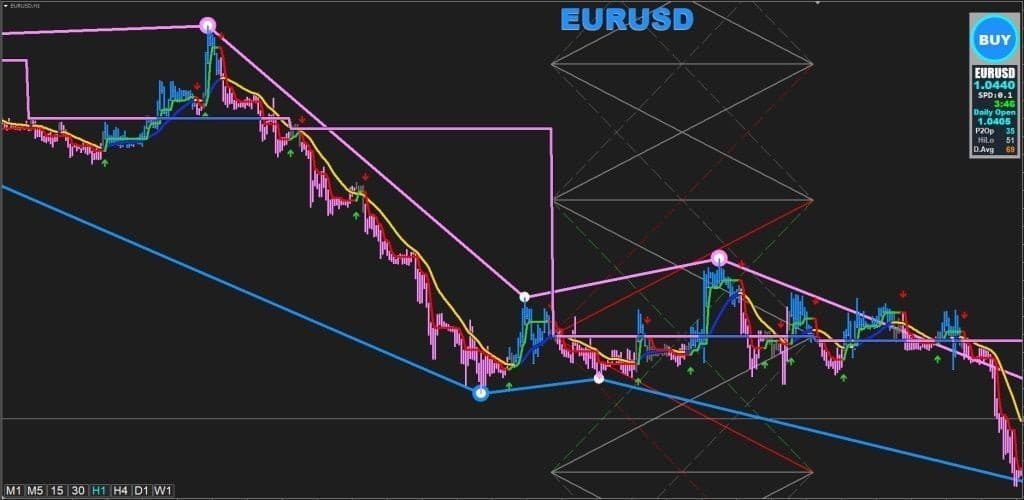 You can set the Secret Forex TIO System to send you a signal alert via Mobile Notification, or platform pop-ups. This is helpful as it means you do not need to stare at the charts all day waiting for signals to appear, and you can monitor multiple charts all at once.


This MT4 Indicator System can be used on any Forex currency pair and other assets such as stocks, commodities, cryptos, precious metals, oil, gas, etc. You can also use it on any time frame that suits you best, from the 1 minutes through to the 4-hour charts.
Here's something else to consider. During the London and New York sessions, when the market is more volatile, this Buy-Sell indication is excellent for this time frame (M5, M15, H1) However, the indicator should not be used on holidays or during important economic news.
Buy
The indicator shows a blue circle + green arrow and confirmation Flag in the top right of the chart, signaling that it is time to enter a long position. A screen alert pops up to ensure identifying the signal in real-time.
Sell
Open the short position when the indicator displays a Purple circle + red arrow and confirmation Flag in the top right of the chart. The pop-up alert also displays a suitable sell stop. Also, you can use a tighter stop loss by setting it just above the support line.
Exit
Where should you exit the trade? Well, you set the take profit using the 3:1 reward ratio. In other words, you can set your own profit target, say 50 pips. Also, you can wait for the indicator to post a bearish signal and exit the buy trade.
Download MT4 Indicator HERE